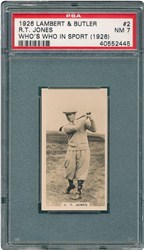 Sterling Sports Auction #20 Ends March 7, 2013
This auction consists of 500 lots from the four major sports and nonsports cards with cards and memorabilia from 1882 to present, and includes graded and raw cards, commons and Hall of Famers.
Featured cards include: N172 Old Judge Hank O'Day plus seven other N172s. E106s of Honus Wagner and Nap Lajoie. 1926 Lambert & Butler Bobby Jones *Rookie* PSA 7, over 80 T206s with many tough backs. You'll also find 1933 Worch Cigar Rogers Hornsby 6, 1953 Dormand Mickey Mantle 8.5, and 1966 Yaz 9, with none graded higher. There are over 75 PSA graded cards!
To view the complete auction, visit http://www.sterlingsportsauctions.com/Catalog.aspx.
New bidders may register by visiting, http://www.sterlingsportsauctions.com/adduser.aspx.
Sterling Sports Auction is looking forward to your participation.