Goodwin & Company Masterpieces and Uncommon Commons XLVII January 6-24, 2013 Auction is now open for bidding. The auction offers a truly rare T206 Eddie Plank card with a Piedmont 150 advertisement on the reverse is presented in Lot 1. This example is one of only 5 Plank cards known with this back! Babe Ruth collectors will find no fewer than twenty-three lots showcasing the "Sultan of Swat."
Another highlight is a 1915 Fatima advertising poster showing the Babe with his Boston Red Sox rookie team. There are 3 Joe Jackson lots including a 1914 Cracker Jack and a M101-5 with the elusive Indianapolis Brewing advertising back. Also offered is the fabulous W600 cabinet of Ed Delahanty along with the Cy Young and Christy Mathewson cabinets. You'll find an outstanding selection of Old Judge cards with beautiful dark photographs including both Hall of Famers and hard to find commons. Complete sets include the E96 American Caramel, 1933 DeLong and the hobby's only known T6 Murad Cigarettes premium set. Connoisseurs of Topps and Bowmans will find a 1959 Bazooka Mickey Mantle cut outside the dotted lines including the tab.
Other outstanding post-war cards that would highlight any collection are a fabulous Hank Aaron rookie, a 1958 Ted Williams and 2 common players from the 1957 and 1962 issues graded PSA 10 Gem Mint. These examples just brush the depth of the auction catalog and you will find many more items that will hold a place of honor and add prestige to your collection.
Bidding in the auction is available now, running until January 24, 2013.
Auction Highlights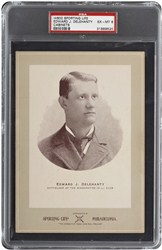 Extremely Rare "Piedmont Cigarettes 150 Subjects" T206 Eddie Plank w/VIRTUALLY UNIQUE "NO COLOR" Background Variation (PSA "Authentic") – "1 of 5 Known Piedmont T206 Plank's"!
Breathtaking 1903 Ed Delahanty W600 Cabinet (PSA 6)
Extremely Rare 1916 Indianapolis Brewing "Shoeless" Joe Jackson (PSA 4) – "SOLE & Highest Graded Copy on ALL "Pop" Charts
1914 Cracker Jack Joe Jackson #103 PSA 3 V
Incredible 1915 Fatima Cigarettes Oversized Poster of the 1915 World Champion Red Sox Including a "Rookie" Babe Ruth Image
1954 Topps Henry Aaron Rookie #128 PSA 8.5 NM-MT+ "One of Only 4 PSA Graded Copies"!
Amazing E96 Philadelphia Caramel Complete 30 Subject Set – 2.93 Cumulative G.P.A!
Superb 1933 DeLong Set (All 24 Cards PSA Graded) – Cumulative PSA 3.71 G.P.A.
Honus Wagner E93 Standard Caramel
Extraordinary 1916 M101-5 Jim Thorpe Rookie Card (PSA 8-OC) – "1 of 2; Only 1 PSA Example Graded Higher, Qualifiers Notwithstanding
1959 Bazooka Mickey Mantle With
Finest 1962 Topps Glen Hobbie – #585 High-Number (PSA Gem Mint 10) – "1 of 1 and the ONLY PSA Gem Mint 10 Copy"
Finest 1957 Topps Marv Grissom – #216 (PSA Gem Mint 10) – "1 of 1 and the ONLY PSA Gem Mint 10 Copy"!
W600 Sporting Life Christy Mathewson Cabinet
1902-11 Sporting Life W600 Denton "Cy" Young
1911 M110 Sporting Life Honus Wagner Cabinet PSA 1
1886 Lorillard Philadelphia Team Card – "One of Only 3 Graded Copies"!
Extremely Rare PSA Registered COMPLETE 25 Card Set of the 1909/1910 Murad Cigarettes T6 College Series Cabinets – ONLY Registered Set on ALL Grading Service Set Registries w/a Stellar 4.40 Cumulative G.P.A!
T206 Bill O'Hara St. Louis – Polar Bear Ad Back (PSA 4) – "Only 3 PSA Examples Graded Higher"
T206 Polar Bear Ray Demmitt St. Louis PSA 2.5 Good +
Christy Mathewson 1914 Cracker Jack #88 – Pitching Pose!
1914 Cracker Jack Charles Comiskey #23 PSA 7 NM
1914 Cracker Jack – Roger Breshahan (PSA 6) – 1 of 4 (Incl. an 8Q) & Highest Graded Copy"!
1914 Cracker Jack Roger Bresnahan No Number On Back PSA 3 VG
1914 Cracker Jack Walter Johnson #57 PSA 3 VG
1914 Cracker Jack – Nap Lajoie
1915 Cracker Jack Rube Marquard #43 PSA 7 NM
1887 Kalamazoo Bats N690 "Blank Back" – Smiling Al Maul
Spectacular E107 Bresich-Williams – Hobe Ferris "Blank Back"
1903 Breisch Williams E107 Elmer Flick Rookie Blank Back
Scarce Eddie Plank E107 Breisch Williams w/Ad Back
Be sure to visit www.goodwinandco.com to register and bid today! Auction ends Thursday, January 24.