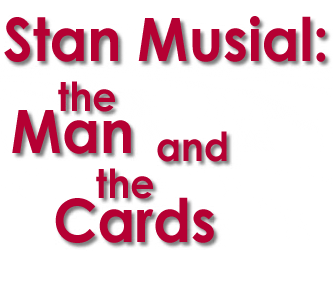 "He didn't hit a homer in his last at-bat; he hit a single. He didn't hit in 56 straight games. He married his high school sweetheart and stayed married to her, never married a Marilyn Monroe. He didn't play with the sheer joy and style that goes alongside Willie Mays' name. None of those easy things are there to associate with Stan Musial. All Musial represents is more than two decades of sustained excellence and complete decency as a human being."
– Bob Costas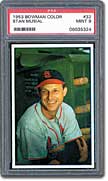 There was never anything controversial about Stan Musial. He wasn't flamboyant or stylish. He wasn't showy or extravagant. His name is not routinely tossed out in the first 10 or 20 mentions when the greats of the game are being debated. But, when his name does come up, it usually elicits a moment of thought, reflection and consideration, especially by those who are in their mid-50's or better – those that remember actually seeing him play.
Stanislaus Frank Musial was born in Donora, PA on November 21, 1920. He was the second child and first son of six children born to working class immigrants. His father, Lukasz, had left his native Poland in search of work, which he found across the Atlantic in the zinc mines of Pennsylvania. Lukasz hated working in the mines and was determined that the children he and his wife would raise in America would never have to endure such miserable conditions to make a living.
By the time young Stanislaus was in high school, his peers had taken to calling him "Stash" and he had taken to the games of baseball and basketball. He was a solid, strong athlete who seemed to take a laborers approach to athletics. He never played for the glory or to get the girls, but rather to get a job done.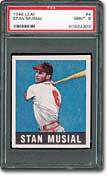 Getting the job done on the court and diamond was where Musial excelled. Getting the job done in the classroom was another story. He was a rather poor and unmotivated student who never rose above a C level.
Musial's lack of academic promise infuriated his father who was obsessed with seeing his first born son go on to college to avoid the back and spirit breaking toil of a life in the steel mills or the zinc and gypsum mines.
Musial had an obsession also, but it wasn't to matriculate at any college or university, but rather to play professional baseball. That obsessive dream first showed a glimpse of reality when Musial was noticed by professional scouts while playing with the Donora Zincs and offered a minor league contract with the St. Louis Cardinals. Lukasz, a man who had no experience in the realization of a dream, would hear nothing of his son giving up the chance of higher education and going off to play baseball. He adamantly refused to sign the contract on behalf of his underage son. Stash was devastated and pleaded with his mother, Mary, to intercede on his behalf. She did and finally convinced her husband to allow their son a chance to pursue his dream.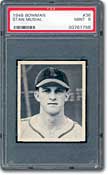 By 1940, during his third year in the Cardinals minor league organization, Musial chalked up a career pitching record of 33 wins and 13 losses. Along with his work on the mound, he was also manning the outfield at Class D Daytona Beach where he proved to be as solid with the lumber as he was with his arm. Had it not been for the discovery of his hitting prowess, the chances are good that he would have been trading in his batter's helmet for a miner's helmet when, during the 1940 season, he seriously injured his left shoulder while making a play in the outfield. The injury would prove to be so severe that the then-19 year old Musial's pitching days were over.
"My spikes gave way, and I landed on my left shoulder," Musial recalled about the injury that ended his pitching career. "My arm never did get better. I couldn't throw hard from then on. It never bothered my hitting. Even if I didn't hurt my arm, I think somewhere along the line, somebody would have switched me over to an outfielder anyway because my hitting was always good."
By 1941, the nickname of "Stash" was as gone as his pitching arm. His minor league career was also a thing of history as he was called up to the play as an outfielder with the big boys where he hit a daunting .426. The following season, the young Musial was named the Cards regular leftfielder and hit .315, helping St. Louis win the first of three consecutive pennants and a World Series triumph over the New York Yankees.
Although the nickname that would ultimately be tagged on him was still three years away, Musial truly came into his own as "The Man" in 1943, leading the majors in batting (.357), slugging percentage (.562), hits (220), doubles (48) and triples (20). He struck out only 18 times in 701 plate appearances and won his first MVP award.
The next season he continued to impress by batting .347 (the second highest average in the majors) as the Cardinals, who lost the 1943 Series to the Yankees, regained their world championship title by beating the Browns.
Stan "The Man" became Stan "The Sailor" in 1945 and missed the entire baseball season as he served as a seaman first class in the Navy from January 1945 to March 1946, seeing duty at Pearl Harbor. When he returned to the Cards in 1946, members of the local sports media had begun to raise the question of Musial's skill with the bat. Stories surfaced that his phenomenal hitting accomplishments were due to that fact that he had faced inferior pitchers during a time when the cream of the crop had been called away to serve in World War II.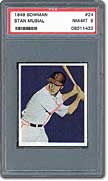 Stan, never one to get into a public debate over his skill, answered those questioning him by leading the league with a .365 average, a .587 slugging percentage, 228 hits, 50 doubles and 20 triples. He further silenced them by walking away with that year's MVP trophy and helping the Cards win the pennant and the World Championship. It was during that season that the nickname "Stan The Man" became official. It was hung on him in the unlikely place of Brooklyn by, of all people, a devout Dodger fan. As Musial confidently strode to the plate at Ebbets Field, the Dodger fan is reported to have said: "Uh, oh. Here comes the man again – here comes the man."
In the following season, Stan The Man led the league in 10 categories, most by incredibly wide margins. He had 103 extra-base hits, 429 total bases (113 more than any other player), .702 slugging percentage (138 points higher than anyone else), a .376 average, 230 hits, a .450 on-base percentage, 135 runs, and a career-high of 131 RBIs, 46 doubles and 18 triples. He also hit a career-high 39 home runs leaving him just one homer behind that year's leaders, Johnny Mize and Ralph Kiner.
In an oft-told bit of baseball lore, Stan The Man stepped up to the plate in the bottom of the 12th inning of the grueling 1955 All-Star Game. As Stan waited for the pitch, American League catcher Yogi Berra made the comment that his feet were killing him. Stan told Yogi to relax. "I'll have you home in a minute," said Stan just before smashing the next pitch out of the park and winning the game for the National League. It was one of the record six homers Stan would hit in his 24 All-Star Game appearances – another record.
The year 1957 would see Stan win his last batting title, hitting .351. His power and preciseness with the bat would continue and he hit a strong .330 as late as 1962. Musial had been advised he should retire but relented, wanting to go out with a batting percentage that was not what he considered to be embarrassing. That was not to be. The 1963 season would prove to be his last as Musial slumped to hitting just .255.
Upon his retirement, Baseball Commissioner Ford Frick said: "Here stands baseball's perfect warrior. Here stands baseball's perfect knight." Those words were inscribed on the pedestal of a bronze statue of Stan The Man that was place outside Busch Stadium in 1968.
Stan The Man Musial was never one of Major League Baseball's glitzy glamour boys. He was more of a blue-collar guy who was given a job to do, and who went out and did it. And while his name is usually not the first to come up in those debates on the greats, when it does come up, and those pauses are taken, the consensus will usually be that he truly was one of the greatest players in baseball history.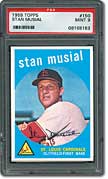 "(Stan would) kill you," Boston Braves pitcher Johnny Sain once said. "But he was a gentleman."
A left-handed hitter who stood 5'10" and weighed 175 pounds, the gentlemanly Musial became famous for the unusual crouch he took at the plate. With his No. 6 turned almost squarely towered the mound, Stan would slightly gyrate his hips to stay loose and then, with his left leg bent to support his weight, crack line drives to every part of the field.
"I started to crouch because that way I could guard the plate better, and I always wanted to hit .300 in the big leagues," Stan once told an interviewer.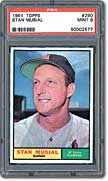 And that he did – in each of his first 17 seasons. He was also the first man to play in more than 1,000 games at two positions – the outfield and first base. He won seven batting titles during his 22-year Hall-of-Fame career, compiling a lifetime average of .331 and on-base percentage of .418. He retired with then-NL records for games (3,026), at-bats (10,972) and hits (3,630), which, rather remarkably, were divided into 1,815 at home and 1,815 on the road.
He was the first NL player to win three MVPs and in 1948 missed winning the Triple Crown by just one homer. He had 1,377 extra-base hits and 6,134 total bases. He hit 725 doubles and 177 triples. And while most remember him for his powerful swing, some also remember that he was so fast he earned another nickname – "The Donora Greyhound." He chalked up 1,951 RBIs and 1,949 runs. He led the NL in slugging percentage and total bases six times each. Musial's 475 homers are the most of any retired player who didn't win a home-run title.

Following Stan's retirement from the game that saved him from the mines and mills of Pennsylvania, President Lyndon Johnson appointed him director of the National Council on Physical Fitness. Three years later, Stan was inducted into the hallowed hall of Cooperstown and returned to baseball as the Cardinals general manager. The Cards won the World Series that year, and feeling that he now had the chance to go out on top, Musial stepped down as GM, but did continue to serve as the franchise's vice president. In the ensuing years, Stan has remained active in several business ventures, including his St. Louis restaurant.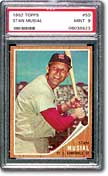 In December of 1957, sportswriter Paul O'Neil wrote of Stan Musial saying that it was hard to consider his life and times without feeling that he must have been invented by Horatio Alger.
"His is the story, trite but astounding, of the poor, proud boy who goes to the great city, marries a lovely girl, becomes rich and famous, raises three handsome children, and earns the admiration of his fellow citizens in all walks of life. But Horatio Alger wrote of shoe clerks and industrious newsboys; when Musial stands, coiled and ready, at the plate, he is a warrior."
When it comes to San Musial sportscards, interest and desirability seemingly began slowly and have grown over time. That is the case for two reasons. First, from the towering shadows of the more exciting Babe, Joltin' Joe, Say Hey Kid, Hammerin' Hank and others, it has taken a while for collectors to fully discover and appreciate what a lasting mark Stan The Man made on the game.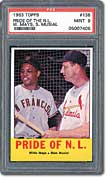 The 1948-49 Leaf # 4 and the 1948 Bowman # 36 are the only two recognized Stan Musial rookie cards.
Up until recently, the Leaf offering was a highly undervalued card in comparison to other rookie cards of the era. That has changed and collectors are becoming more aware of the importance of Musial rookie cards.
The Leaf # 4 is just one of the key cards in the popular 1948 Leaf set. It is considered to be a more aesthetically pleasing card than the Bowman, largely because it was produced in color. The card suffers from problems that tend to be inherent with the '48 Leafs – most notably their centering. A high quality sample of this card has a quality that makes the bat swingin' Musial appear to pop out from its blue background. The problem is that it is rare to find these cards with the vibrant colors that make his image pop.
As most experienced collectors know, Leaf cards from this era tend to be dull in appearance and lack clarity. These cards were also produced using inferior quality paper and were crudely cut making sharp edged samples difficult to find. Although the Leaf # 4 has traditionally taken a backseat to the more mainstream Bowman # 36 in desirability, the fact of the matter is that the Leaf # 4 is the most difficult Musial card to find in high grades.
While the 1948 – 1949 Leaf set offers an overall stronger level of desirability than the 1948 Bowman set with many collectors, there is no doubting that the Bowman # 36 is considered to be THE Musial rookie card. Along with the Yogi Berra rookie offering, the # 36 card is one of the keys of the "48 Bowman set.

Both the Berra and the Musial Bowman cards are widely found with print defects and centering problems. Because the image on the card is a tight "mug shot" of Stan The Man, printing defects become even more noticeable, especially if they appear on his face. This particular card is also known to suffer from border toning. It is also common to find this card with a fairly rough cut. Those less-than perfect cuts are not generally considered to be a great detractor to the card's overall quality unless they are visually severe.
Stan Musial game-used bats might be the ultimate collectible considering the type of hitter he was. Musial was very devoted to H&B bats throughout his career. His bats were of the signature model series early in his career and then, mainly during the 1950's and later, changed and exhibited "Musial Model" in the endorsement space along the barrel end. Musial was also known for a very unique type of bat preparation during his career. Not a fan of pine tar, Musial would sometimes groove the handle of his bats with a jackknife in hopes of enhancing the grip. This has been documented in baseball related books over the years and Musial has been quoted regarding the practice as well. Another characteristic of note would include the presence of a vintage, underlined "6" on the knob of his gamers. Musial would not always do this (as many players of the generation were inconsistent in relation to placing their numbers on the knobs of their gamers) but the existence of the vintage uniform number does provide additional authenticity, placing the bat in Stan the Man's hands.
The Tycoon
by Ogden Nash
The business life of Mr. Musial
is, to say the least, unusual.
First base, outfield, restaurant, bank,
All are home to Stanley Frank.
One moment, slugger of lethal liners,
The next, mine host to hungry diners,
And, between the slugging and the greeting,
To the bank for a directors' meeting.
Yet no one grudges success to Stan,
Good citizen and family man,
Though I would love to have his job —
One half tycoon, one half Ty Cobb.
Source: LIFE magazine (Sept. 5, 1955)
"Stan Musial, at least in my estimation, has to be amongst the most overlooked baseball players of all-time. Not only are his numbers outstanding, they are remarkably consistent throughout his career. Like Ted Williams, Musial was a complete hitter at the plate, excelling in batting average, power and run production. Like Lou Gehrig, while Musial was a great competitor on the filed, he was also a complete gentleman off the field. If Musial were a Yankee, I think you would see a dramatic difference in the value of his collectibles. For the collector, the fact that he didn't wear pinstripes just means that more collectors can actually afford to own something related to him."
– Joe Orlando, PSA President