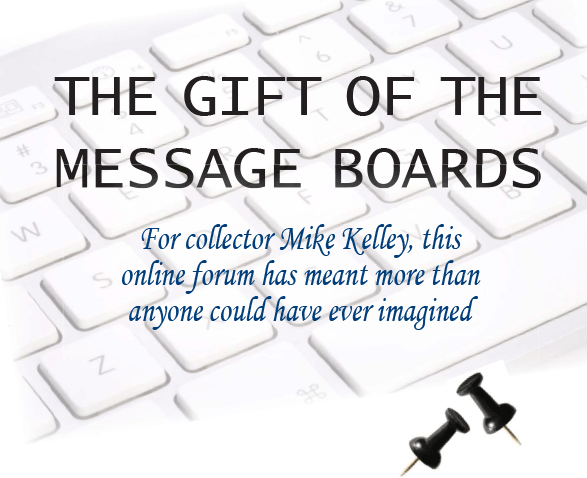 When the powers-that-be at Collectors Universe established the Professional Sports Authenticator (PSA) Community Message Boards on their website (www.psacard.com), they believed it would prove to be a great resource for sportscard and memorabilia collectors to get to know one another, share information, ask questions, provide answers, spread the word on what they are looking for, and to buy, sell and trade cards and memorabilia.
For one collector, Mike Kelley of Summerville, South Carolina, this service has meant far more than anyone could have ever imagined. A long-time card collector and active user of the message boards since 2009, Kelly, who was born in Massachusetts in 1977, is today a father of three young children with a background in the financial services industry.
That profile would do nothing to make him standout from thousands of others who, just like him, utilize the online services of PSA to enhance their card and memorabilia collecting experience. What does make him unique, however, is the devastating and unimaginable pain and suffering he has endured, and how the message boards provided him with the solace, strength, support, friendship and hope to weather the darkest of storms a young man could ever face – the 2011 death of his beautiful, young and vivacious wife, Michelle.
Over the years, Sports Market Report (SMR) has done thousands of stories that reveal the many different shadings of those who are attracted to collecting cards and memorabilia – men and women, the young and the old, those who are rich beyond measure, those who work hard to simply get by, those who collect specific teams or players, and those who are obsessed with building sets or embarking on a quixotic hunt for the most challenging of treasures.
The story of Mike Kelley is different – very different. It is one that rarely, if ever, would be included in a magazine like SMR. It is a story that is as human as any we have ever published – an insight on how we deal with and overcome the most tragic of life's circumstances.
"My story is about how a sportscard forum became a family," says Kelley. "How the compassion and support of the people I met through the message boards helped carry me and my family through the most difficult time of our lives. It's about how, when you get beyond the pieces of printed cardboard we collect, there are real people there. Each one of us is a real person, with real lives and with real problems. It's about how even in an unlikely place like a sportscard forum, people, most of whom have never even met, can come together and provide such support and inspiration to one another."
With the desire to express his gratitude for the positive impact the PSA Message Boards provided him during his wife's lengthy and courageous battle with cancer, his own subsequent battle with grief, and his quest for healing, Kelley recently sat down with SMR and spoke candidly about how card collecting and the friends he has made through the hobby have played such a significant role.
We began our conversation by asking how he first got involved with collecting.
Mike Kelley (MK): My family lived in Massachusetts until I was seven. Then we moved to New Hampshire, where I lived for the next 20 years. I had always loved sports, and of course, living in New England, I was a Patriots, Red Sox and Celtics fan. In the mid-1980s, when I was 11 or 12, I really got into collecting cards.
My brother and my father and I actually started a little business. We would go to flea markets and sell cards. We would make a couple hundred dollars on a good day, then take our profits and go buy wax boxes. We'd go through all the cards, see what we had, and then continue the process the following week. I did that until I was about 14 or 15, and that's when I stopped collecting.
Sports Market Report (SMR): That's pretty typical. Seems like every collector left the hobby at some point in their teens to start pursuing their life.
MK: That was the case with me. I didn't take a conventional path as far as my career goes. When I was 16, I left high school to work at a sales job and continued to work in sales and marketing until I began working in the financial services business.
Then, on November 24, 2001, I met Michelle at a dance club. I was 23 and had just started in the financial services business. She had a daughter, Tyla, and we all got along great. Michelle and I ended up getting married, and we had the picture perfect life. We had two more children, moved into a new house, and in 2007, I started a financial services company with a partner.
We did very well, and at one point, we had five offices and over 100 employees. It was a wonderful time. I was successful with my business, and Michelle stayed home with our three children. Back then, I could have never imagined how everything would change – how our whole world would be turned upside down – so dramatically and so fast.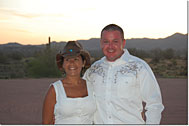 SMR: What was Michelle's first indication that something wasn't right?
MK: We were just watching TV one night and she felt a lump on her right breast. She had no history of breast cancer in her family – none at all. She had the gene test done and it came back negative. Then, she had a mammogram and they detected a mass. They did six biopsies and every single one came back positive. So, in March of 2008, at 28-years old, she was diagnosed with breast cancer.
SMR: How does a couple in their 20s with three kids deal with something of that magnitude?
MK: Michelle had a true determination to live. She was a real fighter and showed incredible strength and courage through it all. From the moment she was diagnosed, she made sure everybody thought she was okay, even though she wasn't. She had been diagnosed with triple negative breast cancer – one of the rarest kinds.
She elected to have a bilateral mastectomy which required nine hours of surgery one day, and then three more the following day. She endured a lot – 16 more surgeries and months of hardcore chemo therapy. Through all of that, she always smiled and denied a lot of her pain to protect her children and help them cope.
SMR: What about you? How did you cope?
MK: (sighs) I know this may sound crazy, but shortly after Michelle was diagnosed with cancer, I began collecting cards again. One night, about a month after we got the initial diagnosis, I couldn't sleep, so I went on eBay and bought a bunch of 1989 PSA graded Ken Griffey, Jr. rookie cards. I'll be honest, when I bought those cards, I had no idea what PSA was. I had been out of [the card collecting hobby] for 14 years, so I had no idea what was going on or what grading was all about.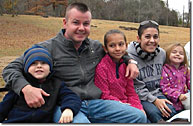 SMR: Was getting back into collecting something you consciously thought about doing?
MK: It just happened. When I went on eBay and bought those cards, it brought me back to a happier time when there was no stress, worry or doubt. It took me back to when I was a kid.
Was it some sort of a defense and coping mechanism? Sure it was. It was an escape, and as Michelle's disease progressed, I got more and more into learning about cards, PSA and grading – just everything I could learn about the card industry and hobby.
At night, when my kids and my wife were asleep, I would sit at the computer until one or two in the morning learning about the history of the hobby and how it had progressed. I felt that the cards came alive and talked to me. It was a place of peace, and I felt that as long as I was in front of the screen, with those cards, there was no sickness, worry or sadness.
When I think back on that time, it was as if I was living three separate lives. I was running a company, taking care of my children and my wife, and then there were the athletes, sports and cards.
SMR: As you were going through this, did you find any hope – with the surgeries, the treatments, or Michelle's positive outlook and fighting spirit?
MK: I did. We both did. In fact, there was a time in 2009 when she seemed to be doing better. She started going back to the gym and working out, and things were going well until her leg started hurting. She thought she had hurt it on the treadmill, but in April of 2009, they did a bone scan and found out that the cancer had metastasized and spread through her bloodstream to her ankle and into her lymph nodes. That was when I really knew – this would be a very difficult road for us.
SMR: A road that no one can begin to imagine unless they have traveled it themselves. How do you keep your sanity while going through something like that?
MK: I guess everyone handles it in their own way, but I found my sanity in card collecting and in the great support provided by the Collectors Universe and PSA Message Boards. I had first started posting on the boards in 2009. I can't really remember when I first posted something personal about what we were going through, but I think it was around the fall of 2010, in response to a question someone asked. I've never been big into Twitter or Facebook as far as posting things, but I was on the PSA boards.
Around 2011, I was having a real tough time. This was when we had come to terms with the fact that Michelle's illness was terminal. I just let it all out one night, explained what I was going through and asked for prayers, strength and encouragement. I wrote that I was thankful for the sportscards forum because, for me, it was a coping mechanism and a release from the horrific reality I was living.

SMR: What sort of response did you receive?
MK: At first, I got a lot of people expressing sympathy, but then, as time went by, more and more people started opening up about difficult situations they had experienced. There was no one who could relate to me and what I was dealing with at my age, but I heard from people who were older and who had lost a spouse or a child or a family member. Then, the most amazing thing happened. All sorts of things started coming to my house.
I started getting cards for my children and for me. We got cards of encouragement – homemade cards. We got tickets to the movies and packages filled with toys. People thanked me for sharing my story. And [they] told me that it made them hug their own wife and kids an extra time each day and tell them how much they loved them.
SMR: Was Michelle aware of this?
MK: Yes. She knew about my renewed interests in cards and that I was sharing the story of what we were going through on the boards. How could she not know – there were packages and cards constantly arriving in the mail. She knew how much I was spending on cards, and we even had a talk about it. We discussed how it was an escape and a coping mechanism for me. But we also talked about how my card collecting would have value for our children's future. I have a collection that is specifically [comprised of] high-end cards that I will never touch – that I am holding for my children.
I learned so much by immersing myself in cards and the hobby. Most importantly, I learned how to make money through collecting. As Michelle's illness progressed, I had to resign from my company. But by understanding cards, I was able to create a position in which I can work from home creating income for my family, as well as investments for the future. Michelle's support of what I was doing was what made that possible.
SMR: So even as Michelle's condition worsened, you continued to communicate with people on the boards?
MK: All the time. I would post when I was in the hospital with her. By August of 2011, she was down to about 85 pounds. I knew she only had a short time. I would post pictures of my family – all of us together at the hospital. When I think back, I can't even imagine what it would have been like to have gone through that time without the support I was receiving from people on the boards.
The sportscard forum became a life saver for me emotionally. The support was overwhelming. The forum really played a large role in my emotional stability, and I will forever be grateful for that. At night, when I would have the hardest time coping, I would go back and reread a lot of the posts. No one will ever know how much that support meant to me.
The encouragement, support, and love that was shown to my family and me was beyond belief. It did so much to help me – and this, in turn, enabled me to care for my wife better, which then helped her live longer. It is incredible how a hobby – sportscards – and the message boards could bring such amazing people together.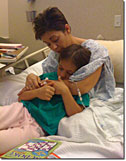 SMR: Did you ever have the opportunity to meet any of the people you were communicating with through the boards?
MK: Yes. In August, knowing that I was in desperate need of a break, my mother came to stay with the kids, and I went to the National. It was wonderful to actually meet so many of the people I had been communicating with on the boards. Then, in September, when it had gotten to the point that Michelle was on oxygen and it was a really critical time, I met some people who live locally here in South Carolina. I spent some time with them, and we talked about all the things we complain about on a daily basis and how all those things don't mean anything when you are going through something like what we were.
MK: The suffering she went through was brutal. Her cancer had spread to about 35 different sites in her body, including her liver and lungs. My children were exposed to horrendous times. She would get very sick 10 times a day, month-after-month. Right to the end, she was a real fighter. But cancer is cancer.
SMR: You said you continued to post updates on the message boards right up until Michelle passed away. There must have been a great outpouring of support when you posted that she was gone.
MK: People who I had gotten to know through the boards sent flowers, and some even came to her funeral. How did I make it through? My faith, of course, family, and friends. But the message boards played a huge role. We so often hear about various message boards on the Internet being used for things like bashing or bullying, but look at my story. When they are used for good, relationships can be forged and positive communities of friends can be built.
The message boards are where collectors can really help one another, whether it's to get through a family crisis like mine or for some other positive cause. Of course, they are [mainly] there so that we can help one another with submissions, questions, group box breaks, or even help someone find a card to complete a set, but they also do so much more.
The people I have met through the boards have gotten together to help save a guy who was losing his home to foreclosure. We have raised money for different members' charities – it's a subculture within a subculture – like we're all a part of this Collectors Universe family.
SMR: No one can go through what you have gone through without being a changed person. How do you feel you are different today because of all you have been through?
MK: I don't hold any anger. I'm just incredibly grateful that Michelle was in my life for one decade. During that time she brought me three amazing children.
Am I a changed person because of her? Yes. I'm more loving, caring and patient. I have more admiration and understanding of people from different walks of life. I've come to really understand what is important in life. I used to be a bigger-is-better-fast-track-type guy. Today, I realize that what is important is family, friends and church. Coming to that realization was a part of the many gifts Michelle left me.
SMR: Mike, as time passes, how are you and your children doing?
MK: We're doing as well as we can. Children are so resilient. My children are doing very well in school, and our church family has given us great support. Some days are harder than others. Some weeks are harder than others. We just take one day at a time with the support of our friends and family, and the continued support I get from the sportscard forum. So, yes, days and nights are still hard, but the sportscards keep me sane.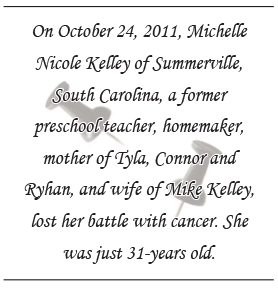 SMR: So you are still actively collecting and posting?
MK: All the time. I was having a really hard time dealing with [the process of] getting a headstone for Michelle. I posted that I just could not bring myself to order it and didn't know what it should say. I had so many people who were supportive and even gave me ideas about what to put on the headstone. They suggested I put my kids' names on it, which I would have never thought of doing.
I talk to so many of the friends I have made [on the boards] on a regular basis. In fact, I have really gotten to know a lot of them and have even gotten together with them and our kids. We've played golf and gone to the beach. There is great comfort in being with people.
As for collecting, it is a very big part of my life. When I first got back into cards, I really didn't know what I was doing. But I have learned so much and have gotten to like vintage material – 1940s up through the 1960s. I've also found that a lot of collectors are like me in that we also like modern material. I like current stuff because I like the sports of today. I like collecting guys who I can actually watch play. I also collect unopened material [like] packs and boxes, and I'm currently working on compiling the highest graded Topps 1977 Baseball set. That was the year I was born.
My children have also gotten into cards. They are Red Sox and Patriots fans, so they have cards pertaining to those teams. It's a really wonderful thing for us to sit around and go through them together. As I mentioned before, I see my collection as an investment that can be used for my kids' college [careers] or to be handed down. I see it as part of my financial portfolio. With the market struggling, hard assets, like cards, have become enticing to people.
SMR: Mike, your story is unlike any other we have featured in SMR. You are incredibly brave to have shared so many personal things, and we know that all of our readers join us in wishing you and your children the very best of all things.
MK: That is very kind and it means a lot to me. I know that the typical story is about how much we all love our cards and collecting, but at the end of the day, the reality of life is that they are just cardboard. There are a lot of things we all take for granted in life, so to those reading this, I would just say that I hope they live every day knowing how precious life is.
I hope that by sharing my story I can offer someone else hope or inspiration. The strength to inspire others is a gift everyone should give, so I would encourage everyone to give that gift constantly. People on the message boards did that for me. They became like my family, and [they] gave me the gift of strength and the inspiration to go on.