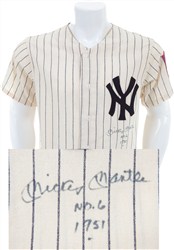 (Scottsdale, AZ) – Offering an eclectic and enticing mixture of lots from Sports, Hollywood, Rock and History, Iconic Memorabilia's Holiday Autographs & Memorabilia Auction is set to close on Saturday, December 15th. Lots for this sale can be viewed and bid on by going to the company's website, http://www.IconicMemorabilia.com.
"Obviously most companies will promote that a current auction is their biggest and best auction yet, but that statement is truly accurate for our Holiday Auction. It's really the culmination of a tremendous growth year for us," says Jeff Woolf, Principal Managing Officer for Iconic Memorabilia. "From start to finish, this auction holds stellar material. Every category has several 'wow factor' lots."
Highlights for the sale include:
1954 Roberto Clemente Signed Pre-Rookie Puerto Rican Baseball Contract with Clemente Fingerprint! (PSA/DNA)
Michael Jordan Signed 1986 Fleer #57 Rookie Card PSA Graded NM-MT 8 (PSA/DNA Encapsulated)
Apollo 11: Neil Armstrong Signed 8" x 10" Color NASA Photograph with "Good Luck" Inscription (PSA/DNA)
The Beatles: John Lennon Personally Owned & Worn Wire Rim Glasses
Mickey Mantle Signed 1951 Style Mitchell & Ness #6 Rookie Era Jersey with RARE "No. 6, 1951" Inscription (PSA/DNA)
Cy Young Vintage Handwritten Questionnaire for Sporting News with Phenomenal Baseball Content RE: Ruth, Cobb & Wagner! (PSA/DNA)
Muhammad Ali Training Worn Everlast Boxing Trunks (ex. Wali Muhammad)
All autographed material featured in the Iconic Memorabilia auction will be accompanied by at least one Certificate of Authenticity from an industry recognized third-party authenticator such as PSA/DNA. In many cases lots will be accompanied by multiple letters of authentication.
For additional information and copies of the auction catalog, contact Iconic Memorabilia, 16413 N. 91st Street, Suite 105, Scottsdale, AZ, 85260. Toll-Free Phone: 1-800-325-7127. Web: www.IconicMemorabilia.com. Email: ContactUs@IconicMemorabilia.com.