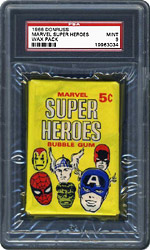 When Eric Anctil started his 1966 Marvel Super Heroes set on the PSA Set Registry in December 2008, less than 1,000 cards from the series had been submitted for grading.
Today, more than 2,100 examples have been evaluated.
"When I first started, there were hardly any graded, which is one of the reasons I began collecting it," said Anctil, who owns the registry's No. 8 set. "I personally think the interest is increasing. Every superhero in the set has been featured in a movie."
Indeed, Hollywood has boosted – if only modestly – the popularity of this 66-card offering that's divided into six 11-card sub-series: Captain America (#1 to 11), Iron Man (#12 to 22), Daredevil (#23 to 33), Spider-Man (#34 to 44), the Hulk (#45 to 55) and Thor (#56 to 66).
Mike Bothner, who owns six registry sets, including the No. 1 collection, points out that this is Marvel's first set of trading cards.
"I don't understand why it isn't the most popular set," he exclaims. After all, he adds, "if you go back and look through all of this vintage comic-related stuff, what's more popular than Marvel?"
These standard-sized cards showcase drawings of the superheroes in action. Anctil says that the artwork was plucked from comic books, but the humorous balloon captions that accompany them – and joke about everything from class parties to P.T.A. meetings to scout cookies – were not.
"I just thought the idea of having these funny lines in there, instead of the real lines from the comic books, was hysterical," said Anctil.
Fourteen cards (#3, 7, 10, 15, 18, 20, 25, 30, 33, 36, 44, 45, 65 and 66) offer a blank caption box and encourage collectors to write in their own.
The fronts also exhibit the copyright information, card number and the sub-series name. The backs combine to form a large puzzle that depicts the six superheroes.
Originally distributed in five-card, five-cent packs, these cards were shipped in 24-pack boxes. The packs offer collectors the opportunity to send five wrappers and a dollar to a Memphis address in order to receive a Super Hero Stationery Set.
The release of these cards coincided with an animated Marvel Super Heroes TV series that featured four of the characters in this set. Captain America, the Hulk, Iron Man and Thor were part of the show's adventures.
In Anctil's experience, the Spider-Man cards are the most coveted. The PSA Population Report backs up this contention. More cards from the Spider-Man sub-series have been submitted than from any other sub-series.
The veteran collector is surprised that a set dedicated exclusively to the legendary web-slinger was never created.
"There are a whole bunch of Batman sets, and you almost expect the same from Spider-Man," said Anctil. However, he further observes, "you get the sense that when they created this 1966 set, no superhero was more important than any other superhero."
Bothner, who possesses 13 of the 30 PSA GEM-MT 10s documented for this issue, says that the set's first and last singles are two of the most elusive in high-grade. The first card features Captain America fending off two well-dressed men that are shooting at him, with the caption "I love these class parties!" The last card features Thor and entices collectors to write their own caption.
"In a lot of vintage sets, some of the rarest cards are the first and last cards because people liked to collect sets and wrap a rubber band around them," explained Bothner. "And when you do that, the first and last card are ruined. There is only one PSA [MINT] 9 of card #1 and one PSA 9 of card #66, and I have both of those."
Anctil offers similar observations.
"Card #66 is one in particular that's difficult to find centered," he said. "I think there are only two cards that are graded as [PSA NM-MT] 8 and I think there is one [PSA] 9. Also, there are two [PSA] 9 OCs, but they're just not [in the market.] I'd consider myself fortunate if I found a [PSA] 8. To me, #66 is the toughest card."
Card #11, which showcases Captain America clinging to a Nazi aircraft and displays the caption "I got it for 362 books of stamps!", is also evasive in flawless form.
"That card is typically off-center," said Bothner. "There are no PSA 10s and I have the only PSA 9."
Card #65 – a single in the Thor series that encourages collectors to write their own caption – is also elusive in top condition.
"There are five PSA 8s and there are no PSA 9s," noted Bothner. "For whatever reason, these cards were cut so far off-center that they don't fall into the [PSA] 9 category."
The second-most submitted card in this series is #39, a Spider-Man card that flaunts a split-face – half of which is Peter Parker and the other Spider-Man. The caption reads, "I made a before and after commercial." Forty-six have been evaluated by PSA, and there have been five PSA 9s and nineteen PSA 8s. One PSA 9 garnered $168.50 on eBay in March 2011.
The most submitted card is #50 – a pasteboard that features the Hulk in full destruction mode with the caption "But I wanted an A-bomb for Christmas!" Of the 47 sent in for grading, there has only been one PSA 10 and five PSA 9s. One PSA 9 sold for $77.89 on eBay in April 2009.
Poor centering is the most common flaw on these cards, but Anctil has seen a lot of cards where collectors have written in their own caption.
Which 11-card sub-series has the most PSA submissions?
Sub-Series
Total No. of Submissions*
Spider-Man
392
The Hulk
390
Daredevil
362
Captain America
356
Thor
330
Iron Man
301
*PSA Population Report statistics as of May 2012.
As a kid, Anctil distinctly remembers that these cards were either written on by somebody else or by him and his friends; they were just kids trying to be "wise guys" he says. "When you're nine or ten years old, and you're reading some of the comedic things they're [printing on the cards]...you then try to come up with your own comedy lines and write them in [yourself]," Anctil reminisces.
Bothner has opened over 100 packs in recent years, and he says that gum and wax stains are rampant.
"The gum ruined every single card that was next to it," he said. "And a lot of times, the other outside card was ruined because of the wax."
With four of the characters (Iron Man, the Hulk, Thor and Captain America) featured in The Avengers movie to be released in May, this set could see a spike in popularity.
"I keep thinking that one day this is going to become a very popular set," said Bothner. "I've seen these cards; I know their value, and I just think they should be worth two or three times more than what they actually sell for."
For a YouTube video that showcases a wax box, a pack and every card from this series, click here.
---
Please feel free to contact Kevin Glew at [email protected] if you have any additional information or comments. Mike Bothner and Eric Anctil provided pictures to the author for this article. Please note that the Population Report figures quoted and Set Registry rankings reported are those as of May 2012.