Document signed by Rose, Bart Giamatti and Fay Vincent among the 600+ lots of sports, pop culture and historical memorabilia at www.GoldinAuctions.com
15 Special Lots added with 100% of sales and 10% buyer's premium donated to American Red Cross Disaster Relief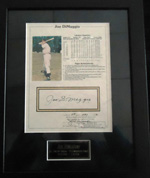 WEST BERLIN, NJ – Nov. 12, 2012 – For more than three decades, sports memorabilia impresario Ken Goldin has sold more than $600 million in memorabilia from many of the biggest names in sports, history and pop culture. But none have had the cultural importance as the headline item in the first auction of his new company, as Goldin Auctions offers for sale the original Pete Rose Banishment Document issued by the Office of the Commission of Baseball on August 23, 1989. The document, which has a current bid of $133,100, is one of 600+lots rare and unique sports, history and pop culture memorabilia for sale through Nov. 17, 2012 at www.GoldinAuctions.com.
The 5-page document officially ended a 6-month investigation by the Office of the Commissioner as to allegations that Rose bet on baseball while the manager of the Cincinnati Reds. The historic document, which was Rose's personal copy, is signed by Rose, his attorney Rueven J. Katz, Commissioner A. Bartlett Giamatti and Deputy Commissioner Fay Vincent. The document, comes with a Letter of Authenticity from Rose saying that this was his personal copy as well as full PSA/DNA LOA.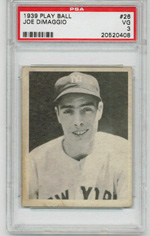 "The banishment of Pete Rose from baseball is one of the most significant events in baseball in the past 50 years, making this among the most important document in baseball history not just because if it's significance but because it is the only known document signed by Rose, Giamatti and Vincent," explains Goldin. "We know there are many baseball historians, collectors and Rose fans around the world that will need to have this original document in their collections."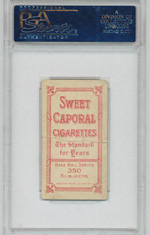 The devastation caused by Hurricane Sandy in the tri-state area, on Nov. 6, prompted Goldin Auctions added 15 Hurricane Relief Lots to the auction with 100% of the sales from these items, including the 10% buyers premium, being donated to the American Red Cross for Disaster Relief. Some of these items include: 1909 T-206 Ty Cobb Portrait Red Background (PSA 2) Baseball Card; 1926 W512 Babe Ruth PSA Authentic Baseball Card; 1939 Play Ball #26 Joe DiMaggio Card (PSA VG3); Barry Bonds Autographed Bat; Stan Musial 3-Time MVP Signed and Inscribed Bat; 50 Signature 16"x20" Red Sox Tribute to Ted Williams; 16"x20" Autographed NY Mets Photo signed by 50 former Mets; 16"x20" Julius Erving Signed and Framed Photo (#1 in Edition); and more. To view or bid on these items, go to www.GoldinAuctions.com and click on the category Hurricane Relief.
Goldin Auctions has been launched with the goal of best serving collectors and consignors and holding itself to the highest standards in the industry. Some of the policies that make Goldin Auctions different include: an industry low 10% buyers' premium; all autographed items accompanied by an LOA from first party authenticators (such as MLB), PSA/DNA or JSA; game worn items accompanied by a team, player or MEARS/PSA/DNA or other full LOA; the assurance to collectors and consignors that they can bid with confidence that their proxy/ceiling bid remains confidential as Goldin Auctions has disabled that feature of the auction software – a practice not followed by many other online auction houses. The auction is scheduled to close on Nov. 17 at 10 pm ET but will follow the "15-minute rule" (meaning items will close once no bids have been received for 15-minutes). Only those having previously bid upon the item will be eligible to bid after 10 pm.
Here's a look at some highlight items with current bids.
Unique Sports One-of-A-Kinds
Pete Rose Banishment Document – ($133,100)
Dave Schultz's Harley Davidson Motorcycle ($10,000)
2004 Flyers/Peter Max Artwork ($4,875)
Michael Jordan's American Express card ($2,860)
Baseball Bats, Balls, Cards, Trophies & More
1930's Babe Ruth Signed Bat – ($16,106)
1986 Barry Lyons NY Mets World Series Ring ($10,721)
1952 Topps Mickey Mantle rookie card ( PSA 4) ($8,860)
1993 Ricky Henderson Toronto W.S. Trophy ($7.088)
1934 NY Yankees Signed Baseball (strong Ruth and Gehrig) ($6,490)
1980 Philadelphia Phillies World Series Ring ($3,894)
2001 Roberto Alomar Gold Glove; 1995-96 ($3,500)
1933 Goudey complete ($2,420)/1934 Goudey complete ($2,363)
1908-10 Ty Cobb Game Used Bat (Mears A-7.5) ($1,650)
1934-37 Rogers Hornsby Game Used Bat (Mears A-7) ($1,650)
Jerseys & Game Used Gear
1950's Norm Van Brocklin Game used Rams Helmet – ($10,000)
1977-78 Roger Staubach Game Used Jersey – finest in existence (A10 Mears) ($8,054)
2012 Derek Jeter Game used Yankee Home Jersey ($7,000)
1994 Jerry Rice signed & inscribed Game Used Super Bowl Jersey ($6,202)
2001 Drew Brees First NFL Game Worn Jersey (Chargers) ($5,500)
1995-96 Michael Jordan Game Worn Jersey. Championship Season (Mears 'A10')($5,363)
2003-04 LeBron James Game Used Rookie Jersey ($2,197)
Historical/Entertainment/Pop Culture
Audemars Piquet Royal Oak Offshore Chronograph "Arnold Legacy" Watch ($27,500)
1864 Abraham Lincoln Signed Civil War Document ($4,400)
#359 X-Men Issues #1 1963 (CGC 4.0 very good) ($999)
Avengers #1 Marvel Comic Book ($750)
About Goldin Auctions
Sports memorabilia impresario Ken Goldin has sold more than $600 million in memorabilia from many of the biggest names in sports, history and pop culture and was the pioneer of using the medium of television to sell sports memorabilia. With the launch of Goldin Auctions he will continue to break new ground and offer collectors the best in memorabilia. Goldin Auctions features only a 10% buyers' premium, one of the lowest rates in the industry. All autographed items come with LOA from first party authenticators or PSA/DNA or JSA. All game worn items come with team, player or MEARS/PSA/DNA full LOA or additional LOA. In addition to Ken Goldin, Goldin Auctions features a team of world-class memorabilia experts. For more information visit www.goldinauctions.com.
Media Contact: Doug Drotman (631-462-1198) doug@drotmanpr.com