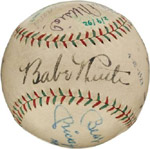 DALLAS, TX – Heritage Sports Collectibles' $5.8 million Oct. 25-27 2012 Signature® Auction further established the company as the leading auctioneer in the industry, with a record 600 consignors supplying the event with nearly 3,000 lots for the largest bidding audience (2,393) yet to participate in a 2012 auction.
"This event was a true testament to the breadth and depth of the Heritage bidding clientele," said Chris Ivy, Director of Sports at Heritage Auctions. "It's no small feat to achieve consistently strong prices for nearly 3,000 lots over a three day period, but the top collectors really turned out in force for this one and were quite enthusiastic about the material."
Early cardboard earned the top spots in this densely packed event, with the world famous "Black Swamp Find" of 1910 E98 candy cards making its second Heritage Auction appearance after debuting in the Baltimore Platinum Night event in August.
"We were pleased but not surprised to see interest remaining very strong in this collection," said Ivy, who reported more than $219,000 realized for the 34 lots offered in this event. "Clearly the enormous exposure our marketing department achieved for the 'Black Swamp Find' has served our consignor well."
The second finest 1970 Topps Baseball set in the hobby soared into rarified air for a modern issue, tallying $112,330 through a combination of single cards and group lots fashioned to maximize financial return for the consignor.
One of the highest prices ever realized for a 21st Century football piece stunned the gridiron collecting world as the helmet worn by Pro Bowl Pittsburgh Steelers linebacker James Harrison during his Super Bowl record 100-yard interception return against the Arizona Cardinals in 2009 sold for $53,775.
Recently deceased Hall of Fame slugger Harmon Killebrew was fondly remembered by collectors, who battled to a $26,290 result for Killer's 1959 Minnesota Twins uniform.
All that glittered was collecting gold in an auction punctuated by the spoils of athletic war, with notable entries including a 1923 New York Yankees World Championship pocket watch at $33,460 and an Olympic Gold medal issued to a member of the victorious 1924 Uruguayan soccer team, which realized $26,290.
Top autograph results from this landmark event included the second offering in Heritage history of an exceedingly rare Charles "Kid" Nichols single signed baseball at $33,460 and an extraordinary ball autographed by Ruth, Gehrig, DiMaggio, Mantle and more for an eye-popping $41,825.
"It's been a hectic three months, but all of the hard work has clearly paid off, with well over $10 million in sales since the first of August," said Ivy. "With the addition of the February Platinum Night auction in New York, the outlook for the 2013 auction calendar is very bright."
Other notable results from the auction include:
Heritage Auctions is far and away the largest auction house founded in the United States, and the world's third largest, with annual sales of more than $800 million, and 750,000+ online bidder members. For more information about Heritage Auctions, and to join and receive access to a complete record of prices realized, with full-color, enlargeable photos of each lot, please visit HA.com.
Want to get the up-to-the-minute updates and breaking news stories about Heritage Auctions? Get them as they happen at: HA.com/Twitter; Facebook: HA.com/Facebook. To view a complete archive of Heritage press releases go to: HA.com/PR. To link to this press release on your blog or Website: HA.com/PR-2267.