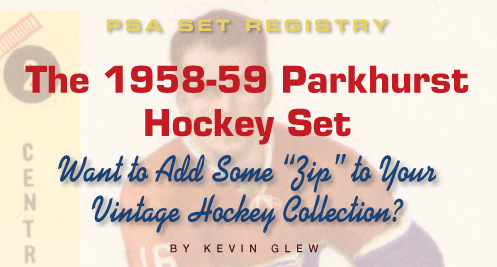 In 1958, the zip of Boom Boom Geoffrion's slapshot was striking fear into goaltenders and helping the Montreal Canadiens win their third consecutive Stanley Cup.
So maybe it was the velocity of his shot that inspired Parkhurst to start marketing their hockey cards under the "ZIP" brand. Beginning with their 1958-59 card set, the "Parkies" name was replaced by "ZIP" on the company's packs.
Bobby Burrell, author of Vintage Hockey Collector, says this branding switch was likely made to "change things up" and increase sales.
It's unclear, however, if the tactic worked. The 50-card Parkhurst set faced stiff competition from the 66-card Topps set issued that same season. Restricted to offering cards from the Montreal Canadiens and Toronto Maple Leafs, the Parkhurst set boasts less star power than the Topps product.
Portraying players from the Boston Bruins, Chicago Blackhawks, Detroit Red Wings and New York Rangers, the Topps set includes the Bobby Hull rookie and coveted pasteboards of Gordie Howe and Terry Sawchuk.
"There's far more demand for the 1958-59 Topps set," said Harvey Goldfarb, owner of AJ Sports World and the No. 3 and No. 5 Current Finest 1958-59 Parkhurst sets on the PSA Set Registry. "I mean, you've got the rookie card of one of the top five best players ever to play the game in that set, and it's the last card in the set."
Goldfarb adds, however, that the 1958-59 Parkhurst set represents a challenging and relatively affordable alternative to the Topps issue. Measuring 2-7/16" by 3-5/8", the Parkhurst cards were distributed in four-card, five-cent packs with gum. Burrell was part of a group that opened one of these packs at the Sportcard & Memorabilia Expo in Toronto in May 2008.
The back of Steve Kraftcheck's 1958-59 Parkhurst card (#37) indicates that these cards were not distributed until at least ten games into the 1958-59 NHL season (late October, early November 1958).
"Unfortunately, with the poor start that the Maple Leafs got off to this year in their first ten games, Steve has been returned to the American Hockey League temporarily," reads the back of Kraftcheck's single.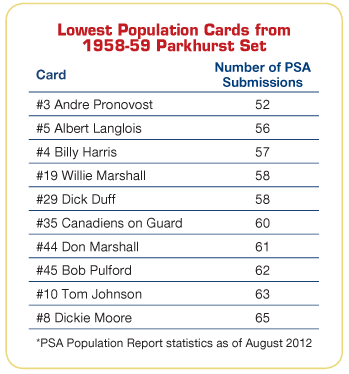 Showcasing both vertical and horizontal designs, the card fronts in this set flaunt a picture of the player, the card number, player's position, name and team logo.
The bilingual backs (English text first, followed by French) highlight the player's birthplace, birth date, height and weight in plain black text. The player's career stats are generally listed in one line in the middle of the card backs, while biographical information, written in a lively and sometimes critical manner, is presented in paragraph form.
The Jacques Plante single (#22), for example, states that the goaltender's "so-called 'showboating' has tended to cloud his exceptional skills." Marc Reaume's pasteboard (#20) describes the Leafs defenceman as "one of these controversial figures who plays inconsistent hockey."
Some of the other text is written with over-the-top, almost self-indulgent flair. The back of Maurice Richard's card (#38) says, in part, "This amazing piece of hockey machinery, now in his 17th NHL season, is fully aware that Father Time's inevitable scythe is coming closer, closer and closer."
"Back then, people weren't interested in stats as much as the player themselves," said Mike Frank, owner of the registry's No. 2, 1958-59 Parkhurst Hockey set, when asked about the card backs. "Now, everything is about your stats or you're not getting paid. Nowadays everybody is participating in Fantasy Sports, so everybody needs to know every players' stats. Back in the day, we were just collectors. We wanted information about our favorite players."
The biographical information on the backs also illustrates how times have changed. With the salaries they make today, NHL players don't have to find summer jobs, but that wasn't the case in 1958. By reading these backs, we discover that Bobby Baun (#15) toiled in a pro shop at a golf course in the off-season, while Tim Horton (#42), not yet a donut shop owner, worked selling classified ads for a local newspaper.
There's no discernable sequencing to the cards in this set; they're not separated into teams. The 50-card set is comprised of 21 Canadiens, 21 Maple Leafs and eight action cards.
The first card "Pulford Comes Close" is an action card and is one of the most difficult singles to track down in top condition. Of the 80 submitted to PSA, there have been just two PSA MINT 9s. A PSA NM-MT+ 8.5 sold for $581 on eBay in May 2012.
In most cases, the backs of the action cards have little to do with the fronts. For example, card #21 "All Eyes on the Puck" pictures three Montreal Canadiens on the front, while the back features a list of Maple Leafs players.
Though devoid of a superstar rookie card (Bob Nevin (#13) and Ralph Backstrom (#16) are the biggest name rookies), this set does feature 17 Hockey Hall of Famers, including legends like Plante (#22), Geoffrion (#28), Frank Mahovlich (#33), Jean Beliveau (#34) and Maurice Richard (#38).
"It's got a lot of star power in it," said Greg Zwick, who owns the top set on the PSA Set Registry. "And the action cards have a lot of Hall of Famers on them as well."
While the Maurice Richard card (#38) is highly coveted, Goldfarb points out that the pasteboard featuring the Rocket's younger brother, Henri (#2), is more difficult to uncover in pristine form.
"I think you would get more money for Henri Richard than you would for Rocket Richard," said Goldfarb. "It's much tougher to find in high grade. Centering issues are one of the problems with it."
"I've seen a couple with registration issues," added Zwick about the Henri Richard card. "I've also seen that card with a lot of toning."
Of the 89 Henri Richard singles evaluated, there have been just two PSA 9s (with nothing grading higher). A PSA NM-MT 8 garnered $900 on eBay in October 2010.
The Henri Richard card and the aforementioned "Pulford Comes Close" single are the first two cards in a string of five low-number cards that have proven elusive for collectors. According to the PSA Population Report, Andre Pronovost (#3), Billy Harris (#4) and Albert Langlois (#5) are the three lowest population cards in the set (see accompanying chart).
Frank believes that these low numbers might be tough to find in top condition because collectors would put rubber bands around their sets, and the first cards would get damaged.
For similar reasons, Brian Cullen (#50), the set's last card, is also one of the most difficult to find in flawless form. The sole PSA 9 copy fetched $1,111 on eBay in October 2009.
This set also contains a few notable errors. Allan Stanley's first name is spelled "Allen" on the front of his card (#32) and as "Alan" on the back. The back of George Armstrong's card indicates that he had 17 goals and 24 assists for 42 points in 1957-58. The point total actually adds up to 41.
The most glaring mistake is on Hall of Fame goalie Johnny Bower's pasteboard (#46), where his last name is misspelled "Bowers" on the face of the card. His coach Billy Reay's name is also spelled incorrectly ("Rea") on the card back.
Goldfarb says it can be challenging to find high-grade cards from this set, but it's not as difficult to put together as the 1955-56 or 1957-58 Parkhurst issues.
Zwick shares similar observations.
"It's got its challenges, especially to get PSA 9s. It's not that tough of a set to get compared to the 1952 or 1955 Parkhurst sets, but the [PSA] 9s are hard to get," he said. "You don't find cards that are really badly centered or miscut that often, but it's rare to find them 50/50. You get a lot of cards that are out of focus where the print registration is not perfect."
So while this set is often overshadowed by its Topps counterpart, it represents a relatively affordable and challenging alternative that boasts strong star power.
"One of the nice things about this set is that it's just loaded with Hall of Famers," said Goldfarb. "And it's not going to cost you an arm and a leg to put it together."
---
Please feel free to contact Kevin Glew at [email protected] if you have any additional information or comments. Please note that the Population Report figures quoted and Set Registry rankings reported are those as of August 2012.