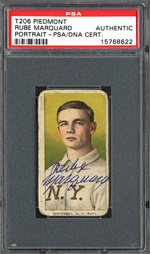 Collector Mike Navarro combines his love of rookie cards and autographs for a controversial collectible that, he believes, has a unique connection to its subject
Let's say you were the proud owner of two highly-coveted rookie cards – a 1951 Bowman #305 Willie Mays and a 1954 Topps #128 Hank Aaron – both in PSA MINT 9. Now let's say someone broke them out of their protective capsules and wrote on them. You would be devastated right? Well, now, hold on a minute. Let's say that the people who took the pen to them were none other than Willie Mays and Hank Aaron themselves, and they affixed their signatures to the cards. Would you still be as devastated?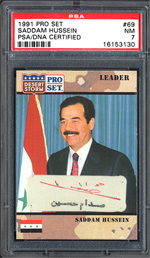 Ah, and there's the controversial rub.
To hobby purists, any writing on such cards would be nothing short of defacing a rare and valuable treasure of baseball history. To others, like collector Mike Navarro, the signatures of those two Hall of Famers would make those cards all the more unique, giving them an actual connection to the legendary subjects they highlight.
Navarro, whose take on this controversy puts him in the minority with card collectors, says he understands where the purists are coming from and actually respects their point of view on this issue. "There has always been a stigma attached to having a trading card autographed," he says. "I am well aware that most collectors really frown on it, and that's why there are not many of them to be found. That's why it is very difficult to find cards signed by players like Mickey Mantle or Willie Stargell. Fans got them to sign photos or baseballs, but not cards. That stigma has led to a fun and difficult chase to find signed cards, especially signed rookie cards. Attempting to put a collection of signed rookie cards together is not just something you decide to do, and then simply go to eBay and buy them. This is an undertaking you really have to put time and effort into. You have to establish relationships with people in the hobby and really work it."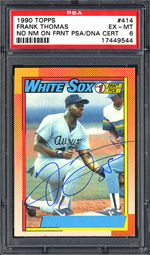 A native of Waxahachie, Texas, a little town on the outskirts of Dallas, Navarro has been attracted to sports for as long as he can remember. "When I was a kid, my dad would take us up to see Texas Rangers games," he recalls. "This was back in the 1970s, when the Rangers would be lucky to attract 2,000 people to a game at the old Arlington Stadium. We would buy outfield seats for $3.50 and then go and sit in the empty infield seats right behind the dugout," he adds with a laugh.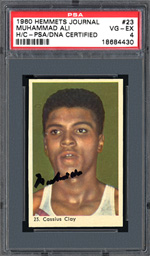 Along with rooting for the Rangers, Navarro also showed his love and allegiance to baseball by collecting trading cards. "We had a local store called The Treasury, and my friends and I would go down and get wax packs for 15-cents or a quarter. Then, at the end of the season, they would sell whatever they had left over for a nickel or a dime a pack. I had friends who were Yankees fans, so I would trade them the Reggie Jacksons or Ron Guidrys or Thurman Munsons for a Richie Zisk or Bump Wills or Juan Beníquez card."
By the time Navarro entered his senior year of high school, he was no longer just trading cards, he had turned his hobby into a money-making enterprise. "Instead of getting a part-time job, I would set-up at some of the card shows that would come down to the Arlington area," he says. "I'd run my little table and found I could generate an income that paid for my living expenses, dates, and going out with my friends."
After graduating from high school, Navarro matriculated at the University of Notre Dame. A good athlete from the time he was a kid, Navarro, who "participated in every sport with a ball," was slapped with a dose of collegiate reality when he arrived at the Sound Bend campus. "I had delusions of being a walk-on player with the Fighting Irish football team, just like Rudy [Daniel "Rudy" Ruettiger]," he laughs. "That idea ended the first time I walked across campus and encountered Chris Zorich and Mike Stonebreaker who went on to play in the NFL. When I saw the size of those guys, well, all of sudden my health and well-being became a lot more appealing to me then the dream of running out of the tunnel on to the field of Notre Dame Stadium wearing a gold helmet."
While making memories on the gridiron of Notre Dame was not to be for Navarro, his college days did see him enjoy memorable participation in numerous pickup basketball games with some of the university's future pros including Jerome Bettis, Laphonso Ellis, Monty Williams and Lake Dawson.
During Navarro's first two years at Notre Dame, he continued to support himself by buying and selling cards. "I had worked out a deal with a guy who worked at the local Sam's Club," he reveals. "He would let me know as soon as the cases of cards came in [to the store]. I would buy them up and make a good chunk of change selling them."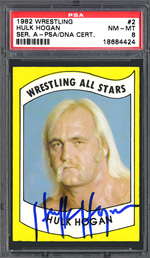 Once he graduated and became a certified public accountant, Navarro returned to Waxahachie where he was given the opportunity to serve as the assistant county auditor. Six years later, he was appointed auditor of Ellis County by the state district judges, and that's where he has been ever since. Married to Misha, Navarro is the father of two children – Maven, who is 9 and, like her dad, a sports autograph collector, and Maxfield, who is 15 and more into entertainment than sports.
Sports Market Report recently caught up with Navarro to ask him about his collection of signed rookie cards and the controversy that surrounds them.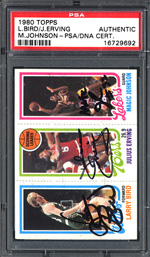 SPORTS MARKET REPORT (SMR): Having been involved with collecting cards since you were a kid, was there ever a time you didn't collect?
Mike Navarro (MN): Yes, for a few years – from about 1987 till 2003. By my junior year at Notre Dame, I had slowed down in buying and selling cards, and it got to the point that I wasn't collecting much. Then, about four-years later, I really got back into cards. During that time, when I started to work with the county, I also began to get interested in politics and started collecting historical and presidential autographs. I decided to put together a full-presidential set that would turn out to be a four-year project. I liked the chase, but once I completed the set, I really didn't know what to do with it. I ended up selling it in 2005, and soon after, the spark of sportcard collecting really hit me again.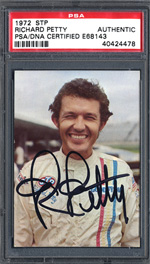 SMR: How did your interest in signed rookie cards begin?
MN: From the time I was a kid, I was always excited about rookie cards; so when I got back into collecting, it was natural to gravitate to them. Then, I combined that with my interest in autographs and that is what led me to where I am now.
SMR: You have said that finding signed rookie cards isn't as easy as just searching eBay and making a bid. Where do most of your cards come from?
MN: A lot of my cards were signed in-person at shows. I've had friends, card collectors who live all around the country, who have gotten cards signed for me at card shows in their area. I've also found cards through the CU (Collectors Universe) forums and purchased quite a few when they appear in on-line auctions. Mostly, I have a lot of friends who know what I collect and alert me to things they find at shows or on-line.
SMR: How large is your current collection?
MN: I currently have over 850 signed rookie cards. I have every Topps Baseball Hall of Famer's rookie card from 1952 and up with the exception of a 1955 Roberto Clemente, a 1952 Hoyt Wilhelm and a 1952 Eddie Matthews. I think, along with the uniqueness of being a significant collection of signed rookies, it is also the diversity that sets my collection apart from others. Most collectors who are interested in signed rookie cards seem to go for just baseball cards or players from a specific team or era.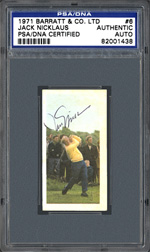 SMR: So you collect cards from all sports.
MN: Yes, and non-sports cards also. Rather than specializing in just one area or sport, such as baseball, I branch out into all areas. For example, in baseball, I have signed rookie cards that include a T-206 Rube Marquard, a 1951 Bowman Mickey Mantle, a 1969 Topps Test Issue Bowie Kuhn and a 1947 Exhibits Jackie Robinson. My football cards include numerous 1948 Bowman signed cards, a 1957 Johnny Unitas and a 1958 Jim Brown card. In basketball, I have rookie cards signed by Bill Russell, Larry Bird, Magic Johnson, Julius Erving and Michael Jordan. My hockey cards include Bobby Hull and Gordie Howe. In boxing, I have a 1960 Hemmets Cassius Clay and a 1986 Panini Mike Tyson. In golf, I have a 1971 Barratt's Jack Nicklaus and a 1997 Grand Slam Ventures Tiger Woods. I also have racing cards, including a 1972 STP Richard Petty and a 2005 Indy 500 Danica Patrick. I also have wrestling cards – Andre the Giant and Hulk Hogan.
SMR: What type of non-sports cards do you have?
MN: I get anything that appeals to me. I really like historical cards. I have a 1991 Pro Set Saddam Hussein card and a Topps Campaign Sarah Palin card. I also have entertainment cards such as a 1977 Topps Star Wars Harrison Ford.
SMR: As most collectors, you probably have favorites right?
MN: I have a 1980 Topps tricard with Larry Bird, Magic Johnson and Julius Erving that is signed by all three which is one of my real favorites. I also love my 1960 Hemmets Journal Cassius Clay card. That one is interesting because some argue that it's not really a card since it was made available in a periodical and you had to cut it out. But PSA does recognize it as Cassius Clay's first card. I guess if you asked me to pick my one favorite, it would be my 1910 M113 Ty Cobb card. Cobb has always been one of my favorite players. The Detroit Tigers used to have spring training here in Waxahachie and Cobb would stay in a hotel right across from where I currently work. I've just always admired him from the time I was a young kid.
SMR: Mike, can you address the controversy issue in regards to having rookie cards signed.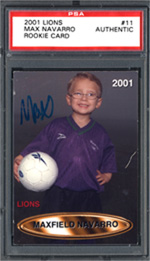 MN: It's a personal choice, and I understand those who don't think it should be done. I know most hobbyists feel that signing a trading card is defacing it. In most cases, a player's most valuable card is their rookie card, so a lot of collectors would never allow their most valuable cards to be altered in any way – especially if they were of a high grade. That has been the case for many years, and that is why, today, there is not a very big supply of signed vintage rookie cards by athletes that have passed away. It seems like it has only been in the last few years that signed rookie card collecting has begun to take a foothold in the hobby. Since there is now an interest in signed cards, and because there is such a limited supply of vintage material, collectors are coming to realize that they are very hard to obtain. There is, frankly, even a limited supply of fairly modern players that are very tough to find signed.
I think many collectors would be surprised [to learn] just how difficult it is to find a signed 1963 Topps Willie Stargell. I have seen a few of them surface and they have sold for over $1,000. Other tough cards to find signed are the 1965 Topps Jim Catfish Hunter and the 1984 Fleer Update Kirby Puckett. I think that as more collectors become interested in signed cards, we will continue to chisel away at the stigma of having trading cards autographed. That will mean that in the future you will see signed rookies from modern players or retired players who are still doing signings. What the hobby will never see is a supply of vintage signed rookie cards, simply because very few collectors ever got them, and now those players are gone. But even with the slowly growing acceptance of signing cards, there is still, by all means, a stigma attached to it. I have even had some players, when approached and asked to sign their card, say: 'Do you really want me to sign my rookie card? Do you know that's really valuable?'
SMR: Purists will always contend that a signed card, even in PSA Mint 9, will no longer have the same value it had before being signed. Your thoughts.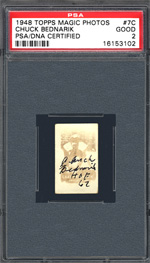 MN: I'm not going to argue that. I just think that as trends in the hobby continue to shift, signed rookies will become a growth niche. Today's collectors are aggressively chasing autographed cards that have been inserted into packs. I think the collectors who are attracted to the signed cards of today will also be attracted to vintage cards that have been signed. It's just a natural progression. While the new cards come with manufacturer's certifications, the older signed cards will need to have PSA/DNA certification. I really believe signed rookie cards are growing in popularity and are thus a good investment.
SMR: As collectors become more knowledgeable of signed rookie cards, they will hear the terms "red flip" and "blue flip." Can you explain what is meant by these terms, and what's the difference between the two?
MN: This question comes up all the time. Collectors always want to know what the difference is when it comes to the red and the blue with PSA and PSA/DNA authentication. The biggest difference is simply this: with the blue label (flip), the card grader has not authenticated or graded the card but solely focused on grading and authenticating the autograph. With the red label (flip), the card itself has gone through the grading and authentication process as well as the autograph. Another difference is that, with the blue flip, the card may be unlicensed. The red ones must have been produced by a licensed manufacturer.
SMR: As with every aspect of card collecting, PSA plays a huge role in how these cards, especially the vintage ones, are accepted and valued. What are your thoughts about what they have brought to this genre of the hobby?
MN: The same thing they have brought to the hobby as a whole – peace of mind and value. Not everyone can be an expert on every single autograph or trading card issue. Having PSA and PSA/DNA on your side, means you don't have to be an expert. There are certain signatures I feel I can authenticate as well as anyone, and others I don't have a clue about. I rely on PSA to do the work for me. They have both a market acceptance and presence that makes you feel comfortable in buying products that have passed through their processes. The bottom line is that PSA authenticated cards are the ones that collectors want, and the ones that bring the best prices.
SMR: You mentioned that a big part of building a collection like yours comes from establishing relationships with other collectors. For those who are interested in collecting signed rookie cards, how can they contact you?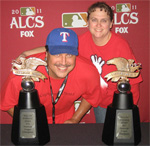 MN: Well, my collection can be viewed on the Collectors Universe message board. My username is thenavarro. I would also encourage them to e-mail me at [email protected].
SMR: Any final thoughts you would like to share with our readers?
MN: I just think signed rookie cards have great crossover appeal between autograph collectors and card collectors. That's what I am, and they have great appeal to me. I also believe these cards have great future potential. The controversy has created a rarity. Cards signed by players that have passed away are finite items. There are not many out there and there never will be any more to come. I think having a card signed by the player goes hand-in-hand. It is a card that was actually held by the player – they actually had an interaction with it. The signature represents a second or two of that player's life. To me, that connects it to that player in a way that makes it much more special than just being a card. I see more and more people becoming interested in signed rookie cards, and I think it's a genre of the hobby that is still very much in its infancy.