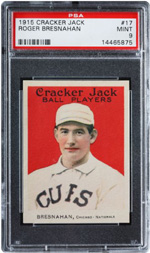 Among some amazing cards, Goodwin & Company's auction offers over twenty five T206 Hall of Famers and commons graded PSA 8 or higher, led by the one and only PSA 8 example of Hall of Famer Jake Beckley. Also included is an incredible 1915 Cracker Jack Roger Bresnaham PSA 9 which is one of four graded by PSA, none graded higher. Football fans will find a beautiful 1956 Topps set with a minimum grade of PSA 8, a 1952 Bowman Large #72 John Schweder and the highest graded and only PSA 8 1948 Leaf Charley Conerley rookie card. You'll also find an amazing Pinkerton Cabinet of Hughey Jennings, a Dan-Dee Potato Chip Mickey Mantle graded PSA 8, and an extremely scarce Mendelsohn Cabinet of Ty Cobb which is the only PSA graded copy.
Goodwin & Company hoped that this auction and the upcoming World Series brings you much enjoyment.
Be sure to visit www.goodwinandco.com to register and bid today!