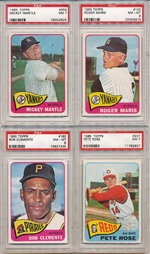 The latest major Clean Sweep Auction may well be one of the best auctions in its history. Included are many important and rare pre-World War Two baseball card sets, terrific graded cards, an amazing selection of baseball autographs spanning almost 100-years and choice memorabilia from all of the major sports, including Eddie Lopat's 1949 World Series ring and a stunning 1930 Notre Dame completely signed yearbook with Knute Rockne.
The auction opens with two of the best items from the amazing Stan Silbert incredible collection, a T3 Baseball Card set and a T206 Complete Set (minus the usual four). The auction continues with many great pre-World War Two baseball card sets, including an N29, M101-4 (broken into lots), Maple Crispette, 1933 DeLong, 1933 World Wide Gum, 1934 and 1938 Goudey. Included are its usual run of Topps and Bowman sets, with a note to a fine 1956 Topps Pin set and a very high grade 1965 Topps set. Unopened collectors will see a full 1972 Topps Posters wax box, as well as a 1974 Topps football full wax box.
For single cards, you'll find a good run of 1895 Mayos, with several HOFers, some T206 rare backs and notable cards including a T206 Cobb with a Lenox back and a T206 Magie error card. There are single cards of a T3 Cobb and Mathewson and a 1948 Leaf Paige among others.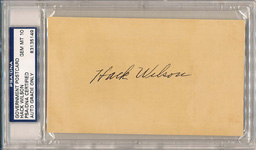 Baseball memorabilia comes next. Auction features a Eddie Lopat's 1949 World Series ring in superb Near Mint condition, some great 1962 Mets memorabilia, World Series and All Star Programs going back to the 1920s and a fine selection of better game used bats, including a Brett and a Ripken.
Selections of historical and entertainment autographs contain many new additions, including Neil Armstrong, a vintage Elizabeth Taylor from the 1940s, 8x10s of Paul McCartney, Frank Sinatra and much more.
Non-sport card collectors will see some very fine material, including sets of R78 Jungle Gum, Sea Raiders, 1933 Tootsie Circus, R147 Tarzan and much more. Boxing collectors will see fun Ali items, including a superb signed imperial size glove. Football collectors will see near-sets of 1934 National Chicle and 1950 Felt Back, and complete 1950 and 1951 Bowman sets, and also a superb fully signed 1930 Notre Dame yearbook with Knute Rockne.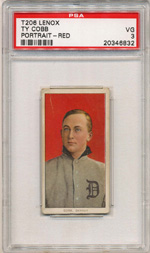 Baseball autographs conclude the auction, checking in at a hefty 300 lots, and really an auction unto itself. It begins with autographed cards, including a 1950 Callahan Tris Speaker, 1953 Topps Paige and a 1958 Topps Maris Rookie. There are fine near-complete signed Topps sets from the late 1960s. You'll find something really special: a broken up set of signed 1971 Topps Greatest Moments, including an incredibly rare Thurman Munson!
Collectors of autographed flats will Perez Steele rarities Alston, Ashburn, Campanella, Greenberg and Kelly. Many really rare and desirable autographs, including Rogers Bresnahan, Jesse Burkett, Barney Dreyfus, Christy Mathewson, John McGraw and Hack Wilson among others. Collectors of contracts will see fine player contracts from Arky Vaughan and Bob Feller, as well as many 1930-1 Yankees, including HOFers Combs, Pennock, Ruffing and Sewell. Collectors of oversize items will see the auction house's best selection ever of signed large prints, including many stunning Mantle multi-signed pieces from the collection of a show promoter.
Signed baseballs conclude the auction. Single signed baseballs of Eddie Cicotte, Roberto Clemente, Ty Cobb, Mickey Cochrane, Thurman Munson and Babe Ruth. Team ball collectors will see an incredible 1923 New York Giants team ball with Ross Youngs, Hughie Jennings and a bevy of HOFers, a 1928 A's ball and rare 1978 and 1979 New York Yankee balls with real Munson signatures.
Auction is now open for bidding and closes, October 3, 2012.
Be sure to visit www.cleansweepauctions.com