Excitement around the upcoming fall auction is growing. We invite you to register to receive a free full color catalog for our upcoming Fall 2012 Premier Auction of Sports Memorabilia and Collectibles (www.goldinauctions.com). The auction will feature over 1,000 lots of the finest Sports Memorabilia and Collectibles in the industry featuring:
1939 Pasadena High School Yearbook signed by Jackie Robinson (3 times!)
1977 Roger Staubach Game Used Jersey Super Bowl Year (Mears A10)
Robinson Cano Game Used Rookie Bat
Spectacular 1934 New York Yankees Team Signed Baseball with Babe Ruth and Lou Gehrig
1980 Philadelphia Phillies World Series Ring
1995-96 Michael Jordan Game Worn Jersey
Michael Jordan Signed American Express Card
1981 Cal Ripken Rookie Game Used Bat
1908-1910 Ty Cobb Game Used Baseball Bat
Roberto Alomar Gold Glove Award
Abraham Lincoln Signed Document
Avengers #1 Marvel Comic Book
Babe Ruth Signed Baseball Bat
Complete T201 set
World Series programs
1964 Roger Maris game used Yankee pinstripe pants
The Bernie Parent and Dave Schultz collections, including trophies, game used jerseys, sticks and extensive Hollywood entertainment collection featuring items from Clark Gable to Ronald Reagan and much, much more.
As an incentive to both buyers and sellers, Goldin Auctions features only a 10% buyers premium, the lowest in the industry. All autographed items come with LOA from First Party Authenticators or LOA from PSA/DNA and all game worn items come with team, player or MEARS/PSA/DNA full LOA.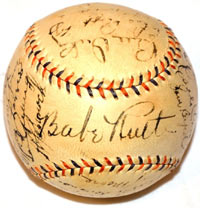 Goldin Auctions has an impressive grouping of hobby experts on staff. Please check out the 'about us' section on our website to see all the hobby veterans involved in our company.
There is no cost so please register at www.goldinauctions.com to make sure that you don't miss out on the opportunity to receive our free auction catalog.