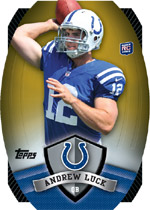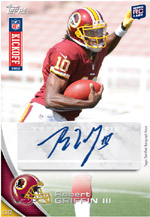 We have been building to this day for the last week. Topps Football Streets Today! Go to your local Hobby Store and Retailer and pick it up. While you are ripping packs, be sure to look for the following special inserts...
2012 NFL Kickoff Redemption Cards: (Hobby Only)
Celebrate the start of a new NFL season with Topps. Look for special Kickoff Weekend Redemption Cards in Hobby Packs of Topps NFL Football. If you find one, redeem the card at your favorite Hobby Store during NFL Kickoff weekend, (September 5th through September 11th) and you will receive an exclusive 5 card Topps Kickoff Pack! The kickoff pack may include autograph cards from NFL Legends and Rookies!
Game Time Cards:
Topps Football will help you enjoy the season in a new way with an awesome digital gaming experience. Look for special GameTime code cards in hobby and retail packs of 2012 Topps Football. Some codes will unlock exclusive cards and most will unlock tokens to play GameTime. Put your football knowledge to the test and play weekly games based on real NFL outcomes. You can win weekly prizes and season long prizes based on your performance. Prizes include limited edition autographed cards, autographed helmets and footballs!
If you find a GameTime card hold onto it. Collectors will be able to start unlocking tokens and cards at Topps.com/Gametime within the next two weeks. Topps will make an announcement on facebook.com/Topps and on Twitter @toppscards when the GameTime site is available so be sure to follow us. Actual game play will begin with the start of the NFL season in September.