SCP Auctions proudly unveils a baseball artifact of monumental proportions.
Babe Ruth's c.1922 New York Yankees Team Sweater.

Babe Ruth belonged to the Golden Age of Sport. Of all the names that dominated the roaring twenties -- Red Grange, Jack Dempsey, Bobby Jones, Bill Tilden, Man o' War -- none was bigger than Babe. In Ruth, Yankees owner Jacob Ruppert had both a player of unrivaled ability and a gate attraction unmatched in the history of American spectator sports. He also had a man-child whose gargantuan appetites, charisma, and ego kept the media scurrying in the wake of his latest generosities and indiscretions. Of Ruth's constant carousing, roommate Ping Bodie famously quipped, "I don't room with him. I room with his suitcase."
The presented garment was likely a staple in Ruth's suitcase during his pivotal early years with the Bronx Bombers. Period photographs suggest that this extraordinary double-knit Yankees team issued sweater was likely worn by a young and virile Ruth while taking New York by storm both on and off the field in the early 1920s. The steel grey sweater is trimmed with a navy shawl collar, cuffs, front placket and bottom trim. There is an exquisite light purple interlocking "NY" logo on the left breast. The name "RUTH" is largely hand written in period faded purple ink (approximately 4" letters) on the inside lower back of the garment.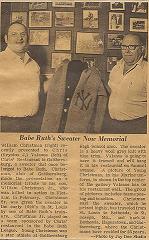 A 1969 newspaper article that accompanies the sweater documents its lineage as having been gifted to William Christman of Gaithersburg, Maryland by a trainer of Babe Ruth in St. Louis during the early 1920s. At the time Christman received the sweater from Ruth's former trainer he was a young St. Louis area high school baseball star playing in the local Babe Ruth League. Christman kept the sweater until 1969, when, as the article states, he presented it to a Gaithersburg restaurateur to be displayed in part to honor the death of Mr. Christman's son in Vietnam. The sweater is accompanied by comprehensive LOA from MEARS.
This phenomenal relic will be among the many highlights of SCP Auctions Fall, 2012 Premier Auction. Call for consignment opportunities.
This item will be on exhibition at the 2012 National Sports Collectors Convention in Baltimore, Md. (SCP Auctions booths 509P, 513P, 608P, 612P).