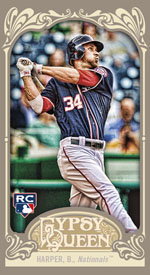 Topps announces that it has created two special wrapper redemption sets and other promotions for the 2012 National Collector's Convention in Baltimore. All are available exclusively at the Topps Booth.
BOWMAN PLATINUM HOBBY BOX REDEMPTION
Topps will offer a special 25-card 2012 Bowman Platinum Blue Foil Parallel Set (#'d to 499) featuring the brightest rookies and prospects in the game. And as a bonus, some sets will include randomly inserted autographed parallels featuring Bryce Harper, Yu Darvish, Dylan Bundy, Trevor Bauer, Bubba Starling and more.
Collectors opening ONE full sealed HOBBY BOX of 2012 Bowman Platinum Baseball (in front of a Topps rep at the booth) can redeem their wrappers for this show exclusive set. This redemption will be limited to 100 sets per day and 1 set per person for the duration of the show.
AND...
Win A Trip to the Under Armour All-America Baseball Game in Chicago Courtesy of Bowman!
In addition to offering the special Bowman Platinum Blue Foil Parallel Set... any collector opening a box of Bowman Platinum at the Topps booth, Topps will offer them a chance to see the baseball stars of tomorrow! Collectors opening their Bowman Platinum box will be entered into a raffle ( 1 entry for every box opened) for a chance to win a trip for two to Chicago to attend 4 days of Under Armour All-American Baseball Game festivities including:
Private tour of Wrigley Field and the All-America Banquet & Dinner
A workout for the All-American players hosted by Cal and Billy Ripken. Guest will meet them both!
A scout showcase with over 100 MLB scouts... all there to view America's top talent
The Under Armour All-America Game!
Winner of the raffle will be announced at the end of the show on Sunday.
GYPSY QUEEN WRAPPER REDEMPTION
Topps has created a special 9-card 2012 Gypsy Queen Mini set featuring the hottest rookies in both MLB and NFL. Collectors opening 3 packs of any 2012 Topps/Bowman HOBBY product (in front of a Topps rep at the booth) can redeem their wrappers for one of the following nine cards.
Bryce Harper
Yu Darvish
Yoenis Cespedes
Andrew Luck
Robert Griffin III
Ryan Tannehill
Trent Richardson
Michael Floyd
Justin Blackmon
This redemption will be limited to 100 cards per subject per day. And each subject is limited to 1 subject per person per day.
TOPPS MINI PROMOS
Topps will be offering a limited number of all-new 2012 Topps Mini Baseball boxes (online exclusive) for sale at it's booth during the show. Collector's purchasing a box will receive a special 5-card set of mini promo cards. The subjects include:
Yu Dar
Bryce Harper
Matt Kemp
Stephen Strasburg
Roy Halladay
THURSDAY NIGHT TOPPS MEET & GREET / Q&A
The first 150 people to sign up at the Topps booth will be invited to a special Topps Meet & Greet where a question and answer period will be held. The event will take place Thursday evening at the convention center from 5-7 PM.