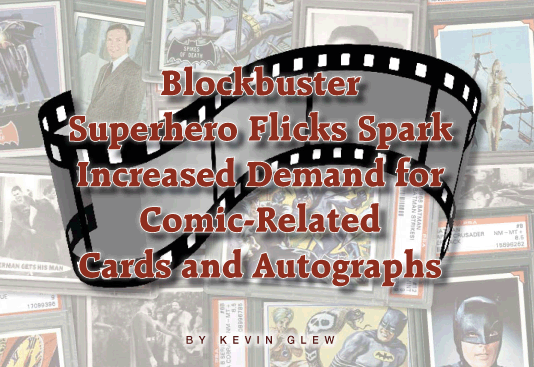 When The Avengers opened in May, it smashed box-office records as the highest grossing cinematic debut in North American history.
Assembling six of Marvel's top comic book superheroes – Captain America, Hulk, Thor, Iron Man, Black Widow and Hawkeye – together in one film, this blockbuster earned $207.4 million in ticket sales during its opening weekend alone.
Significantly, the success of this movie – combined with the huge crowds that flocked to new Batman, Spider-Man, Thor and Captain America movies in recent years – has helped the trading card industry.
"We see it reflected in the card sales when a movie comes out," said Brian Sampson, marketing manager at Dave and Adam's Card World in Tonawonda, New York.
John Witney, owner of the Non Sports Network in New Preston, Connecticut, also sees a spike in card sales when movies are released.
"It's similar to when television brings back old shows like Charlie's Angels and The Brady Bunch," he points out. As soon as they re-emerge into pop culture, "people want the cards." Likewise, Witney believes that the release of "The Avengers movie will spark interest again in the early Marvel sets."
Steve Charendoff, president of Rittenhouse Archives Ltd., a non-sports card manufacturer based in Jenkintown, Pennsylvania, has been involved in the design and production of numerous sets in recent years.
"Every time there's a new movie, there's a lot of fan interest and enthusiasm," he said.
But these movies only buttress an already strong industry.
"The market for comic book trading cards is pretty robust and healthy," states Charendoff. And, incidentally, that is a statement applies to both the modern and vintage comic card market.
Also of importance is the fact that the composition of these issues has changed dramatically over the past 20 years, much like it has done with sports card sets.
"The industry has completely changed from when we were kids growing up and collecting," explained Sampson. "We're not just shooting for the hot rookies anymore [as we did] back then with sports cards. Now it's all about inserts. It's all about the chase."
Autograph cards, costume/memorabilia cards, limited edition/serial numbered cards and sketch cards are all now key ingredients in comic card sets.
"Sketch cards, autographs, printing plates – those are huge [incentives] for people buying packs," said Sampson. Moreover, "the secondary market [for] the sketch cards themselves can be pretty unbelievable."
Brahm Wiseman, owner of Heroes Comics & Collectibles in London, Ontario, says that given the higher pack prices today, it's important that collectors recognize their true value.
Wiseman recalls how in 1990 packs were selling for maybe a dollar or two at most, and "really the best thing you got in [the pack] was a shiny hologram or a foil card"—inserts that didn't necessarily hold much value. Card companies quickly became aware of the fact that they needed to heighten their product's sense of "rarity and value," says Wiseman, so they started to include "a lot of short-printed cards, autographs and pieces of memorabilia in the packs." Now, with these new and exclusive additions in tow, Wiseman believes that the packs of today offer a higher "perceived value."
Sketch cards, in particular, have become one of the most desirable inserts.
"The first set with a critical mass of sketches was the 1997 Fleer Ultra Spider-Man," said Charendoff, who was employed at Fleer at the time. While this first set "sort of teased the market a little bit," he says, Fleer would soon release two more noteworthy sets in the following year: Marvel Creators Collection and Marvel: Silver Age. "Those were the first products that had a sketch card guaranteed in every box, and that was sort of the beginning of the new era of collecting comic cards. Since then, the sketch cards have become very popular."
Strikingly, these sketch cards have also helped generate a unique fan base for the artists themselves. Charendoff, who participates in the biannual Philly Non-Sports Card show, says that having artists at this event is a big drawing card.
"There's a part of the convention floor that's dedicated to artists, and [there] they will show off the sketch cards they have done for us and for other companies," he said. Furthermore, many artists even take commissions while at the convention. "You can walk up to an artist and ask them to do a sketch," Charendoff adds.
Vintage Cards
Even before the recent deluge of movies, the market for vintage comic cards had been substantial. Veteran collector Marty Quinn says that prices for high-grade singles from vaunted vintage issues like 1940 Gum, Inc. Superman (R145) and the 1966 Topps Batman offerings have skyrocketed in recent years.
"In the past four or five years, the 1940 Superman cards have really picked up," he said. "Even PSA [NM] 7s are selling in the $150 to $200 range—that used to be the price for PSA [NM-MT] 8s five years ago. Now PSA 8s are selling between $500 and $800," he said, adding that he has even seen bidding for the high-number PSA 8s drift into the $2,000 range. "People are realizing that it's a hard set. It's a scarce set. And they realize that Superman was more or less the very first superhero."
The only known set of 1940 Gum, Inc. Superman uncut sheets sold for $40,000 in a Robert Edward Auctions sale in May.
Pristine cards from the 1966 Topps Batman offerings—particularly those from the Norm Saunders artwork issues (Black Bat, A Series (Red Bats) and B Series (Blue Bats))—continue to be highly coveted as well.
"I've seen PSA [GEM-MT] 10s from the 1966 Batman sets go for $800 to $900 a piece," said Quinn.
These prices are part of a growing trend that has seen the values of high-grade non-sports cards rise at a more rapid pace than sports cards in recent years.
"Non-sports [cards] in general seem to have taken a huge jump ahead," said Brian Drent, president of Mile High Card Company in Denver, Colorado. What is more, he thinks that this forward movement has been propelled by the 1940 Gum, Inc. Superman and Lone Ranger issues.
Rob Lifson, president of Robert Edward Auctions in Watchung, New Jersey, points out that, in general, fewer vintage non-sports cards were produced than sports cards.
"Collectors appreciate the rarity of the cards," he said.
On top of the rising demand for vintage cards, hobbyists are also willing to spend a lot of money for the original artwork for these cards. In his spring auction, Lifson sold the original, Norm Saunders artwork for cards #15 and #45 of the 1966 Topps Batman (Black Bat) series for $7,500 and $4,000 respectively.
"When you're talking about the original artwork, you're talking about something that is extremely rare... [and] highly sought-after," notes Lifson. And even though such artwork typically sells for thousands of dollars, Lifson affirms that this is nevertheless "a great deal."
In recent years, both Lifson and Drent have been trying to include more vintage comic book-related cards and memorabilia in their auctions.
In a May interview, Drent shared an interesting exchange that took place at a Boston show a month and a half earlier. At this show he met a married couple in their late 20s, early 30s who came in with a pile of cards: mainly 1939 Play Ball, 1940 Play Ball, 1941 Double Play, and even a couple of decent DiMaggio cards. Yet amongst all those sports cards, they also had some Superman and Lone Ranger cards. "The cards were EX/EX-MT," he said, with "maybe a near mint card here or there." However, the "one thing I always find," he explains, "is that the non-sports cards are in a little bit better condition than the baseball cards." So when the deal was all said and done, "I got the Lone Ranger and Superman cards and let them keep the baseball [cards]," he says. The most ironic part of the story, he ultimately adds, is that "five years ago, I wouldn't have even cared about [the non-sports cards]."
Autographs
On top of the desirability of autograph cards in general, there's also a special, growing interest in autographs from comic book creators and actors featured in comic-related TV shows and movies.
"Obviously the movies have helped," said the principal authenticator at PSA/DNA, when asked if he has noticed an increase in demand for autographs related to comic book characters. "Robert Downey Jr. from Iron Man is a big one," he says. And along with Downey's signature, the autograph expert says that they also see a lot of super hero memorabilia signed by "Chris Hemsworth, Chris Evans, Samuel L. Jackson and others like creator, Stan Lee, who is a fairly easy autograph to obtain in person."
The market for vintage comic book related autographs is also strong.
"George Reeves is easily the most popular and because of his controversial death – and early death as well – collectors covet his signature," said the PSA/DNA authenticator. "He's the original Superman and that will never change. His autograph will always be in demand."
PSA/DNA says that Reeves' signature on a piece of paper or as part of an album page will fetch around $600.
As mentioned before, there's also an autograph market for the creators themselves. Stan Lee, now 89 and the mastermind behind many of Marvel's most memorable superheroes, continues to be a regular on the fan convention circuit, so his autograph is relatively affordable.
"For Bob Kane [creator of Batman], that's a different story and his signature can demand a premium on signed Batman and Joker sketches," say PSA/DNA experts. "From time to time we see Joe Shuster's [Superman co-creator] signature submitted, but those turn out to be forged more often than they are real."
In recent years, longtime hobbyists have noticed that more and more sports collectors are starting to buy non-sports items.
"This has been going on for a long time," explained Lifson. "I wouldn't say they're switching over because this would indicate that they're leaving other fields. They have simply added non-sports to their other collecting interests. And there are a lot of reasons for this. To be exposed to the material is to appreciate it for a lot of people. There is something universal about Batman, Superman and many of the other non-sports cards, whereas if I'm not a basketball fan, then I'm probably not going to collect basketball cards. But who isn't a fan of popular culture? Who isn't a fan of Batman or Superman in some way? They're even more universal than any given sport."
Quinn has witnessed the same trend.
"That's been happening for about five years," said Quinn. And "not just on the collectors' side, but on the dealers' side as well," he points out. "I've seen dealers also throw their hat in the ring. They've been stocking up on PSA non-sports cards, setting up a little side inventory, and actually selling some cards. I've seen baseball card guys dealing, selling and collecting non-sports cards."
Like Quinn, Charendoff sees a healthy future for comic book trading cards.
The core Marvel characters were created in the '60s: the Fantastic Four in 1961, Spider-Man in 1962, both the Avengers and the X-Men in 1963, and so forth through the '60s. Some of these characters have existed for 50-plus years now, and it is for this reason that they have become so "famous and beloved," notes Charendoff. Their tremendous popularity is likewise indebted to the fact that the majority of the original collectors are now adults—individuals who grew up collecting and loving memorable characters such as Spider-Man, the Fantastic Four, and the X-Men. But what is most important is that these are individuals who, in spite of their age, will continue to love them for years to come.
"There's a history there that goes back, in many cases, to their childhood," observes Charendoff. "I [myself] have fond memories of Spider-Man and Iron Man as a kid. I read those comics too, and unlike a new TV show that might come and go, Spider-Man and those other characters have a longevity that's never going to disappear." It's kind of like the loyalty you harbor for your childhood sports team, he explains. "Whether you grew up a Yankees fan or a Red Sox fan or a Phillies fan... chances are you have carried [this loyalty on] to adulthood."
---
Please feel free to contact Kevin Glew at [email protected] if you have any additional information or comments. Thank you to Rittenhouse Archives Ltd., Mile High Card Company and Robert Edward Auctions for providing pictures for this article.