Lelands.com Spring auction features a fresh collection of 157 high-grade T-206 cards, the rarest of all vintage Honus Wagner cards with only two ever graded by PSA, along with the greatest Mike Tyson boxing collection,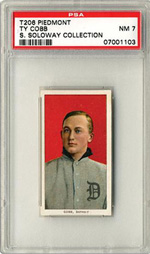 an amazing assortment of Championship rings, and more! Other items include,
"THE COLOSSUS" LARGER THAN LIFE 19TH CENTURY HAND PAINTED HAND CARVED BOXING FIGURE"
The Fight of the Century Painting by James Montgomery Flagg (1910) Jack Johnson v James J. Jeffries
A phenomenal assortment of Championship rings
The Sal Larocca Dodgers Collection
1962 Hank Aaron Milwaukee Braves Game Worn Uniform
1938 Casey Stengel Boston Bees Game Worn Jersey
1896 Baltimore Baseball Club Programs
1939 Cooperstown Hall Of Fame Induction Signed Baseball
Gordie Howe Detroit Red Wings Game Jersey
1980 Winter Olympics Ice Hockey Silver Medal
Dwight Eisenhower's Personal Set of Golf clubs with Putter & Shoes
Braulio Baeza Saddle Worn on Foolish Pleasure in the Match Race vs Ruffian
1968 Pele Game Worn Santos Jersey
Cricket Bat Signed by Winston Churchill, Dwight Eisenhower & Others
Andy Warhol Black Leather "Schott" Motorcycle Jacket
And so much more....

For more information. Visit www.lelands.com or email [email protected].