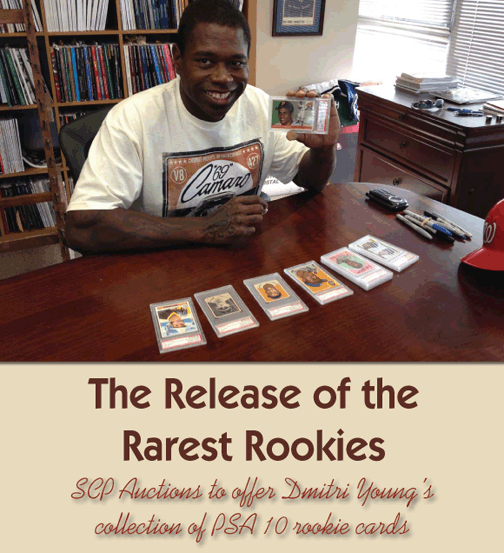 Former Major Leaguer Dmitri Young has decided to part with his prized PSA Gem-MT 10 rookie card collection – a release that will shake the hobby with shock and awe.
"This is, by all means, one of the most significant collections we have ever handled," said SCP Auctions' David Kohler. "It will be a once-in-a-lifetime opportunity for collectors to own cards that may never be seen on the market again in their lifetime."
When the head of a sports memorabilia auction company makes a statement like that, the collective ears of the hobby are sure to perk up. When that person is the head of a company with the stature of SCP Auctions, it is clear that a ground shift – a sea change – if not a full blown pole reversal is about to hit.
No stranger to representing valuable and historically significant sports artifacts that have rocked the hobby, Kohler and SCP have overseen the sale of the bat Babe Ruth inscribed after using it to hit the first homerun in Yankee Stadium for $1.265 million, and the famed T206 Honus Wagner PSA NM-MT 8 card that fetched $2.8 million – the highest price ever paid for a vintage sports collectible. The company has also handled the sale of collections from the estates of numerous legendary athletes including Honus Wagner, Arthur Ashe, Pee Wee Reese, Wilt Chamberlain, Casey Stengel and Bob Cousy.
This spring, the Southern California-based auction house will once again offer up items that will result in a seismic event that will have aftershock ripple effects on the hobby for years to come as they present the Dmitri Young rookie card collection.
To be sure, SCP, as well as every other sports and Americana auction house has seen their share of rookie cards hit the block over the years. This offering, however, is without compare to anything that has gone before. It is a collection of PSA 10 rookie cards from the post-World War II-era through the 2000s compiled by a Major League player who, over the past decade, has admittedly been obsessed with compiling the finest quality rookie card collection in existence.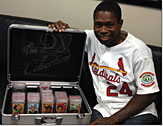 Drafted by the St. Louis Cardinals as a first round pick, the team's 1997 campaign would prove to be Dmitri Young's first full season with the Cardinals. Going on to play with the Cincinnati Reds, the Tampa Bay Devil Rays, the Detroit Tigers and the Washington Nationals, Young left active play in 2008 and officially retired in 2010.
As many sportscards hobbyists know, along with his big league career, Young was also a big league collector who spent over 10 years of his life on a quixotic search for rookie cards that feature some of the biggest names of the game in the highest grade.
In order to take on this daunting challenge, "D" as he is known to his friends, enlisted the help of longtime card collector and dealer Dave Bailey, whom Young has called "the architect of the collection." He explained that Bailey was a vital part of compiling the collection, being as that as a Major League ballplayer, Young himself constantly found himself facing an odd dilemma. "I was in a place that, financially, I could put a collection like this together," he said. "The problem I ran into was once a seller realized they were dealing with a professional athlete, the price of the cards would go out of sight."
Bailey, who was introduced to Young in 2001 by the Detroit Tigers' Robert Fick, says that before their first meeting was over, the two talked about cards for hours. Realizing that Bailey's astute knowledge of cards, coupled with his anonymity, would be a valuable component in achieving his goal, Young began asking him to locate and buy cards for him. Proving to be a successful partnership, Young ultimately enlisted Bailey to do all of his searching, negotiating and buying.
Bailey said, from the beginning, he didn't want to just buy cards for Young, but to also impart his knowledge about cards, the hobby and the business of buying and selling at the high-end. "I wanted him to understand why I would pass on a certain card or why I would recommend we go after a different one. He needed to have that knowledge in order to trust me."
In a 2010 interview with Sports Market Report (SMR), Young said there would have been no way for him to put together a collection like his without Bailey's help. "He lays down the groundwork and works out the deals for me because, in my position, there are unfortunately some dealers who see me coming a mile away," said Young. "They see a Major League Baseball player making a lot of money and they jack the price up on the card instead of being fair. That's where Dave comes in. He knows what a fair price is and he knows how to negotiate the deal."
While working on an extremely high level, Young was no different than any card collector who, not only loved the hunt and ownership of cards, but also sharing them with others who harbored an appreciation for them. This was especially true during his playing days when his teammates, coaches and players from other teams would be blown away with Young's cards and their values. "I always kept a copy of SMR in my locker to help guys have a better understanding of grading standards and why the prices of these cards are so high," he said.
From the very beginning, Young and Bailey decided that if they were to compile a best-of-the-best collection, there would be no other choice than to make sure every card was PSA authenticated and graded. "There was never any question about that. We knew, when it comes to grading standards, you have to go with PSA. They are the gold standard in the hobby," said Young. "This hobby would be in ruins without PSA. They are unquestionably the reason the hobby has expanded and been able to operate with an ethical standard."
While Young has always loved sharing his cards with folks, he recently decided to go way beyond just showing them to salivating collectors and actually make them available to them.
"There comes a point in everyone's life when things come to an end, or they have to let go of something," Young told SMR in a recent interview. "For me, I'm beginning a new chapter of my life. I'm moving forward and getting engaged to my longtime best friend, Lisa. As a part of my new life, I have a new focus and the time has come for me to part with my collection – to make these cards available to others who will enjoy them like I have."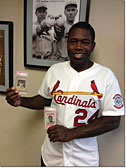 Admitting it was not an easy decision to make, Young said he thought long and hard before deciding to part with his beloved collection. "It's an emotional thing to see it go," he said. "This collection has been with me through thick and thin – good times and bad. I truly believe that, to a large extent, being so involved with putting this collection together kept me sane during some of the bad times I have gone through. I put a lot of time, effort, money and passion into this collection, and I'll miss it. But, it's time for me to start another family and babies aren't cheap," he added with a laugh.
As with so many other big time collectors who have decided to liquidate the cards, one figures there will be a few gems Young will find just too hard to part with and hold back. "No way!" he snaps. "I'm going cold turkey – not going to keep one card from this collection."
Pressed on whether there is in fact a card or two that will be especially difficult to see go, he does admit that if he were to hold on to any card it would be his Hank Aaron PSA 10 rookie. "For me, getting that card was bigger than anything, even bigger than getting Clemente's rookie card. Aaron has been my favorite player of all time," he said. "I was always impressed by the way he conducted himself and represented baseball. That card heads the collection for me."
With the decision made that he would sell the collection, Young still had one more very difficult thing to do: Tell Dave Bailey.
"I know this is a necessary step and that at some point it would happen," said Bailey. "We accomplished something that was really amazing and now it's time to move on. I have come to terms with the sale and have recently found myself looking forward to it. I know the work we put into it will be recognized and that it will generate a lot of excitement and make a lot of people happy; I accept that. However – and I can't stress this enough – no part of this has been easy for me. It is an emotional thing and, also, it has been difficult from a business standpoint. I have had some people who have been longtime friends become very unhappy with me because we didn't go with them to conduct the sale. Believe me, D and I really thought about it and talked to a lot of people before making the decision to go with SCP Auctions. It is my hope, that as time goes by, the hard feelings subside and they come to realize we were just doing what we felt was the right thing for us and the hobby."
Young agrees. "We went with SCP because this is a one shot deal, and we wanted to go with who we felt could best represent and market the sale," he said. "Dave and I talked with numerous auction houses and, at the end of the day, we both felt very confident that SCP would get us the most attention and exposure."
That is music to the ears of Kohler. "We are very excited to be representing this amazing collection," he said. "We feel fortunate and blessed that Dmitri selected us to handle it, and we are looking forward to setting some price records."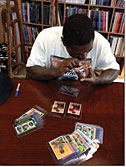 Kohler said that many of the cards in the collection have never been publicly offered. "Over the last decade, Dmitri and Dave Bailey have been able to track down and negotiate the purchase of some of the rarest cards in existence," he said. "The amount of time and effort – not to mention the money – that was put into putting this collection together is something we may never see matched. This collection is not just about having big money and going out and getting great cards. No matter how much money you have, you just don't say you're going to go out and get PSA 10s and have it done in a few months. Compiling a collection like this is a major commitment that takes a lot of knowledge, the building of relationships, huge passion and years of commitment."
Upon being asked if he is surprised that Young has decided to part with this collection that means so much to him, Kohler said he understands. "He accomplished what he wanted to do and had a lot of fun doing it," said Kohler. "I think that as exciting as it was for him to put this collection together, that excitement has now shifted to sharing it with the hobby. Over the years, we have seen that happen with other major collections. There is the fun of putting it together and then the fun of watching it going out into the hobby and making so many people happy about getting cards they never thought they could get – cards that, in some cases, are the only ones known to exist."
Along with the pure value of the cards themselves, Kohler said this offering will have an extra bonus being as that it was compiled by Young. "There will definitely be an added interest and excitement due to the pedigree of every one of these cards – coming from a professional baseball player and, specifically, Dmitri Young. Knowledgeable collectors are well aware of the huge presence he has in the hobby. Then, along with the pedigree, well, the bottom line is that these are the very best of the best rookies and Hall of Famers and superstars cards one will ever be able to find. Think about it. The 1955 Roberto Clemente rookie card – there's only one in the world that has graded a 10. The 1969 Reggie Jackson Topps rookie card. The Hank Aaron card – of which there are only two in the world – one is owned by Ken Kendrick (who owns the Diamondbacks) and this is the only other one. There are so many cards in this collection with a pop of one."
Having made the decision to offer each card individually, Kohler said the auction will begin in late April and end on May 18th. The Dmitri Young collection will be featured in its own catalog.
"This offering will be extremely appealing to the hobby," said Kohler "You are talking about the best rookie cards from guys like Bret Saberhagen, Kirby Puckett, Randy Johnson, Frank Thomas, Ken Griffey Jr., Dwight Gooden, Bo Jackson, it just goes on and on. The best rookie card collection in the world, all graded by PSA which, hands down, brings the most confidence in the marketplace. That is just a fact. So this goes hand-in-hand. I believe it will bring in a lot of new buyers who have never been into cards. The information about this offering will get out by the mainstream media and when people hear there are 10s – pristine cards – that are the best of the best being made available, they will be intrigued. Then, of course, you have all those who are already in the hobby who know this will be a milestone offering."
Kohler said that while many cards in the collection will be out of reach for most collectors, he is pleased that the offering will have something for collectors on all levels. "The offering has broad appeal," he said. "Of course, not everyone will be able to afford a 1963 Pete Rose Topps rookie – the only one in the world – but there will be a lot of rookie cards from the 1980s and '90s – a Derek Jeter or an A-Rod – that will be in a more affordable range."
While Young has decided to turn his focus to his new life, he hopes to write a book on card collecting and serve as a goodwill ambassador for the hobby. He also admits he will never truly be able to stop purchasing cards. "Just because I have stopped collecting the Gem Mint 10 rookies, don't get me wrong, there are still cards I would like to own. I still want to find a Fernando Valenzuela Topps rookie. I just won't be able to rest until I find that card," he laughed. "There are no 10s known to exist. I recently bought a ton of 1981 cases and have been going through every one to try to find one."
Bailey laughed when he was asked to comment on the fact that Young is still on the lookout for cards. "I know that better than anyone," he said. "That's what makes it a little easier for me. Sure, I have a lot of great memories of what we have done, but I also know Dmitri will still be collecting – so we're not finished. We're just going to take a new focus and go in a different direction. But, I don't think we'll ever do anything to match the magnitude of this amazing collection because it is totally jaw dropping. It will be a sale that will make a lot of people happy and set records for years to come."
Bailey grows uncharacteristically quiet for a few moments. A trace of emotion is detected as he takes a deep breath. "Dmitri and I really made a good team. We really worked well together – and we still will," he said quietly. "He couldn't stop collecting if he tried."
For more information on the Dmitri Young collection, to register for the auction, order a catalog or preview the cards, call SCP Auctions at (800) 350-2273 or log on to www.scpauctions.com.