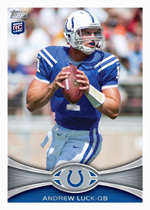 With the 2012 NFL Draft underway and Colts and Redskins fans rejoicing after last night's selections, Topps is pleased to offer a sneak peek at Andrew Luck's and RGIII's 2012 Topps Rookie cards (releasing early August).
Last night, the Indianapolis Star had Luck's Rookie Card (attached) posted on their homepage of indystar.com. And this morning, the front page of the Washington Post has Griffin's Rookie Card (image attached) on display.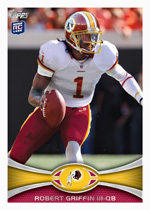 Let the excitement begin!
Want to see more previews of just drafted NFL rookies on their upcoming Topps and Bowman cards?
Follow us on Twitter (@Toppscards) and visit us on Facebook.