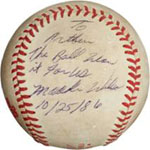 DALLAS - The infamous Buckner Ball from the 1986 World Series, Game Six, perhaps the most recognized baseball in the world, is being offered without reserve as the centerpiece of Heritage Auctions' May 3-5 Vintage Sports Collectibles Signature(r) Auction. The ball is part of The Seth Swirsky Collection, a grouping of exceptional pieces of baseball history, and is expected to bring more than $100,000+.
"This is the very ball bungled by the star Red Sox first baseman in what is considered by many the most famous single play in American Sports history," said Chris Ivy, Director of Sports Memorabilia at Heritage, "and it's just one of more than 2,600 lots being offered. It's a stellar lead for a stellar sale."
The Seth Swirsky Collection is an extraordinary compilation of singular baseball artifacts that celebrate some of the most fascinating moments from our National Pastime. Besides the crowning jewel - the Buckner baseball Swirsky also provides the auction with Reggie Jackson's third home run baseball from the sixth game of the 1977 World Series ($20,000+), the ball struck by Babe Ruth to become Home Run King (estimate: $50,000+) and the home pinstriped jersey Tom Seaver wore on the mound during the glorious 1969 "Amazin' Mets" World Series (estimate: $50,000+).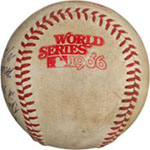 An astounding new find of high-grade Babe Ruth baseballs dating to his final public signing just two months before his passing in August of 1948 are already creating a significant buzz with collectors.
"For the better part of six-and-a-half decades these baseballs have been stored in a climate-controlled safe deposit box," said Ivy, "and have emerged effectively unchanged from their encounter with the dying baseball icon. The condition of these balls is truly fantastic and we expect collectors will respond with broad enthusiasm when they cross the block."
The auction also includes one of the rarest, most intriguing and important football discoveries ever presented by Heritage: The earliest college football jersey ever found, from the Princeton Tigers, circa 1895 (estimate: $75,000+).
"While the first college football game took place between Princeton and Rutgers 26 years before this jersey was used, no gamer from the period has ever been uncovered," said Ivy. "This is a truly historic piece relating to the sport that many in America now consider the most popular."
Other highlights of the auction include the Roger Marth Collection of Chicago Cubs Memorabilia, the Philadelphia Golf Museum Collection, a rare and always coveted example of the NBA's 50 Greatest Players signed lithograph (estimate: $30,000+) and a selection of Championship medals from several legendary golf icons.
High-grade baseball card rarities are a major portion of this auction, as they are in all the company's Sports Auctions. Several prime specimens lead the way in the May 3-5 event, with a PSA 8 example of Mickey Mantle's essential 1952 Topps rookie (estimate: $60,000+) chief among them. An even tougher rookie card from Mantle's Yankee predecessor Babe Ruth - the tremendously rare Ruth 1916 M101-5, graded SGC 70 EX (estimate: $60,000+) - is also creating a stir in the collector community along with the finest and most diverse offerings yet of the fabled T206 issue, with a near complete set, group lots and quality singles.
Due to the size of the auction, Heritage is also instituting some new bidding procedures for the auction that collectors should take note of.
"Longstanding clients will know that our Signature(r) Auctions have historically taken place over two days," said Ivy. "With so many rarities in the lineup, however, we've added a third day to the auction to accommodate everything."
Day one, Thursday, May 3, will see Session One, the Trading Card section of the auction in which all initial bids must be entered by 10 p.m. Central, with each lot closing individually after 30 minutes of inactivity. Day two, Friday, May 4, sees Session Two begin at 11 a.m. Central time with Game Used and General Memorabilia, beginning with The Seth Swirsky Collection, presented in a Live Auction - presented live online, as well - in Heritage's Dallas auction room. Session Three, presented on Friday night, May 4, will be all Autographed Baseball Material presented in an Extended Bidding format, identical in style to Session One. Finally, Session Four will close in an Extended Bidding format beginning at 10 p.m. on Saturday, May 5, also identical in style to Sessions One and Three.
Heritage Auctions, headed by Steve Ivy, Jim Halperin and Greg Rohan, is the world's third largest auction house, with annual sales more than $800 million, and 700,000+ online bidder members. For more information about Heritage Auctions, and to join and gain access to a complete record of prices realized, along with full-color, enlargeable photos of each lot, please visit HA.com.