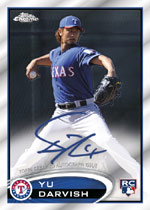 Opening Day is near and fans and collectors are highly anticipating the first start of Rangers pitcher Yu Darvish.
And this anticipation is translating into major value and collectability with his Autographed Cards.
And there are more Yu Darvish Autographs to be had...
Museum Collection (releasing tomorrow!) includes 30 Autographs (via redemption)
Gypsy Queen (releases 4/18) includes 25 on-card Autographs.
Bowman
Topps Archives
Topps Baseball Series 2
Tier One
Allen & Ginter
Bowman Platinum
Finest
Topps Chrome (image attached)
And more!