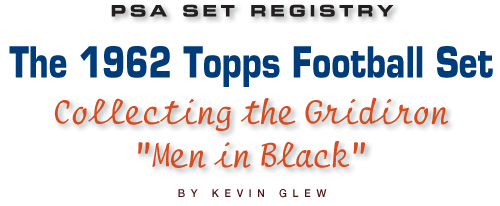 Call them the gridiron "men in black."
Much like 1971 Topps Baseball cards, the 176 black-bordered singles in the 1962 Topps Football set have a strong collector following.
"I love the design of the cards," said Joe Mancino, who owns the No. 7 Current Finest 1962 Topps Football Set on the PSA Set Registry. "I like the way the black borders sit around the player photos."
Derek Crawford, owner of the registry's No. 6 Current Finest set, agrees.
"I love the beauty of the art of the set," he said. "It was one of the first times they put a close-up photo and an action photo on the card together. And that black border makes those two photos just pop out at you."
Of course, the drawback to pursuing a black-bordered issue is that chipping on the borders is more pronounced.
"The challenge of finding these cards in high grade is definitely there," said Mike Thomas, who has assembled the registry's No. 5 Current Finest set. "But some people really like that challenge."
More than 40 hobbyists have attempted to complete the 1962 Topps Football set on the PSA Set Registry.
Showcasing NFL players, the fronts of these standard-sized cards boast a horizontal design and two photos – a large, color close-up on the right and a small black and white inset photo on the left. The player's name, team and position are indicated below the inset photo.
The backs are vertically designed and feature the card number, statistical and biographical information and a cartoon with a quiz question. Starting with the Baltimore Colts and ending with the Washington Redskins, the cards are sequenced alphabetically by team. The last two pasteboards in each team's series are a "rookie prospect" and a team card respectively.
Distributed in one series, these cards were available in one-cent, five-cent and cello packs. The one-cent packs are particularly rare and there are two types of five-cent packs. One five-cent pack advertises the 1962 Topps Football Bucks Inserts, while another does not. Packs advertising the inserts tend to fetch a premium.
The 1962 Topps Football Bucks series includes 48 inserts that mimic U.S. dollar bills with players' faces on them. To be included in packs, these 1-1/4" by 4-1/4" collectibles were folded in the middle, and this fold is taken into account when they're graded.
"There aren't a whole lot of the Bucks out there," said Crawford, who owns the registry's No. 2 Current Finest Bucks set. "It took me longer to find the 48-card Bucks set in all (PSA) 7s and higher than it did for me to find the majority of the main 1962 set."
Crawford has talked to a former Topps employee and a dealer who had an uncut sheet of the Bucks. He was told that these inserts were not included in packs until later in the print run.
"I heard that it was about two to three months into the print run where they decided to go with the Bucks issue," said Crawford.
Based on examining an uncut sheet and his previous experience with sheets, Thomas believes that the 1962 Topps Football cards were issued on two connected 132-card sheets, similar to the 1966 Topps Baseball set. Hobby publications generally list about 70 short-print cards in this set, but Thomas believes there are 88.
According to Thomas, the short prints likely include the cards in the left-most four columns (11 cards in each column, 44 cards in total) on one half sheet and the right-most four columns on the other half sheet (44 more cards). For more information and a listing of the 88 cards that Thomas believes are short prints, visit his website.
One card that Thomas doesn't believe is a short print – even though it's often designated as one – is the Fran Tarkenton rookie (#90). According to the PSA Population Report, the Tarkenton single is the most submitted card from this set. Of the 690 evaluated, there have been six PSA MINT 9s and 65 PSA NM-MT 8s. A PSA 8 sold for $810 on eBay in July 2011.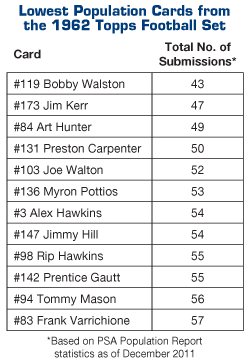 Thomas notes that the inset photo on the Tarkenton is not the legendary Vikings quarterback, but rather Sonny Jurgensen with his uniform number altered to reflect Tarkenton's No. 10.
And this isn't the only pasteboard changed in this manner. Johnny Unitas, for example, is featured in the inset photo on the Zeke Bratkowski (#77) pasteboard, while the inset photo on the Roman Gabriel rookie (#88) showcases Y.A. Tittle. Even a lesser light like Dick James (#165) wasn't immune; Don Bosseler is pictured in the inset photo on his single.
On top of Tarkenton and Gabriel, this set also boasts rookie cards of Alex Hawkins (#3), Mike Ditka (#17), Ernie Davis (#36), Don Perkins (#41), Fuzzy Thurston (#69), Tommy Mason (#94), Billy Kilmer (#151) and Norm Snead (164).
Mancino says that the Ditka rookie is one of the set's most coveted singles. Of the 439 submitted to PSA, there have been only four PSA 9s and 47 PSA 8s. A PSA 8 fetched $870 in a Greg Bussineau Sports Rarities auction in July 2011.
According to the PSA Population Report, there is just one PSA 9 Davis rookie. A PSA 8 sold for $736 on eBay in June 2011.
Johnny Unitas is one of the high profile Hall of Famers included in this issue. However, because the legendary quarterback is featured on the set's first card, his single is difficult to find in flawless form. The highest graded Unitas single is a PSA NM-MT+ 8.5. A PSA 8 garnered $2,777 on eBay in May 2011.
The Jim Brown single (#28) is also highly coveted. One of the three PSA 9 Brown cards sold for $10,540.80 in December 2006.
"The 1962 Topps Jim Brown card is a lot tougher to find in high-grade than his rookie," said Carman Notoris, who owns the registry's No. 2 Current Finest Set.
Unitas and Brown generally aren't considered short prints by hobby publications, but a number of Hall of Famers – including Raymond Berry (#5), Bart Starr (#63), Paul Hornung (#64), Jim Taylor (#66), Jim Ringo (#68), Hank Jordan (#72), Hugh McElhenny (#92) and Ernie Stautner (#134) – are.
With just 43 sent in for grading, the Bobby Walston (#119) is the least submitted card from this issue, but it's generally not designated as a short print. Nor is the Preston Carpenter single (#131), which is the most elusive single in PSA 8 condition or better. Of the 50 submitted, there have been just three PSA 8s, with nothing grading higher.
Notoris says the Carpenter card is almost always off-center.
"Nine out of 10 of them that you find are just so off-center that the borders are gone," he said. "I've been looking for this card for six years – and pretty much faithfully looking for it. It doesn't turn up in dealer stocks. It doesn't turn up in auctions. It doesn't turn up at shows. The Carpenter is by far the toughest card in the set in my experience."
Crawford says there are several other cards that are also elusive in top condition.
"The Alex Hawkins (#3) rookie card, for example, to find that in PSA (NM) 7 is very difficult because there are only 30 cards that are PSA 7 or higher," he said. "The same with Joe Perry (#4), I still have to put up with just a PSA (EX-MT) 6."
Crawford adds that Bernie Parrish (#34), Art Hunter (#84), Prentice Gautt (#142) and Jimmy Hill (#147) are also difficult to track down in PSA 7 or higher.
"A lot of the tough cards have had the same population (on the PSA Population Report) for the last four or five years," added Notoris.
Mancino says that on top of the fragile black borders, there are also centering issues with these cards.
"You don't have a lot of leeway with the way the card is designed," he said. "It doesn't take much to make a card off-center."
These centering issues, combined with the fragile black borders, elusive commons and the exorbitant prices that some of the Hall of Famers can command, make completing this set a challenge. But it's a challenge that more and more collectors are embracing.
"You'll see some of the highest level of dog fights for 1962 Topps Football cards," said Crawford. "People are fighting over PSA 7s."
This level of interest bodes well for the future of these gridiron men in black in the hobby.
"As a collector, this is one of two sets that I've kept for the future," said Crawford. "I just don't see this set ever going away. In my opinion, it's going to be viewed as one of the top two preeminent football sets ever."
Notoris expresses similar sentiments.
"I think there are three or four football sets that are always going to be popular: 1962 Topps, 1957 Topps, 1965 Topps and 1948 Leaf," he said. "If you're collecting sets, those are probably the cream of the crop."
---
Please feel free to contact Kevin Glew at [email protected] if you have any additional information or comments. Mike Thomas provided scans to the author for this article. Please note that the Population Report figures quoted and Set Registry rankings reported are those as of December 2011.