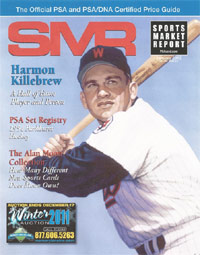 (Newport Beach, California) -- Professional Sports Authenticator (www.PSAcard.com), the world's largest sports memorabilia certification company, now is making its PSA Population Report and Sports Market Report (SMR) Online Price Guide available free to everyone. It previously cost $39.95 annually for a subscription to these invaluable hobby resources.
"As a company, we believe in providing information to consumers because the more information collectors have, the more likely they are to participate in our hobby," explained Joe Orlando, SMR Editor and President of PSA, a division of Collectors Universe, Inc. (NASDAQ: CLCT).
"Removing the pay wall and making the resources of the 'Pop Report' and SMR Online Price Guide free to everyone will give our industry the best chance at reaching new people. An informed collector is a happy one. In the coming months we'll be announcing more web-based projects aimed at getting information into the hands of collectors to help make this a vibrant hobby for many years to come," said Orlando.
The "Pop Report" (www.psacard.com/pop) is a complete listing of every item, such as trading cards and tickets, authenticated and graded by PSA since the company was launched in 1991. It includes an exact count (population) of each item within each individual grade from PSA 1 to PSA 10, as well as summaries in over two dozen general categories of sports and non-sports collectibles. The population numbers are updated each day as more items are submitted to PSA and certified.
Since its founding, PSA has processed nearly 20 million cards, autographs and other collectibles with a cumulative declared value over a billion dollars.
Updated each week, SMR Online (www.psacard.com/SMRPriceGuide) is the only official price guide for PSA-certified collectibles and it includes over 350,000 prices for sports and non-sports trading cards, autographs, unopened packs, tickets, professional model bats and graded baseballs.
"No other price guide covers such a wide range of collectibles, ranging from classic sports legends like Babe Ruth and Muhammad Ali to modern stars like Derek Jeter and Michael Jordan. In addition, the non-sports section of the price guide continues to grow," said Orlando.
"We want the hobby to be healthy and inviting to new collectors. We're doing what we can to expose collecting to a larger audience, and make it easier to access information quickly."
Printed copies of the authoritative Sports Market Report magazine, a monthly price guide with fact-filled, interesting feature stories about trading cards and memorabilia, are available for $7 per issue or $49 for an annual subscription.
For additional information, contact PSA at (800) 325-1121. Email: [email protected]. Online: www.psacard.com.