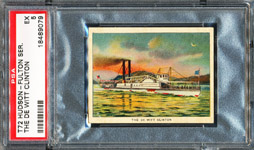 You've probably seen those Dos Equis beer commercials that feature Jonathan Goldsmith as "the most interesting man in the world."
Well, if the beer maker ever decides to replace Goldsmith, PSA Set Registry enthusiast Alan R. Moon would be a prime candidate. A world-renowned board game designer, aspiring country singer and Vietnam veteran, Moon has lived in three different countries and owns one of the hobby's top vintage non-sports card collections.
Already with dozens of sets ranking at or near the top of the PSA Set Registry, Moon is currently amassing a type-set collection that boasts cards from 595 non-sports sets released between 1900 and 1965.
"I decided to put a type-set collection together because there were so many sets that I was interested in that I figured it was crazy to try to collect them all, so a type-set collection was a way to get a little bit of everything," he explained.
Background and Career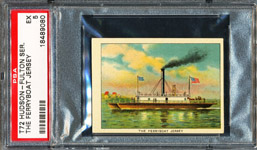 Born in Southampton, England, Moon and his family moved to St. John's, Newfoundland when he was five. After serving as a library director in St. John's, his father was hired as the editor of the Library Journal and he moved the family to Brooklyn and then to New Jersey. As a child, Moon recalls ripping open 1962 Topps Civil War News packs.
"I guess I was collecting them, but we abused our cards back then," said Moon.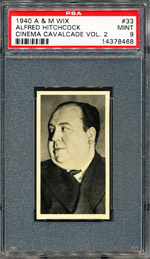 Moon served in the United States Air Force from 1970 to 1974, including a stint as a radio operator in Vietnam. Following his military tenure, he attended Kean College (now Kean University) in New Jersey where he majored in English and Theatre. While at college, he joined a local game club called the Jersey Wargamers and started penning articles for The General, a magazine produced by the Avalon Hill Game Company.
Upon graduation, he was hired as the assistant editor of the magazine, but he also became involved in developing games. He soon discovered that he enjoyed designing games more than writing or editing, and over the past 32 years, he has created over 80 published games.
In 1998, Elfenland, a game he worked long and hard to perfect, captured the Spiel des Jahres (SdJ) (Game of the Year) award. The SdJ is a very prestigious honor in German speaking countries. In 2004, his game, Ticket to Ride, earned him his second SdJ award and has become a worldwide hit that has spawned a computer game and several additional versions.
"Ticket to Ride has won numerous awards and is the big hit I'd always dreamed about," said Moon, who now resides in Syracuse, N.Y. with his wife, Janet.
Back into Card Collecting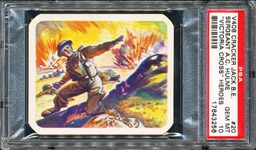 Around the same time that Ticket to Ride was garnering accolades, Moon decided to get back into card collecting.
He owns registry sets in everything from 1910 Hassan Arctic Scenes (T30) to 1936 Jolly Roger Pirates to 1964 Topps Outer Limits. Recently, he's focussed on building a type set that includes cards from non-sports sets from 1900 to 1965.
"I started in 1900 just so I didn't have to include 'N' cards," he explained. "I like 'N' cards, but it's just too much. I thought I better have some sort of boundary."
The devoted hobbyist started out limiting himself to one card per set.
"After a while one card wasn't enough so I started collecting more than one card," he said. "I liked the way the cards looked in groups better than just one."
Moon would like the average grade of his type set cards to be PSA NM 7.
"Fifties and '60s cards, I try to get them in (PSA NM-MT) 8s, cards from the '30s and '40s in (PSA NM) 7 and then everything before the '30s, a (PSA EX-MT) 6 is OK," he said.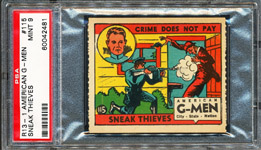 When asked what his favorite cards in his collection are, Moon has trouble picking out just one.
"I love railroads and ships and a lot of the military cards," he said. "Just the whole era of cards after World War II, there was some amazing stuff."
Moon buys and sells some cards on eBay. Several dealers are also aware of what he's looking to add to his collection. Right now, a 1936 Strange True Stories (R144) card in PSA EX 5 or higher is at the top of his want list.
Moon also covets a card from the 1940 Adventures of the Army, Navy and Marines (R3) issue and a two-card panel from the 1950 Topps Bring Em Back Alive set.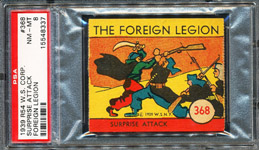 Tracking down pristine cards from pre-1940 sets is one of the biggest challenges to completing his collection.
"There are some 'R' cards from the '30s that are almost impossible to find," he said. "Finding a representative card that's in decent shape is really tough and the 'T' cards and the 'E' cards are especially tough to find."
Moon collects PSA-graded cards for a number of reasons.
"When you buy a (PSA) graded card, you know exactly what you are getting," he said. "You don't have to depend on the seller's grading skills or scale."
He also likes the way his cards look in PSA holders and the protection the holders offer.
"PSA Customer Service is excellent," he said. "They state their turnaround times are only estimates, but I've gotten my cards back much quicker than the estimated times in the vast majority of the cases."
The Future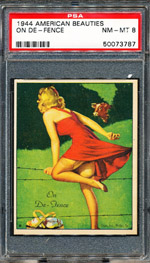 Moon plans to keep submitting cards to PSA and adding to his type set collection.
"I'll likely add cards from sets from 1966 through 1970 in the near future," he said. "There are a few sets in there I really like."
Career-wise, he has no plans of retiring.
"The old joke about board games is the way to make a small fortune in the board games business is to start with a big fortune," he said. "There are tons of game designers out there. It's a tough way to try to make a living. You've got to be lucky. You've got to be in the right place at the right time and everything else. I've just been really fortunate."
As for his other plans, Moon has already recorded one country music CD and hopes to record another.
"I've also become a poker fanatic in the last few years," he said. "I haven't had a huge victory yet. My biggest win was only for about $6,000, but I'm planning on going to Vegas for four to six weeks next year to the World Series of Poker."
Outside of that, who knows what else Moon will do? But whatever it is, you can bet that it will be interesting.
Please feel free to contact Kevin Glew at [email protected] if you have any additional information or comments. Alan R. Moon provided scans and photos to the author for this article.