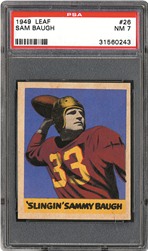 Originality is not a selling point of the 1949 Leaf Football set.
The pictures on its 49 cards are the same as those employed on 1948 Leaf singles. That said, the Chicago-based manufacturer did update the biographical information on the card backs, and for gridiron fans clamoring for football cards in 1949, this set represented their only option.
Legal wrangling between Bowman and Leaf appear to be the reason that Leaf produced the sole football card issue in 1949.
"Warren Bowman would sue anyone (or anything) at the drop of a dime," explained veteran hobbyist Ted Zanidakis. "Early in 1949, the Bowman Gum Co. took the Leaf Gum Co. to court over the use of the words 'Baseball Bubble Gum' on Leaf's wrapper. Bowman had copyrighted this saying on their 1948 wrapper. The litigation then expanded over the contractual rights to portray baseball players in their sets. The rights to portray Joe DiMaggio, Satchel Paige and other major stars were part of this dispute."
Zanidakis says Bowman prevailed in the baseball card war and Leaf, after their seminal 1949 set, stopped manufacturing baseball cards until 1960.
"Bowman's concession to Leaf was that Leaf could issue their football set and Bowman would not issue a football set in 1949," noted Zanidakis.
Similar to the 1948 cards, the 1949 Leaf Football singles each measure 2-3/8" by 2-7/8" and showcase a picture of the player on the front with their name. Many of these cards also flaunt the player's nickname. William Moose Fischer (#7), Pitchin' Paul Christman (#19), Bobby Bomber Nussbaumer (#65) and Steve Big Boy Van Buren (#79) are just some of the colorful players featured.
But while many of the 1948 cards were printed on a semi-glossy, white stock, the 1949 singles were generally printed on a cheaper, grayer stock. As a result, the colors on the 1949 singles are often drabber.
The 1949 card backs present the player's name, card number and biographical information and offer collectors the opportunity to send five wrappers and 10 cents to a Chicago address to obtain a 12" by 6" college or pro team felt pennant. Hobbyists can distinguish the 1949 cards from the 1948 pasteboards by the differing biographical information and the copyright date on the bottom of the backs.
According to Mark Murphy's "Unopened Pack, Wrapper & Display Box Guide," the 1949 Leaf football cards were distributed in five-cent packs. Veteran hobbyist John Spano provided a photo of the 1949 Leaf Football box that indicates that five cards were in each pack with a piece of gum.
That said, the hobby consensus is that these cards were produced in much smaller quantities than the 1948 cards.
"I definitely see fewer 1949 Leaf Football cards out there than 1948 cards," said Spano.
Steve Settles, owner of the No. 9 Current Finest registry set, agrees.
"There are just not a lot of 1949 cards that come up on eBay or other places for sale," he said. "It's been a difficult set to get. It took me about five years, in total, to put it together."
With the 1949 issue representing Leaf's last football offering until 1996, Zanidakis suggests that fewer cards might have been produced because Leaf was beginning to phase out the product.
Spano says that production numbers could've been lower because the football set was more less an "afterthought" following the legal wrangling with Bowman. This theory would help explain why Leaf chose to reuse pictures from their 1948 set.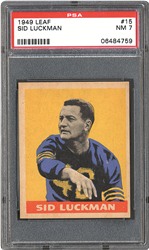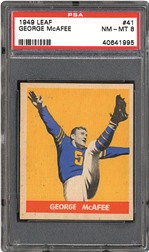 "It was probably just economics," offered Rob Lifson, president of Robert Edward Auctions, when asked why Leaf would reuse the pictures. "You have to remember they were selling bubble gum. This is the very beginning of the era of bubble gum cards post-war and there were no rules."
Cards in this offering are also skip-numbered. So while there are only 49 cards, the numbers on these cards range between 1 and 150. The long-held belief is that this was done to trick collectors into buying more packs in a futile attempt to complete their sets.
"It must have driven the kids nuts at the time," said Lifson.
Contrary to the 1948 Leaf Football set that featured college players, only professionals are included in the 1949 offering. As indicated earlier, all 49 players in the 1949 set are also featured in the 1948 issue, making the 1949 issue decidedly rich in second-year cards.
The sophomore Sammy Baugh (#26) is the key card in the 1949 set. Of the 101 submitted, there have been eight PSA NM-MT 8s and one NM-MT+ 8.5, with no examples grading higher. One PSA 8 garnered $1,798.93 in a Goodwin & Co. auction in November 2009.
The second-year Bobby Layne card (#67) is even tougher to find in flawless form than the Baugh. Just five PSA 8s have been uncovered of this card, one of which fetched $1,205 on eBay in May 2008.
Chuck Bednarik (#134) is another coveted single. The sole PSA 8 copy of this card represents the highest graded example. A PSA NM 7 fetched $1,044.57 in a Memory Lane auction in September 2008.
Sid Luckman (#15), Charlie Trippi (#16), Bill Dudley (#22), Pete Pihos (#28), George Connor (#40), George McAfee (#41), Steve Van Buren (#79), Bob Waterfield (#89) and Bulldog Turner (#150) are other Hall of Famers in this offering.
With just 33 submissions, the Fred Enke (#47) represents the lowest population card (see accompanying chart). There has not been an Enke single that has graded above PSA NM 7.
"The centering on the back of that card is ridiculous," said Spano. "I'd say I've handled maybe 10 of those and maybe only two of them had the copyright date intact on the reverse."
The Jim Yovel (#57) and George Savitsky (#144) are the second least submitted single and there has yet to be an unqualified example of either grade above a PSA EX-MT 6. Jason Levering, owner of the registry's No. 6 Current Finest Set, says that the Savitsky is often off-center or miscut.
Spano says the Jim White card (#39) is another common that commands a premium.
"I have no idea why, but his card was almost impossible to find," he said. "But when it did come up on eBay, it sold for huge premiums, even in lower grades."
Of the 46 submitted, there have been four PSA 8s and one PSA 8.5. A PSA 8 sold for $487.63 in a Memory Lane auction in December 2007.
Two uncorrected error cards can also be found in this set. Bob Hendren's last name is misspelled "Hendreen" on the first card in the set and Pat Harder's last name is misspelled "Harber" on his card (#101).
Poor registration hampers the pictures on cards from this issue. Spano says this may be because Leaf used the same print plates as 1948 and because the card stock was darker.
Lowest Population
1949 Leaf Football Cards
Card
No. of PSA
Submissions*
#47 Fred Enke
33
#144 George Savitsky
36
#57 Jim Youel
36
#126 Jay Rhodemyre
37
#51 Bob Demoss
41
#23 Clyde Laforce
42
*PSA Population Report statistics
as of October 2011
Levering adds that there are also centering problems with these cards.
"Most of the qualifiers you find on graded cards are OCs or MCs," he said.
Settles agrees.
"The centering is terrible," he said.
Because these cards were likely printed in smaller quantities than the 1948 issue, this set can be challenging to complete. Unfortunately, its lack of originality and the absence of any rookie cards have made it less desirable.
"I think the big thing is there are no rookies," said Levering. "If it had at least one big rookie, I think it would be more popular."
Boasting an impressive 7.56 GPA, the No. 1 PSA Set Registry set was sold by Robert Edward Auctions in May 2010 for $23,500.
"I actually thought it would go for more," said Lifson, who believes the fact that the hobbyist selling it assigned a $20,000 starting bid to it might have been a factor.
---
Please contact Kevin Glew at [email protected] if you have any additional information or comments. Robert Edward Auctions, Mile High Card Co. and Steve Settles provided pictures for this article. Please note that the Population Report figures quoted and Set Registry rankings reported are those as of press time.