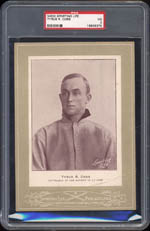 Centennial, CO- Mile High Card Company's recently concluded October 20, 2011 auction seemed to prove the old adage that if you combine exceptional rarity with great condition, tremendous results will surely follow as several key rarities performed to exceptional levels. Supporting this claim were several instances highlighted by the following records: a 1907 W600 Sporting Life Cabinet of Ty Cobb graded PSA 3 VG found a new home to the tune of $55,580.00, as well an astounding and significant 1888 N403 Yum Yum Tobacco card of Cap Anson created quite a buzz with a final sales number of $40,163.00, also commanding much interest by market watchers and enthusiasts alike was a 1909-11 T206 Bill O'Hara St. Louis that was the highest graded known copy having been assessed a PSA 7 NM grade which sold for $44,325.00.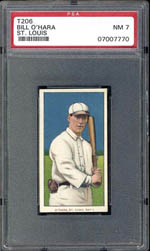 Mile High Card Company President Brian Drent commented, "As a firm we are exceptionally pleased with the passionate response that we saw all across the board and especially on the higher end of the collectibles market, and we will continue to strive to meet our clients' collecting goals by offering material from all scopes of the hobby."
In addition to the aforementioned highlights, as is the case with many MHCC auctions, baseball cardboard took a front-page view with the following items performing to outstanding levels: A stellar example of "Shoeless" Joe Jackson's 1914 Cracker Jack card sold for $46,575.00, a terrific example of the scarce 1914 Cracker Jack card of Christy Mathewson in a PSA 2 sold for an impressive $18,252.00, also performing well was a 1909-11 T206 Ty Cobb bat of Shoulder with a rare Uzit advertising reverse which found a new home at the tune of $14,402.00, as well a stunning 1933 Goudey final production uncut sheet of 24 cards including #53 Babe Ruth as well as four additional HOF'ers was hammered at $35,703.00, also performing well past recent market condition was a 1941 Play Ball #71 Joe DiMaggio PSA 8 which sold for an impressive $10,936.00.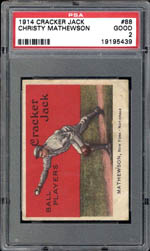 It wasn't just key rarities and high profile cards that performed to exceptional levels in the most recent MHCC sale as the following cards sold for the following: 1908-9 Rose Postcard Tim Jordan PSA 7 NM which sold for $4,303.00, as well a 1909 T204 Ramley Art Devlin sold for $4,484.00, a 1933 DeLong #1 Mart McManus performed to the tune of $2,499.00, as well a 1936 Diamond Stars #105 Ernie Lombardi sold for an impressive $2,642.00, as well a 1941 Play Ball #22 Indian Bob Johnson PSA MINT 9 sold for an astonishing $5,117.00, also garnering great interest was a 1951 Bowman #1 Whitey Ford which found a new home to the tune of $8,225.00, as well an unopened 1952 Topps 5-cent wax pack performed well selling for $10,594.00, a 1956 Topps #135 Mickey Mantle impressed with an astounding final sale of $12,029.00 and a scarce 1954 Wilson Franks Ted Williams PSA 6 impressed with a final sale of $7,477.00, as well a 1952 Topps #142 Bob Perkowski PSA MINT 9 sold for $5,117.00, and a 1952 Topps #360 George Crow PSA 8.5 NM/MT+ sold for $5,207.00, also performing well was a 1954 Dan Dee Mickey Mantle PSA 7 NM which sold for $2,991.00, 1954 Topps #138 Bob Borkowski PSA 10 GEM MINT $6,811.00, a 1958 #65 Von McDaniel YL PSA 8 NM/MT sold for $2,427.00, while a 1958 Topps #92 Clint Courtney Yellow Name PSA 9 MINT sold for $2,938.00, and a scarce 1958 Topps #377 Braves Numerical Checklist in a PSA 8 NM/MT sold for an astonishing $2,981.00.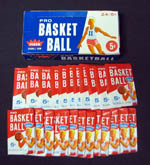 The MHCC sale also had several high grade complete sets perform to extraordinary levels highlighted by the following results: A completely graded 1956 Topps Master set ranked #10 on the PSA Set Registry found a new home at the tune of $40,163.00, as well a 1958 Topps Completely PSA Graded set sold for $33,040.00, and a high grade 1954 Dan Dee Complete set sold for $11,308.00, $5,362.00 was the winning bid for an elusive set of 1951 Topps Team cards that was the #8 All Time Finest Set on the PSA Set registry, also performing to market was the #1 All Time Finest 1954-56 Spic And Span complete set which sold for $8,638.00, several 1960's cards performed to excellent levels highlighted by the following, a 1960 Topps #350 Mickey Mantle sold for $5,483.00, while a 1964 Topps #536 Mets Rookies PSA 10 sold for $1,953.00 and a 1964 Topps #2 AL ERA Leaders in a PSA MINT 9 sold for an incredible $2,445.00, as well a rather astonishing price of $2,887.00 was paid for a 1968 Topps #4 AL RBI Leaders in a PSA 10 GEM MINT
Although Mile High is widely considered the preeminent card house within the hobby memorabilia made quite a splash in the recently concluded MHCC sale as well, highlighting this arena were the following sales: A stunning 1909 Pittsburgh Pirate World Champion panoramic sold for a strong $23,086.00, while an exceedingly scarce 1913 T200 Fatima Premium of the Pittsburgh Pirates sold for $20,614.00, a spectacular signed Jimmy Foxx Burke photograph to Lefty Grove performed well selling for $3367.00, as well a 1962 Mickey Mantle Batter's Assistant Training Set in the original box sold for an impressive $3,911.00, and a 1985 Chicago Bears Game Used Road Jersey of Walter Payton sold for $16,513.00, and a 1980's Dallas Cowboys Game Used Tony Dorsett jersey found a new home at $6,628.00.
Baseball was not the only area of cardboard that fared well with stupendous prices achieved in Football, Basketball and Hockey as well with the following highlights jumping to the forefront: A 1957 Topps #119 Bart Starr sold for an impressive $11,212, while a 1957 Topps #13 Johnny Unitas PSA 8.5 NM/MT+ fetched an awesome $7,139.00, Basketball was a key part of this auction which hailed an impressive $33,640.00 paid for a 1961/62 Fleer Basketball unopened box, as well a 1960 Kahn's Jerry West PSA 8 NM/MT performed excellent at $8,712.00, a 1960 Kahn's Oscar Robertson also performed well selling for $8,435.00, as well hockey was another strong area of interest with the following cards performing well, a 1951 Parkhurst #4 Maurice Richard sold for $8,225.00, and a 1979-80 O-Pee-Chee #18 Wayne Gretzky sold for $5608.00, and a 1966-67 Topps #35 Bobby Orr sold for $6,994.00, as well a 1968 Topps #2 Bobby Orr PSA 9 MINT sold for an impressive $5,899.00, while a 1970 O-Pee- Chee Bobby Orr sold for an awesome $6,236.00.
According to Mile High Card Company founder and President, Brian Drent, "we had over 350 new and actively bidding registered users, which is more new customers than we've ever had for any particular auction. Our numbers were strong, sure, but I think that in itself is a good sign for the hobby. I know it's definitely a good one for us."
Mile High Card Company has distinguished itself among elite auction houses as a specialist in the sports card market, as well as high end memorabilia, consistently realizing record-setting prices for the world's finest sets and high-grade material that, in many cases, far outdistance the competition. As a follow-up to this highly successful event, MHCC is currently planning a January 2012 premier catalog auction, and is actively seeking consignments. Continuing its successful Consignor Incentive Program, the top consignor to its January 2012 auction will receive 2 tickets plus airfare and hotel to New Orleans for the 2012 NCAA Basketball Final Four. To consign your treasured material to the hobby's most consistently reliable auction house, or to register with the company and receive free catalogs for future events, please visit www.milehighcardco.com or call Mile High Card Company directly at 303.840.2784 (8:00-5:00 MST M-F).