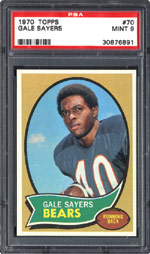 His NFL career was far too short, but stories of his dazzling, gridiron dashes will last forever.
Limited by knee injuries to just 68 NFL games between 1965 and 1971, Gale Sayers was once deemed Magic in Motion by legendary Bears coach George Halas.
"During his playing years, he was the best running back in football," said Rick Kozar, who owns the No. 1 Sayers Basic Set on the PSA Set Registry. "He was one of the best running backs of all-time."
Mike Cacchione, who amassed the registry's No. 2 All-Time Finest Sayers Basic Set, agrees.
"In the short time he played, he shined brighter than everybody," he said. "He was one player who, in a short time, made such an impact that he ended up in the Hall of Fame."
Neil Hamilton, owner of the No. 3 Sayers Master Set, also continues to marvel over Sayers.
"He would run full speed in one direction and basically cut on a dime and run full speed in the next direction," he said. "He was so elusive. There are some videos of him basically evading everybody on the defense. They couldn't touch him. He was just mesmerizing to watch."
Steve Barr, who has assembled the registry's top Master Set, shares similar recollections.
"I remember Gale on the muddy fields, often with a torn jersey, making spectacular plays on a regular basis for a generally mediocre team," he said.
In his abbreviated NFL career, Sayers was named to the All-NFL team five times and toiled in four Pro Bowls. He was elected to the Pro Football Hall of Fame in his first year of eligibility (1977) when he was just 34 years old.
Born in Wichita, Kan., in 1943, Sayers was raised in Omaha, Neb., before heading back to his birth state to star with the University of Kansas football team. As a halfback with the Jayhawks, he shattered school records and earned the nickname The Kansas Comet.
In 1965, he was selected fifth overall by the AFL's Kansas City Chiefs and fourth overall by the NFL's Chicago Bears. He elected to sign with the Bears, but some scouts believed that at just 6-feet, 200 pounds, Sayers wouldn't be big enough to excel in the pro ranks. But the fleet-footed back quickly proved them wrong. In his rookie campaign, Sayers scored a record 22 touchdowns – including six in one rainy contest against San Francisco on December 12 – and was named the NFL's top rookie.
He followed that up by leading the NFL in rushing yards in 1966 and with another solid season in 1967. Unfortunately in 1968, he suffered a devastating injury to his right knee. Many felt that he would never recover, but he returned in 1969 to top the NFL in rushing again and earn comeback player of the year honors.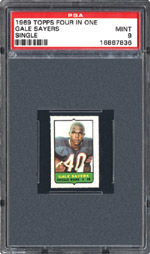 While with the Bears, Sayers befriended fellow running back Brian Piccolo, who was white. At a time when racial tensions were high, Sayers and Piccolo's friendship served as a symbol of racial harmony. After Piccolo was diagnosed with a form of lung cancer in November 1969, Sayers visited him regularly in the hospital and even dedicated his 1969 comeback player of the year award to his ailing teammate. Piccolo would pass away on June 16, 1970, but the story of their friendship provided the inspiration for a popular TV movie called Brian's Song that starred James Caan and Billy Dee Williams in 1971.
Sayers would injure his left knee in 1970 and, after an unsuccessful comeback attempt in 1971, he opted to retire. In his abbreviated NFL career, Sayers was named to the All-NFL team five times and toiled in four Pro Bowls. He was elected to the Pro Football Hall of Fame in his first year of eligibility (1977) when he was just 34 years old.
His remarkable career has inspired a number of hobbyists to pursue his Basic (seven cards) and Master (31 cards) sets on the PSA Set Registry.
His rookie card is part of the 1966 Philadelphia series (#38). Cacchione and Kozar say that poor centering often hampers this card.
"Most of them have a rough-cut (edge) on them," added Hamilton.
Of the 1,159 submitted, there has yet to be a PSA GEM-MT 10 and there are just 24 PSA MINT 9s. A PSA 9 fetched $2,100 on eBay in December 2010.
Flaunting fragile yellow borders, Sayers' 1967 Philadelphia single (#35) is also elusive in flawless form. No PSA 10 examples have been uncovered and there are just 13 PSA 9s.
The 1968 Topps Sayers single (#75) is also difficult to find in top grade. Poor centering and print spots on the nameplate often plague this single, and there are just 11 PSA 9 examples and one PSA 10.
But outside of the rookie card, the most coveted Sayers is his 1969 Topps single (#51). Part of the borderless first series in the 1969 issue, the pink background stretching to the edges on this card is susceptible to chipping.
"Print spots are a big issue with the 1969 Topps card," noted Cacchione. "Damage to the edges also seem to be an issue."
Of the 706 evaluated, there are no PSA 10s and only 10 PSA 9s. One PSA 9 sold for $1,343.51 in a Mile High Card Company auction in November 2010.
Hamilton says that the 1971 Topps single (#150), with its fragile blue borders, can also be evasive in pristine condition. Of the 419 submitted, there have been 12 PSA 9s, with nothing grading higher.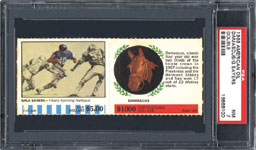 One of the most elusive Master Set items is Sayers' 1966 American Oil All-Pro stamp. Part of a series of 20 stamps that were issued in three-stamp panels, this single measures 15/16" by 1-1/8" and features a head shot of the legendary running back in his helmet. The back is blank and doesn't include a number. Distributed as part of a contest, these stamps were to be stuck in their appropriate slot on an 8-1/2" by 11" collection sheet that featured four rows. Once a row was filled, collectors were eligible to win the prize indicated. Because collectors were encouraged to separate the stamps to affix them to the collection sheet, these stamps are rarely found in their original panels. As a result, the full panels generally command a premium.
"These stamps have inherent glue spots on the back of them as part of the manufacturing process," noted Barr.
Just five single Sayers stamps have been examined by PSA. The highest unqualified grade awarded has been PSA EX-MT 6.
Competition for hard-to-find Sayers cards can be heated.
"There is a lot of competition for his cards," noted Hamilton. "He is definitely a fan favorite."
Kozar agrees.
"There are a lot of serious Sayers collectors out there," he said. "His cards continue to do well in auctions, especially his low-pop cards."
So although knee injuries ended Sayers' career prematurely, the demand for his cards is evidence that stories of his dazzling gridiron dashes are bound to endure forever.
"He had far more ability than most of today's self-promoting players, yet he always let his play shine on its own merits," said Barr.
Toughest Basic Set Gale Sayers cards to find in PSA MINT 9 or better
Card
Total # of
Submissions
Total # of Submissions
in PSA 9 or Better
% of Submissions
in PSA 9 or Better
1969 Topps #51
706
10
1.40%
1966 Philadelphia #38
1,159
24
2.00%
1968 Topps #75
409
12
2.90%
1971 Topps #150
419
12
2.90%
1967 Philadelphia #35
315
13
4.10%
1970 Topps #70
673
34
5.00%
1972 Topps #110
652
66
10.10%
*Based on PSA Population Report statistics as of September 2011
Please feel free to contact Kevin Glew at kevin.glew@sympatico.ca if you have any additional information or comments. Neil Hamilton and Steve Barr provided pictures for this article. Please note that the Population Report figures quoted and Set Registry rankings reported are those as of September 2011.