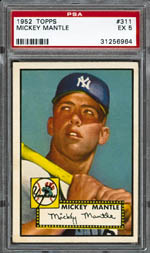 The milestone went largely unnoticed.
Sometime earlier this year, PSA graded yet another 1952 Topps #311 Mickey Mantle card, printed out a label, put everything into a holder, and shipped it back to its owner.
Except this one was different. It was the one-thousandth time this fabled card has been submitted to PSA. To put that in perspective, PSA has graded over 3,750 copies of Mantle's #10 1959 Topps entry, one of his most popular cards of the 1950s.
As of this writing, 1,032 1952 Topps Mantles have been graded; four more were autographed. Of the 146,000+ 1952 Topps cards submitted to PSA since its inception, Mantle's iconic portrait accounts for a measly .7% of the total.
The Back Story
The 1952 Mantle has taken on legendary status. It seems to be on everyone's wish list and justifiably one of the top five sports cards of all time. It's also the first card in the 1952 Topps high number series.
Ironically, it is also a double-printed card. At one time, there were a lot more of them – that is, until Topps decided to dispose of case after case of unsold 1952 Topps high numbers in 1960 by dumping them unceremoniously into Davey Jones' locker.
Even so, you could still pick up copies of the card in decent condition under $100 until 1980, when one went for the then-princely sum of $1500 at auction. That started a frenzied demand for the card that was fueled by the now-famous Alan Rosen 1952 Topps find in Massachusetts, one that yielded high-grade Mantles, many of which now rest comfortably in PSA slabs.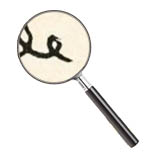 What makes this card more interesting is that it can be found in two variations. The first has ruddy flesh tones and a rich blue background, while the other has more subdued flesh tones. The difference between the two is quite apparent, as are other details.
On the reverse of the 'warmer' Mantle rookie, you'll find the stitches on the ball are aligned to the left (we've provided close-up photos to make it easier to see). And, on the front, you'll notice after careful scrutiny that there is a solid black line around the Yankees logo. What's more, the 'e' at the end of Mantle's facsimile signature has an upward-point tail to it.
On the 'colder' Mantle card, the stitches on the ball align to the right, while the solid black line around the Yankees logo is broken. And the 'e' at the end of his signature is missing the tail.
The Prices and the Grades
While PSA doesn't note these two variations on the label, they command the same price in the Sports Market Report. Mid-grade copies currently sell in the $15,000 range, while NM 7 versions are listed at $30,000. Half-point grading has really driven the price of this card up – a NM-MT+ 8.5 version sold for nearly $155,000 last year, and the last Mint 9 version to go at auction fetched an amazing $283,000 in 2006.
Even lower-grade copies command big prices. A VG-3 copy gaveled down at $9,304 in 2009, while a VG-EX 4 topped out at $14,982 in 2008. You can also find copies at shows and on eBay selling in the $4,000 to $7,000 range in poor to very good condition.
How tough is Mickey in high grade? To date, PSA has slabbed 3 Gem Mint 10 copies, and 7 have found their way into MINT 9 holders. There are 2 NM-MT+ 8.5s and 30 NM-MT 8s out there, along with eight qualified PSA 8s and a pair of PSA 9s with qualifiers. In short, about 5% of all 1952 Mantles submitted have cleared the bar as high grade, although those cards with qualifiers don't seem to discourage anyone.
Not surprisingly, the most common grade awarded has been EX 5, with 151 unqualified copies to date. Surprisingly, the second-highest number of grades are in the PR 1 category (145), which means a lot of these cards that suffered the indignity of being clipped to the spokes of bicycles, folded in half, chewed on by pets, flipped against walls, or left out in the weather have finally found a safe home in a PSA holder.
The Legend Continues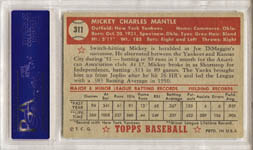 Topps has reprinted this card in different versions numerous times for shows, as part of reprint sets, and as inserts into modern-day packs. The #311 Mantle from the 1952 Topps reprint set (1982) goes for $15 to $30 on eBay and you can find other variations for $5 to $20, depending on condition. Copies printed for the 1991 East Coast National still surface for $12 - $15, while refractor versions can be had for less than $10. It's also been issued as a ceramic card, of all things!
A few years back at one of the summer East Coast National shows, a 1952 Mantle in low grade was given away as a door prize to one very surprised and ecstatic attendee from Maryland. (I guess that trip was worthwhile, right?) And you can always find a crowd gathered around showcases where this card is displayed.
Even shifting market conditions haven't affected the price of #311. A PSA 5 copy of the 'cold' variation was sitting at $11,000 in one auction as this was being written, while another PSA 5 slab fetched $18,700 in a March 2011 auction. So far, the demand shows no sign of slowing down.
PSA properly recognizes the stature of the 1952 Topps Mantle by using it in their Photograde Online tutorial. (This is also about the only place where you can see a Gem Mint 10 Mantle in all its glory.) The Baseball Hall of Fame has one prominently displayed in their collection of baseball cards. And, of course, it's featured in Joe Orlando's book, Collecting Sports Legends.
Just how popular is the 1952 Topps Mantle? Back in 1985, I bought an ungraded copy EX-MT from a dealer in Virginia, beating out several other offers that included (and I'm not making this up) an even-up trade for a 1955 Packard sedan.
Just another part of the legend...