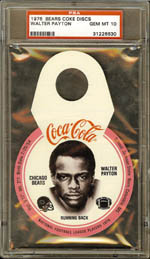 Collecting has been "sweet" for these PSA Set Registry enthusiasts.
Hardcore fans of the gridiron legend known as Sweetness, these hobbyists have worked diligently towards completing their Walter Payton Basic (13 cards), Master (119 cards) and Master Topps (65 cards) sets.
"He was one of my all-time favorite football players and really the whole reason why I started collecting cards," said Mike King, an Ohio native and PSA Set Registry enthusiast.
Randy Hoehn, an Illinois-based enthusiast who sat in the first row on the 50-yard line for Payton's memorial service at Soldier Field, shares King's passion for the late running back.
"Wally was my idol back in the 1970s," he said. "I've just been a Payton fan ever since he came out of Jackson State."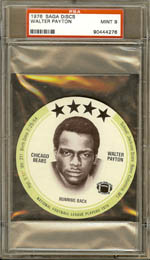 Born in Mississippi in 1954, Payton was an All-American running back at Jackson State, before being selected fourth overall by the Chicago Bears in 1975. Payton spent his entire 13-year NFL career with the Bears, toiling in nine Pro Bowls, winning the MVP award twice and leading Chicago to a victory in Super Bowl XX. At the time of his retirement, he held the NFL record for most rushing yards (16,726). For his efforts, his No. 34 was retired by the Bears and he was elected to the Pro Football Hall of Fame in 1993.
In February 1999, Payton announced that he was suffering from a rare liver disease and he spent the final months of his life raising awareness about organ donations, even though it was too late for him to receive one himself. He passed away on November 1, 1999. The type of player and type of person that Payton was helps explain why fans – like King and Hoehn – continue to collect his cards.
And, of course, a key to any player set is a high-grade rookie. The Hall of Fame running back's cardboard debut was in 1976 Topps (#148). Hobbyists say it's not an easy single to find in pristine condition. Of the 4,420 sent in to PSA, only about nine per cent have been graded PSA MINT 9 or better. A PSA GEM-MT 10 Payton sold for $3,550 on eBay in February 2011.
"Like any other card from the '70s, most have centering issues, printing issues or corner wear," said King of the Payton rookie.
Hoehn agrees.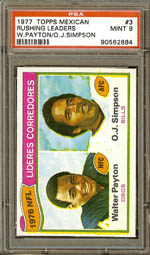 "They're really off-center (left to right) front and back," he said.
Collectors agree that the 1976 MSA Saga Disc is more elusive than his Topps rookie. Created as a Philadelphia School District promotion, these discs were distributed with school lunches. The fronts of these collectibles showcase colored borders and four black stars across the top. Personal information, such as height, weight and date of birth is displayed in the border area, while a black and white photo is featured in the middle of the front. The backs boast a Saga ad, as well as a slogan that says, "Nutrition is body ecology."
"The Saga discs, as a whole, were of very limited production with a narrow, local, regional release," said Steve Barr, who amassed the registry's No. 1 All-Time Finest Payton Master set.
So far 26 Saga discs have been submitted to PSA and there are nine PSA 10 examples.
Payton's most elusive Basic Set single in PSA 9 or better (see accompanying chart) is his 1977 Topps card (#360). Poor left-to-right centering often plagues this pasteboard, and just 7.5% of submissions have been deemed PSA 9 or higher.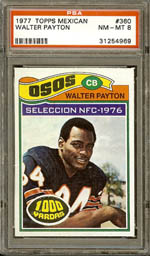 Even more difficult to uncover in pristine condition, however, are Payton's 1977 Topps Mexican cards (regular card (#360) and rushing leaders card (#3)). With text in Spanish, the Mexican series is a 528-card set. Cut in a different manner and produced in smaller quantities than the regular Topps series, many of these cards were released in two-card packs that came with gum. As a result, these cards are notorious for gum stains.
"The Mexican release is tough for a variety of reasons," said Barr. "But it seems to be a combination of relatively limited production (especially low availability in the U.S.), a scarcity of unopened material, the lower quality used to produce them, and the way in which they were packaged."
There hasn't been an example of Payton's regular Mexican card that has graded higher than PSA NM-MT 8, while only four copies of his rushing leaders single have been deemed PSA 8 or better. A PSA 8 example of his regular issue single sold for $700 on eBay in October 2010.
Another difficult card to obtain in high-grade is Payton's 1978 Topps Holsum issue (#2). Distributed with loaves of Holsum bread (one card with each loaf), these singles boast a color photo of the player on the front accompanied by their name, team and position. Their backs are predominately green and yellow and feature personal statistics (height, weight, etc.), a short list of career highlights and a quiz question. The absence of Holsum branding often confuses collectors trying to trace the origin of these cards.
"They were hard to find centered well," said Hoehn.
Barr concurs, "The Holsums also seem to be affected by a combination of limited production, rarity of high quality, untouched raw condition cards and centering problems."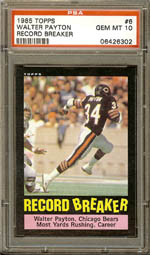 Of the 28 evaluated, there has yet to be PSA 10 example and there are just three PSA 9s. A PSA 9 sold for $362.50 on eBay in March 2010.
A more mainstream Payton that's difficult to uncover in pristine condition is his regular 1985 Topps single (#33). Despite an abundance of raw cards, just one example has received the vaunted PSA 10 grade. Hoehn attributes this to the card's unforgiving black borders.
"Any time you rub the edges on those black borders, you get white showing," he said.
Larry Parten, another Set Registry enthusiast who collects Payton cards, agrees.
"The black card (1985 Topps) is beautiful, but is extremely hard to find in a good grade," he said.
A PSA 9 example fetched $99.99 on eBay in April 2011.
Another elusive item is Payton's 1987 Ace Fact Pack issue. Shaped like playing cards and distributed in the United Kingdom (U.K.), these cards feature a photo and personal information about each player. To obtain the Payton card, hobbyists initially had to purchase the Bears team set. Just 18, 1987 Ace Fact Pack Paytons have been graded by PSA; 11 cards have received a PSA 10 grade.
The continued demand for Payton cards is evidence that his legacy lives on. Each year, the Walter Payton Man of the Year Award is presented to an NFL player to honor their volunteer and charity work, as well as their excellence on the field. These Payton Set Registry enthusiasts would agree that there's no better way to celebrate a man who was not only a Hall of Fame player, but a Hall of Fame person. To these collectors there's nothing "sweeter" than finding a rare card of their favorite running back whom they adored on and off the field.
Please feel free to contact Kevin Glew at kevin.glew@sympatico.ca if you have any additional information or comments. Steve Barr and Mike King provided pictures for this article. Please note that the Population Report figures quoted and Set Registry rankings reported are those as of June 2011.
Toughest Basic Set Walter Payton cards to find in PSA MINT 9 or better
Card
Total # of Submissions
Total # of Submissions
in PSA 9 or Better
% of Submissions
in PSA 9 or Better
1977 Topps #360
741
56
7.6%
1985 Topps #33
552
48
8.7%
1976 Topps #148
4,420
402
9.1%
1978 Topps #200
782
102
13.0%
1979 Topps #480
625
100
16.0%
1984 Topps #228
256
47
18.4%
1980 Topps #160
538
120
22.3%
1981 Topps #400
611
180
29.5%
1982 Topps #302
665
279
42.0%
1986 Topps #11
807
340
42.1%
1983 Topps #36
852
442
52.0%
1987 Topps #46
417
273
65.5%
1988 Topps #5
369
315
85.4%
*PSA Population Report statistics as of June 2011
Payton spent his entire 13-year NFL career with the Bears, toiling in nine Pro Bowls, winning the MVP award twice and leading Chicago to a victory in Super Bowl XX. Each year, the Walter Payton Man of the Year Award is presented to an NFL player to honor their volunteer and charity work, as well as their excellence on the field.