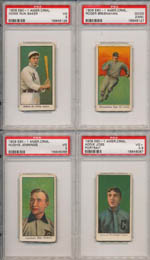 Clean Sweep continues to offer ultra-fresh to market material that you will not find anyplace else. Our auction closing on October 5 auction is composed of many significant consignments from old time hobby people, and some fine acquisitions on our part.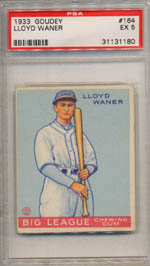 We proudly begin this auction with the absolutely stunning N162 Goodwin Champions set. These vary in grade, so they are broken down as singles, and there is also a nice lot of many of the non-baseball cards from this issue. The auction continues with some very high quality N172 Old Judges, including many HOFers, and some rare variations. We have two fine cabinet cards, an N173 and a N566 Newsboy; 19th century cards conclude with some quality M101-1 Sporting News Premiums, including a Lajoie.
Baseball cards continue with a broken set of the E90-1 American Caramels and the E95 Philadelphia Caramels. We have some exceptionally fine 1920s and 1930s exhibit cards, with many 1/1s. There are several high quality PSA 8 Bowman cards from 1948 through 1953, including many key HOFers. There are some stunning 1953 Dixie Lids, and a superb run of 1957 Topps PSA 8 cards that are so sharp they can cut glass.
For baseball card collectors interested in complete sets or near-sets, this is one of the very best selections in our history. We have a full 50-card N28 Allen & Ginter set, both Fan Craze sets, E90-2 American Caramel, M101-2, M116 Sporting Life, T202 Hassan Triple Folders, several 1920s E issues, a 1923 Walter Mails, a 1932 George C. Miller and many 1930s 'R' sets. For the post-war collector, we have a run of mid-grade Bowman sets and a full Topps run from 1953 - 1980, including many superb sets obtained either from the original owner or purchased in 1980 and unknown to hobby circles until now. The baseball section of this auction would be a fine auction unto itself.
With that said, we would of course never forget our treasured customers of autographed material! This is another very strong offering, including signed cards like a superb 1920s Rogers Hornsby signed exhibit card, a rare 1961 Fleer signed Jimmy Foxx and many key Perez Steele signed postcards, including a PSA 10 Lloyd Waner.
Autographs continue with many fine HOFer signed cuts, 3x5s and GPCs and we also have some rare signed contracts, including a Roberto Clemente and 1919 Black Sox manager Kid Gleason. Collectors of autographed photos will see a rare Grover Cleveland Alexander 8x10, along with many other outstanding pre-1950 signed photos of HOFers and star players. We have some fine signed HOF plaques, including a very rare Bobby Wallace. Collectors of single signed baseballs will see a very early Tony Conigliaro, elusive HOFers Stan Coveleski, Lindsay Nelson, Bill Veeck and a rare Chick Hafey. Team balls go back to the 1920s, with many Championship teams and quality condition exemplars.
The other major sports follow, with note to a fine vintage 1962-3 Boston Celtics signed program by the whole team, a Super Bowl I - XV program run, several quality team signed footballs from the 1960s and many tough HOFers signed on flats.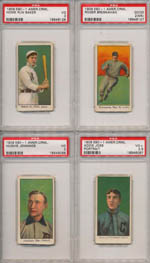 For the historical collector, we have a very early edition of Uncle Tom's Cabin and an eclectic offering of signed photos and letters, with some Presidential. Entertainment collectors will see many offerings of signed photos, including a Johnny Weissmuller.
Baseball memorabilia concludes the auction. We have two great John Ward items, his rare 1877 autobiography and a rare 1899 John Ward player scorecard. We have a terrific selection of early World Series Programs, including a 1917, 1923, 1925, 1926, both 1929s and 1930 - 1932. There are some better Dodger press pins as well at the close of the auction.
Bid Today! This auction closes on Wednesday, October 5, 2011. Bids are welcome by phone (516) 338-8557 Monday through Friday 9 a.m. - 5 p.m. EST. You may also bid via Clean Sweep's website at: www.cleansweepauctions.com. Initial bids must be placed by 6 PM EST on closing day. The ten minute rule begins at 11 PM EST. Please review the auction rules before bidding.