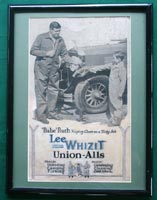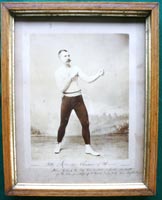 A number of high grade Team Signed Baseballs from the 50s and 60s, Unique Babe Ruth Advertising piece, A large photo of boxer Jake Kilrain by John Wood, and a complete set of W517 Strip Cards highlight MnM Sportscards' September Internet auction.
Bidding is now open and ends September 25.
Among the hundreds of lots on the block there are over 30 team signed baseballs, many which have been authenticated. Also offered are higher grade partial sets and groups of Topps baseball and football cards, vintage baseball memorabilia, and a number of Boston Red Sox and Brooklyn Dodgers Autographs. Other highlighted lots available include:
Babe Ruth Late 1920s Advertising Piece
Ted Williams Signed Bat, Print, and Photos
1960 Pittsburgh Pirates Team Signed Ball with Clemente
1914 Lonsdale Middleweight Championship Belt
1947 Boston Red Sox Team Signed Ball
Stan Musial Signed Silver Slugger Trophy Bat
1952 World Series Ball Signed by the Umpires
Philadelphia Phillies 1995 Replacement Team Signed Ball
Many Signed Hall of Famer photos
To view the auction, visit www.mnmsportscards.com.
We also have been a fixture on eBay since 1998. Those listings can be found here along with more information.
MnM Sportscards is currently accepting new consignments for its next auction in December.
Look for a great collection of T206s that will appear in the December auction!