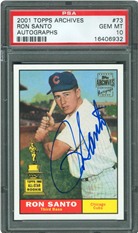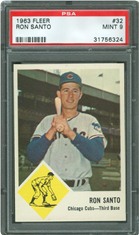 When Ron Santo passed away last December, the Cubs nation collectively wept.
Gone was their inspirational leader who had valiantly fought diabetes and cancer. Gone was their favorite former player and beloved broadcaster. And gone was their No. 1 cheerleader.
"On the field, Ronnie was one of the greatest competitors I've ever seen. Off the field, he was as generous as anyone you would want to know," reflected Cubs great Ernie Banks, after Santo's death. "His work for diabetes research seemed unparalleled. Ronnie was always there for you, and through his struggles he was always upbeat, positive and caring. I learned a lot about what it means to be a caring, decent human being from Ron Santo."
Chicago native Mason Matschke, who owns the No. 2 Current Finest Santo Master Set on the PSA Set Registry, says the entire city mourned Santo's death.
"He made the cover of the Chicago Tribune and Chicago Sun-Times three times in seven days – two straight days after he passed away and then one day for his funeral. It was headline news. It was all they talked about on the radio stations," he said. "I think the mayor of Chicago could have passed away and the coverage would've been about equal. It was a big deal."
Mark Wagner, another Windy City native who has assembled the No. 3 Current Finest Santo Master Set, shares similar observations.
"Ron Santo ranks right up there with Billy Williams and Ernie Banks in terms of popularity in Chicago," he said.
In 14 seasons with the Cubs, Santo was a nine-time all-star
and won five Gold Gloves.
Born in Seattle, WA, Santo was signed by the Cubs in 1959 and made his big league debut the following year. Though diagnosed with diabetes as a teen, Santo didn't disclose his condition to many of his teammates.
"He didn't tell anyone because he didn't want people looking at him any differently," explained Wagner.
Despite being diabetic, Santo was remarkably durable during his 15-year big league career. In 14 seasons with the Cubs, Santo was a nine-time all-star and won five Gold Gloves. In each season from 1963 to 1970, he recorded over 90 RBIs, making him the only third baseman to notch eight consecutive 90-RBI campaigns. In 1972, he became just the second third baseman in big league history (Eddie Mathews was the first) to belt 300 home runs.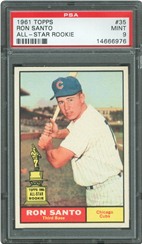 After spending his final season with the White Sox in 1974, Santo completed his career with 2,254 hits, 342 homers and 1,331 RBIs. Unfortunately, like Banks before him, he never played in the post-season.
Many baseball pundits – including noted baseball statistician Bill James – feel that Santo is the best eligible player that's not in the National Baseball Hall of Fame. At one point, James ranked the longtime Cub as the sixth best third baseman of all-time, ahead of Hall of Famers George Kell and Fred Lindstrom.
"From his rookie year to 1970, he had great statistics," said Matschke. "He played in eight all-star games (and was selected to nine all-star teams), he had a lot of RBIs and was a great third baseman. And he put together all of these statistics in a really incredible era of pitching."
Santo's 21 seasons as a Cubs' broadcaster endeared him to a new generation of fans. Born in 1974, Nathan Calcari, owner of the registry's top Master Set, never saw Santo play but became a fan by listening to his broadcasts.
"He was just such a true Cubs fan," said Calcari. "He had this eternal optimism. Every year at the start of the year, he would say, 'I have a really good feeling it's going to be this year.' It never turned out to be, but he put passion into the broadcast. He was engaging and energizing to everyone who was a Cubs fan."
It's no wonder than that Calcari and a number of similar collectors were inspired to pursue Santo's Basic (16 cards) and Master (166 cards) sets on the PSA Set Registry.
Santo's most coveted card is his 1961 Topps rookie (#35). But with four PSA GEM-MT 10s, 52 PSA MINT 9s and 359 PSA NM-MT 8s, his rookie is not difficult to find in high grade.
"If you go on eBay, you will see a lot of (PSA) 6s, 7s and 8s of the rookie card, there are probably 40 of them for sale right now," noted Matschke.
Calcari has also seen a lot of higher grade Santo rookies.
"I don't know whether the production was higher on the 1961 Topps cards or the corners were more receptive to getting a higher grade. I just know that a lot more 1961 (Santo) cards have been graded than '62s," he said.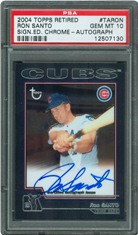 A PSA 10 Santo rookie fetched $8,692.65 in a Mile High Card Company auction in April 2010.
Boasting fragile wood grain borders, the 1962 Topps Santo (#170) is significantly more elusive in top condition than his rookie. Of the 368 submitted, there have been two PSA 10s and just 11 PSA 9s. One PSA 9 sold for $725.88 on eBay in August 2010.
But Wagner says that the black-bordered, 1971 Topps Santo (#220) is the most difficult Basic Set single to track down in flawless form.
"I had a ton of (raw) '71 Topps Santo cards," he said. "I was picking them up at shows when I went to them in the '80s and the highest grade that I got for them was (PSA) 8. I couldn't get any higher than that."
Of the 255 evaluated, there has yet to be PSA 10 example and there is only one PSA 9.
Calcari says the key to completing the Master Set is the 1961 Bazooka panel that features Santo alongside Mickey Mantle and Art Mahaffey (Panel #1). Printed on the bottom of Bazooka bubble gum boxes, this three-card panel measures 2-3/4" by 5-1/2" and was part of a 12-panel, 36-card series.
"It's not easy to find the panels unless you buy the whole set in an auction," said Calcari.
Of the 11 panels evaluated, there has been one PSA 10 and one PSA 9. The PSA 9 fetched $2,115 in a Robert Edward Auctions sale in May 2010.
Also evasive is Santo's 1964 Topps Stand-Up single. Of the 77 cards in this issue, 22 – including the Santo – are single prints. Details on how these cards were originally distributed have been difficult to uncover, but experts seem to agree that they were available in one- and five-cent packs. These cards were the first Topps issue to feature a die-cut design since the 1951 All-Star sets. Showcasing full-length player photos, these unnumbered, blank-backed cards boast fronts with a yellow top half that includes instructions on how to manipulate the cards. The bottom front is green and presents the player's name, team and position. There has yet to be a PSA 10 Santo and there is just one PSA 9. A PSA 8 sold for $310 on eBay in October 2010.
An even rarer single is Santo's 1967 Topps Stand-Up card (#22). Part of a 24-card test issue that was never released, only a few of these cards have surfaced. These singles feature a photo of a player's head that could be popped out and placed into a punch-out base. Calcari owns the sole PSA authenticated Santo from this issue.
"I was fortunate to find that 1967 Topps Stand-Up," said Calcari. "I picked that up in an auction a year or so ago."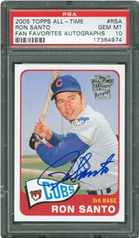 Seven 1960s Venezuelan Topps cards are also part of the Santo Master Set. Manufactured in much smaller quantities than the regular Topps singles, these cards were printed on flimsy stock and were often glued into albums, making them almost impossible to find in pristine form.
"The Venezuelan cards are really rare," said Matschke.
Competition for these rare Master Set cards, as well as high-grade Basic Set cards can be heated.
"There are some real competitors out there to get his cards in the highest grade," said Matschke. "I've seen prices that are just ridiculous."
The Cubs are wearing a patch bearing Santo's No. 10 on their uniforms this season and on August 10 a statue will be unveiled outside of Wrigley Field.
"Banks was probably the best Cub ever," said Calcari. "But, Ron was probably the most popular Cub ever."
And most Cubs fans believe that Santo will one day he honored in Cooperstown.
"I think he'll get elected to the Hall of Fame," said Matschke. "I think it's really a shame that they didn't do it before he died. That would've made him extremely happy."
Toughest regular issue 1960s Topps Ron Santo cards to find in PSA MINT 9 or better
Card
Total No. of
Submissions
Total # of Submissions
in PSA 9 or Better
% of Submissions
in PSA 9 or Better
1962 Topps #170
368
13
3.50%
1961 Topps #35
1,156
56
4.80%
1963 Topps #252
315
15
4.80%
1964 Topps #375
223
15
6.70%
1967 Topps #235
253
26
10.30%
1966 Topps #290
179
19
10.60%
1965 Topps #110
294
32
10.90%
1969 Topps #570
327
47
14.40%
1968 Topps #235
335
52
15.50%
*PSA Population Report statistics as of June 2011
"On the field, Ronnie was one of the greatest
competitors I've ever seen. Off the field, he was
as generous as anyone you would want to know,"
Cubs great Ernie Banks, after Santo's death.
---
Please feel free to contact Kevin Glew at [email protected] if you have any additional information or comments. Nathan Calcari provided pictures for this article. Please note that the Population Report figures quoted and Set Registry rankings reported are those as of press time.