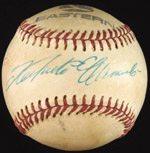 Huggins and Scott thanks all those who stopped by our booth at the National Convention in Chicago. Many fantastic lots were obtained at the show as well as through our nationwide network of field representatives. Our upcoming September auction will please bidders of all genres and price ranges. The marquee collectibles in the September auction include the only graded example of the 1968 Topps 3-D Brooks Robinson prototype, Ed Lopat's 1949 New York Yankees World Series Championship Ring, Historic Autographs Christy Mathewson autographed 1/1 Golden Ticket card, a 1957 Topps Football uncut sheet with Unitas, and a fine selection of early basketball game-worn jerseys from Hall of Fame statistician, Harvey Pollack.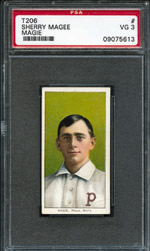 Card collectors will enjoy an abundance of 19th century and early 20th century rarities including examples of vintage cards from Old Judge, Dockmans, T205, T206, Cracker Jacks and Brunners. There is a fine selection from a new find of 1903 E107 Breisch-Williams cards including Hall of Famers Waddell and Bender. Regional rarities include a high-grade 1954 Wilson set with many examples graded by PSA plus a variety of Esskay Hot Dogs singles. Also highlighted is a tremendous selection of graded 1948 Leaf baseball cards, including all of the shortprints; and a remarkable collection of them autographed.
Several pieces of high-quality autographed items from baseball icons also are offered in the upcoming auction, including great single-signed baseballs from Babe Ruth, Roberto Clemente, Roger Maris, Gil Hodges, as well as a high-grade Rogers Hornsby signed baseball and several other Babe Ruth and Lou Gehrig autographed pieces. All autographs have been examined and authenticated by either James Spence Authentications or Professional Sports Authenticators.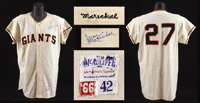 Other phenomenal artifacts in this auction include game-worn jerseys from Hall of Famers, Al Kaline, Juan Marichal and Ryne Sandberg, a 1970 Baltimore Orioles World Series ring, a bat signed by Mantle, Williams and DiMaggio and documents signed by Abraham Lincoln, Babe Ruth, Ted Williams and Roberto Clemente. As always, there is an incredible selection of PSA and SGC graded cards plus a substantial run of vintage Topps baseball card complete sets.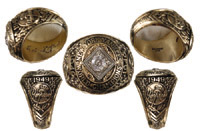 As with all of Huggins and Scott Auctions, we have a large number of autographed lots including baseballs, bats, lithographs, photographs and others consigned by collectors from all across the country.
For a preview of the auction that begins on September 19 and ends over two days: September 28-29, 2011, please visit the website: www.hugginsandscott.com