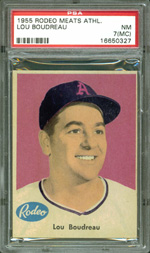 Cards from the 1955 Rodeo Meats Kansas City Athletics set seem to be even rarer than wins were for the team in its hapless, inaugural campaign.
And that's a testament to their scarcity. The 1955 Athletics, in the franchise's first season outside of Philadelphia, won just 63 contests in a 154-game schedule.
Paul Dubbeld can attest to the elusiveness of the Rodeo Meats cards. After more than a decade of searching, the determined collector recently completed his set to become the first hobbyist to conquer this issue on the PSA Set Registry.
"It took just over ten years to find the cards on eBay and successfully bid on them," he said. "John Gray was the final card I needed, which took me over two years to find."
Released regionally by a local meat manufacturer, these standard-sized cards were inserted in wiener and Vac-Pak lunch meat packages. The set features 38 different men, as well as nine variations. It's most often listed as a 47-card set.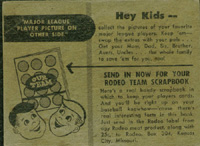 These unnumbered singles showcase a picture on the front, accompanied by the Rodeo Meats logo and player name. The backs flaunt an ad that encourages collectors to send away for a scrapbook for their cards.
Dubbeld believes that there were two separate printings of these cards. He suggests the first printing was completed around the first day of the baseball season. This printing boasted 25 cards (24 players and manager Lou Boudreau). Of these cards, just four feature action poses, while the majority exhibit black and white and flesh colored portrait pictures. Robert Edward Auctions sold an uncut sheet of these 25 cards in 2008 for $8,812.50.
Dubbeld says that 28 cards likely comprised the larger second printing produced in early June. Incorporating many of the Athletics' early-season roster changes, this printing featured 13 new pasteboards (10 players and 3 coaches). Six players (Lou Boudreau, Jim Finigan, Alex Kellner, Gus Zernial, Joe Astroth, Hector Lopez) were featured on cards that were exactly the same as the first printing and 10 players from the first printing, who were not with the team by the end of May 1955, were dropped.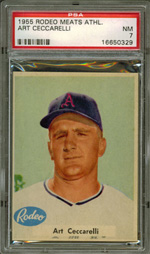 The two separate printings produced nine variations. Eight variations feature different pictures and backgrounds (see accompanying chart), while the ninth represents the correct and incorrect spelling of Bobby Shantz's last name. The misspelled Bobby "Schantz" single commands the largest premium of any card in the set.
There are also two players whose names are spelled incorrectly that were not corrected: Harry Craft (last name misspelled "Kraft") and Forrest "Spook" Jacobs (his first name misspelled "Forest").
Aside from the misspelled Shantz single, the two Hall of Famers in this set – Enos Slaughter and Lou Boudreau – tend to sell for the most.
"The Slaughter card is a tough one. With him being a Hall of Famer, I think a lot of Hall of Fame collectors want them for their collections," said David McKennett, who owns the No. 2 set on the PSA Set Registry.
Dubbeld agrees.
"The demand for all of the cards seems to be about equal, but the Boudreau and the Slaughter seem to command the biggest prices," he said.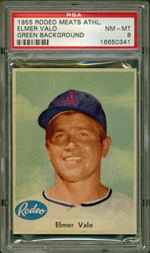 Boudreau is one of the six players whose cards were included (unchanged) in the first and second printings, essentially rendering it a double print. With 11 submissions each, Boudreau and Hector Lopez have been graded the most by PSA. A PSA GOOD 2 Boudreau sold for $127.50 on eBay in August 2006.
The three cards that McKennett needs to complete his set are all in the group of 10 cards dropped after the first printing. Of the three cards that he still covets, Burtschy and Fricano have only been submitted to PSA once each. While the third player, John Gray, has been submitted twice.
"The toughest cards to find would definitely be those 10 guys that were dropped after that first printing," explained Dubbeld. "But most of the guys in the first printing would fall in that category because they have a second variation in the second printing. Their first pose is probably the same scarcity as all of the other single print guys."
McKennett recently bid over $1,100 for a Burtschy on eBay but didn't win the auction.
"It totally blew my mind that somebody bid higher than me," he said.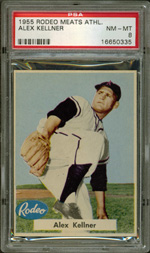 These cards are also difficult to find in top condition. Of the 215 submissions, there are just two PSA NM-MT 8 examples, with no cards grading higher. Most of the cards evaluated have been deemed PSA VG-EX 4 or lower. Much of this has to do with how the cards were packaged. Although the cards were coated with wax for protection, Dubbeld says that they were inserted directly against the meat.
"Because they were originally packaged with the hot dogs, there's usually a lot of staining and creases," said McKennett.
The determined hobbyist also owns a Harold Bevan single that has meat remnants in it.
Dubbeld has discovered that a lot of cards are also miscut from left to right.
"The borders are kind of narrow to start with, so if they're off just a little bit, it really shows up," he said.
To obtain the scrapbook to glue these cards into, collectors were required to ship a label from a Rodeo Meats product, along with 25 cents to a Kansas City address.
Dubbeld says the album was likely printed in June 1955 because it only includes spots for the 28 men featured in the second printing. The album includes one page for the manager's card, one for the coaches' cards and eight for the players' cards. A schedule, dimensions of the other American League ballparks and write-ups on all of the players and coaches are also part of the album. It's interesting to note that write-ups are also included on pitching coach Burleigh Grimes and first baseman Dick Kryhoski even though cards were not produced of them.
The album itself is rare and will likely command several hundred dollars. Dubbeld recently purchased an album that included the cards.This album was the first that Dubbeld had seen in his more than 10 years of collecting this issue.
The experienced collector says that competition for cards from this issue can be fierce.
"For a lot of these cards, I paid $120 or $130 for a beat up common just to get it," said Dubbeld. "A lot of the cards don't book that high, but if you want to get them, you have to pay that extra money."
A special thanks to Paul Dubbeld for his extensive efforts on this story. Please contact Kevin Glew at [email protected] if you have any additional information or comments. Paul Dubbeld, David McKennett and Robert Edward Auctions provided pictures for this article. Please note that the Population Report figures quoted and Set Registry rankings reported are those as of press time.