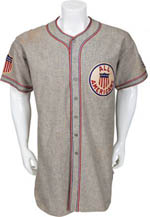 DALLAS, TX - A grouping of six items, known as The Lou Gehrig Collection, brought to auction by the son of a woman who was left the trove by Gehrig's mother, Christina, brought almost $1 million altogether as the emotional centerpiece of Heritage Auctions' Aug. 4 Signature® Vintage Sports Collectibles Platinum Auction.
The lead lot of the group was Gehrig's previously-unknown 1934 Tour of Japan game worn uniform, which realized $507,875. All prices include 19.5% Buyer's Premium.
"The chances of a group of material like this, so intimately related to one of the greatest sportsmen to ever live, turning up together all at once," said Chris Ivy, Director of Sports Auctions at Heritage, "is akin in the sports collecting world to finding a stack of Picasso paintings in the art world."
Overall, the auction yielded more than $4.95 million on just 97 lots sold. This translates into an average lot value of more than $51,000, with a general sell-through of 93%, as 579 bidders competed for a piece of the unparalleled sporting history that was on the block.
"I believe this was the most spectacular assembly of sporting artifacts presented within a single auction in the 21st century," said Ivy. "We smashed records and we burnished our reputation with each record result. If there were any questions about our ability to deliver results for the hobby's elite pieces, none could have survived last night."
Live bidding at the Muvico Theaters in the shadow of Rosemont, IL's National Sports Collectors Convention was interrupted repeatedly by loud applause as hobby veterans were stunned by results that continually dwarfed pre-auction estimates by significant amounts.
The tone of the evening became apparent with the very first lot, as a baseball autographed by the 1926 New York Yankees opened at $30,000 before skyrocketing to the world-record price realized of $131,450, the highest figure ever paid at auction for a team sphere.
It was the first of six lots representing the highlights of the recently unearthed Lou Gehrig Collection, as mentioned above, which continued to draw gasps with each subsequent drop of the auctioneer's gavel. Besides the 1926 ball and legendary first baseman's 1934 Tour of Japan uniform, which commanded a live bidding frenzy on its way to the aforementioned $507,875 price realized, Gehrig's matching cap from the 1934 Japanese tour, sold separately, added another $95,600 to the tally, while the American League Championship wristwatch presented to the Iron Horse for his service to the 1926 Yankees notched a remarkable $155,350.
Baseball's career pitching victories king, Denton T "Cy" Young, for whom baseball's highest pitching honor is named, earned another big win a full century after his retirement from the game, claiming the auction's top price of $657,250 for the uniform he wore on the road with the Boston Red Sox of 1908.
That important year likewise spawned the auction's silver medalist, the fabled slab of hickory known to baseball history as Shoeless Joe Jackson's "Black Betsy." The infamous slugger's bat traded hands at a price of $537,750.
Heritage further secured its status as the premier destination for consignors of rare single signed baseballs as Christy Mathewson and Eddie Plank set a flurry of bidder paddles into motion. The premier hurlers of the Dead Ball Era battled to a stalemate, each achieving a price of $83,650 at the conclusion of bidding.
Though baseball shows no signs of surrendering its auction dominance in the foreseeable future, other sports made their presence known as the event unfolded. Most notable was the original Augusta Green Jacket owned and worn by course founder and Golden Age links legend Bobby Jones, which fueled an international bidding battles of wills which found the last man standing at a mark of $310,700. The cold Green Bay gridiron turned red hot for birders battling for Hall of Fame receiver Don Hutson's rare game worn jersey, which soared to $80,662 before the hammer fell, while the most comprehensive aggregation of St. Lawrence Starch Beehive photos ever assembled thrilled hockey collectors to the tune of $65,725.
Other highlights from this groundbreaking event include:
Heritage Auctions, headed by Steve Ivy, Jim Halperin and Greg Rohan, is the world's third largest auction house, with annual sales more than $700 million, and 600,000+ online bidder members. For more information about Heritage Auctions, and to join and gain access to a complete record of prices realized, along with full-color, enlargeable photos of each lot, please visit HA.com.
Want to get the up-to-the-minute updates and breaking news stories about Heritage Auctions? Get them as they happen at: www.Twitter.com/HeritageAuction; Facebook: www.HA.com/Facebook.To view a compete archive of Heritage press releases go to: HA.com/PR. To link to this press release on your blog or Website: HA.com/PR-2064.