He's been retired for 40 years now, but Cubs fans would still love to see Ernie Banks "play two."
And even though he recently turned 80, you get the feeling that Mr. Cub would love to oblige them.
"He just has this infectious personality," said Dr. Steve Stryker, whose No. 1 Ernie Banks Basic Set boasts an impressive 9.14 GPA. "I mean, one of his trademark expressions is, 'Let's play two.' He just loved the game, and he loved Chicago. He spent his entire career with the Cubs and I think he just elevated the game of everyone around him."
Mason Matschke, who owns the registry's No. 1 Banks Master Set, agrees.
"Ernie Banks is still extremely popular in Chicago," he said. "It was really important for this next generation that the Cubs put a really nice statue of him at Wrigley Field."
Banks, the Cubs' first black player, would play 19 seasons in the Windy City, belting 512 home runs and recording 2,583 hits. Competing in the National League against Willie Mays, Duke Snider and Frank Robinson, Banks captured two National League MVP awards (1958, 1959).
An ailing knee forced him to move from shortstop to first base in 1961, but he continued to be a prolific slugger, smashing 37 homers in 1962. Despite his heroics, however, the 14-time all-star would retire without participating in the post-season. He was elected to the National Baseball Hall of Fame in 1977 and in 1982, his No. 14 was retired by the Cubs.
With this impressive resume, combined with his ebullience, it's easy to understand why Banks's Basic (19 cards) and Master (127 cards) sets on the PSA Set Registry are widely collected.
"I've been a fan of his since childhood," explained Stryker, who owns the only PSA GEM-MT 10, 1957 and 1966 Topps Banks cards. "I'm 56 years old, so when I was in grammar school Banks was in his heyday and the Cubs were a solid team with a lot of all-stars."
When Stryker met Banks at a 1969 Cubs Reunion show in the fall of 2005, he struck up a conversation with the legend that would lead to a lasting friendship.
"When I was making the rounds getting autographs there, I happened to mention to Ernie, 'Hey, by the way, I got a pretty special card collection.' And I showed him some photographs of some of these high-grade cards," said Stryker. "And I was just kidding around with him and I said, 'I know you're kind of back and forth to Chicago, but if you ever want to play golf, I'm a member of a great country club and I will host you.'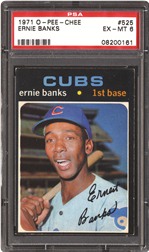 "That was in the fall of 2005. I had given him my business card with my phone number on it, and in the spring of 2006, I get this phone call, 'Dr. Stryker, Is this Dr. Steve Stryker?' And I said, 'Yeah,' and it sounded like him, but I thought maybe one of my friends was pranking me. And he says, 'It's Ernie Banks. I'm in town. You still want to play golf?' And I said, 'Wow yeah,' so we golfed the next day."
Since that golf game, Stryker has met up with Banks a number of times and even introduced his kids to Mr. Cub.
"Every time I see him at events, he's always very open and garrulous, especially with children," said Stryker. "He made my two boys – and he's met them a couple of times now – feel so special. It brought tears to my eyes."
Matschke has also introduced his sons to Banks.
"I took them to see him a couple of times when they were younger," he recalled. "One time we got a couple of cards and met Banks at a card show, and I told him I had the No. 1 (Master) collection, so he was interested in that and he asked me a few questions."
Meeting Banks has further inspired Stryker and Matschke to track down high-grade cards of their favorite player. The most notable Banks card is his 1954 Topps rookie (#94). The white background and absence of distinct borders on this single makes it hard to evaluate the centering.
"The centering is difficult to judge on that card because his butt is right along the edge," noted Mark Wagner, who owns the No. 5 Current Finest Basic Set. "Then to get his name and the team emblem to be centered the right way at the top is very difficult as well."
Of the 1,995 submitted, two have been deemed PSA GEM-MT 10s and there are 13 PSA MINT 9s. One PSA 10 fetched $39,547 in 2005.
Most Difficult Ernie Banks Basic Set Cards to Find in PSA MINT 9 or Better Condition
Card
Total No. of Submissions
Total No. of Submissions in PSA 9 or Better
% of Submissions in PSA 9 or Better
1971 Topps #525
901
4
0.44%
1960 Topps #10
1,105
6
0.54%
1956 Topps #15 (white back)
1,532
11
0.72%
1955 Bowman #242
541
4
0.74%
1954 Topps #94
1,995
15
0.75%
*PSA Population Report statistics as of February 10, 2011.
Another tough issue to uncover in flawless form is Banks's 1955 Bowman card (#242). The brown borders on this card are susceptible to flaking. Of the 541 submitted, there are just four PSA MINT 9s (and no PSA GEM-MT 10s). A PSA 9 sold for $3,653 on eBay in December 2009.
Banks's 1960 Topps single (#10) is also elusive in top grade. Print defects can often be found on the photo of this card. Of the 1,105 submissions, just six examples have been deemed PSA MINT 9s, with no cards grading higher. A PSA 8.5 sold for $605 on eBay in June 2008.
"The 1960 Topps card is not an easy card, and the higher grade cards are almost impossible to obtain, unless you have really deep pockets," said Wagner.
But the most difficult mainstream Banks single to track down in pristine form is his 1971 Topps card (#525). On top of its fragile black borders, this card is also frequently found off-center. Of the 901 submitted, there has been just one PSA GEM-MT 10 and three PSA MINT 9s. The PSA 10 sold for $12,773.40 in a Mile High Card Co. auction in March 2009. Stryker bid on the card but lost out to another collector.
"I knew it would go for a lot of money," said Stryker. "I really wanted that card because that's a very tough set with the black borders. That's the one that got away."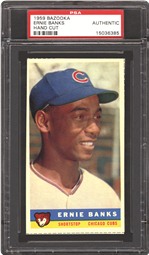 A number of oddball Banks cards are also evasive. The 1959 and 1960 Bazooka cards had to be cut off boxes and are nearly impossible to find in high-grade.
"I've been going to the show at the O'Hare Expo Center for the past 25 years, and I've only seen one of the 1959 Bazooka cards there," said Matschke. "That's my favorite card in the whole (Master) set."
Of the 11, 1959 Bazooka cards submitted, the highest graded example is a PSA NM 7.
Five Venezuelan Topps cards are also part of the Master Set. Printed in much smaller quantities than the regular Topps singles, these cards were printed on flimsy stock and were often glued into albums.
"The Venezuelan cards are always fun to collect," said Matschke. "I think those are priced very conservatively in most cases because they are genuinely rare cards, and after the first group of Venezuelan cards are taken out of the market, I just don't think there will be too many more. I still have never seen a 1960 Venezuelan Topps Banks."
Matschke says that the 1967 Pro's Pizza Banks single is also elusive.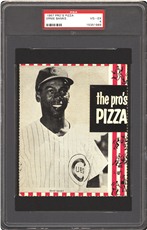 "You could buy a pizza at a Cubs game, and it would have Ron Santo or Ernie Banks (or another cub) on the cover of a little pizza box. Those boxes are worth between $300 and $700 now depending how greasy they are," he explained. "They had a picture on the box and you could cut that picture out and PSA grades it. The pictures always have grease stains on them from the pizza."
Just three Pro's Pizza singles have been evaluated by PSA, with a PSA VG-EX 4 single representing the highest graded example.
Competition for these hard-to-find oddball singles and high-grade regular issues can be heated.
"With Banks, when you start getting into the PSA 9s and 10s, it gets very competitive. He has a really strong following," said Matschke.
Stryker agrees.
"If you're trying to put together the best set ever, you're competing against a lot of high net worth individuals," he said.
This level of competition is further proof that Banks remains as popular as ever in Chicago.
"He walks down the street and young and old alike, idolize him," said Stryker. "He just turned 80 and he's got the same zest for life that I think he had when he was 22-year-old rookie in 1953."
Matschke agrees.
"He has been the most popular Chicago Cubs player ever, without question," he said.
Most Difficult Ernie Banks Basic Set Cards to Find in PSA MINT 9 or Better Condition
Card
Total No. of Submissions
Total No. of Submissions in PSA 9 or Better
% of Submissions in PSA 9 or Better
1971 Topps #525
909
4
0.44%
1960 Topps #10
1,137
6
0.53%
1956 Topps #15 (white back)
1,553
11
0.71%
1955 Bowman #242
558
4
0.72%
1954 Topps #94
2,047
16
0.78%
*PSA Population Report statistics as of June 2011
Please feel free to contact Kevin Glew at [email protected] if you have any additional information or comments. Steve Stryker and Mason Matschke provided pictures for this article. Please note that the Population Report figures quoted and Set Registry rankings reported are those as of press time.