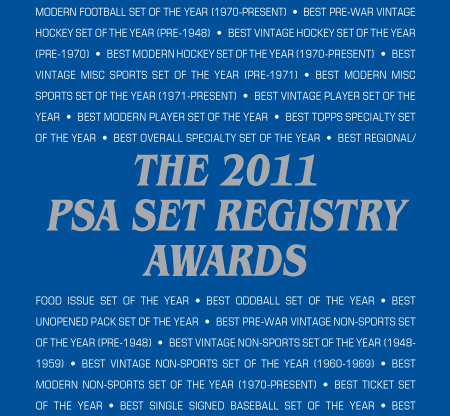 Welcome to the 2011 installment of the PSA Set Registry awards! With approximately 65,000 sets registered at the time of the awards deadline, the task of selecting the special award winners was brutal. As the registry continues to grow each year and more hobbyists assemble unique, high-quality collections, the voting process gets increasingly difficult. PSA would like to thank all the collectors who have made our registry program the most dominant of its kind.
The registry is more diverse than ever and we will continue to expand the program. This year, we enshrined an even greater number of sets into our Hall of Fame so we could recognize more great sets!
PSA would have never achieved our level of success without all of the loyal set registrants. We are celebrating our 20th year as the #1 authentication and grading service in the hobby. We look forward to seeing many of you at the National Sports Collectors Convention this summer at the Donald E. Stephens Convention Center in Rosemont, IL.
At PSA, we continue to look for ways of improving and expanding the registry. Whether you would like to see new features added to the existing program or entirely new categories listed on the site, any feedback you may have of how PSA can improve your collecting experience is appreciated. If you would like to share your comments or concerns with our team, please feel free to email me direct at [email protected]
Happy Collecting,

Joe Orlando
President

---
Best Collection of the Year
Jim Crandell
This man has more plastic than American Express, MasterCard and Visa combined. With 22,500 PSA-graded cards, Crandell has a collection that is rivaled by few but envied by many. Some of his standout sets include his completion of The Big Three in basketball (1948 Bowman, 1957 Topps and 1961 Fleer) in PSA 8 or better, many vintage baseball sets with GPAs of 8 or higher, including complete 1951 Bowman and 1953 Topps sets, several complete high-grade vintage football sets like 1952 Bowman Large and he even has several top-notch non-sports sets like a 1962 Topps Civil War News set with a GPA of 8.18. Besides the sheer volume and quality of his collection, what is most noticeable is the diversity of the subject matter. For all of those reasons and more, Crandell is being recognized in 2011 for Collection of the Year.
---
Best Set of the Year
Donald E. Spence – The Lone Star Collection – 1960s Baseball Mega Set (Master)
In order to complete this massive run, you need 6,071 total baseball cards. Topps ruled the 1960s and some of the most important baseball cards ever produced were released during the decade. Besides the numerous Mickey Mantle, Willie Mays, Hank Aaron, Roberto Clemente and Sandy Koufax cards included, classic rookie cards of Carl Yastrzemski, Pete Rose, Tom Seaver, Johnny Bench, Nolan Ryan and Reggie Jackson anchor many of these popular issues. This award-winning set is not only complete but it averages well above a PSA Mint 9 across the board, a consistent level of quality from beginning to end.
---
Best Rookie Set of the Year
John Branca #2 – 1952 Topps Baseball (Basic)
Branca has assembled some of the finest sets in the hobby over the last several years, with several of them reaching HOF status on the registry, and his latest addition is no exception. With a GPA of 8.42, Branca's 1952 Topps set already ranks third on the All-Time list and it immediately jumps ahead of three current HOF sets in the category. As many of you know, the 1952 Topps set is considered one of The Big Three in baseball (along with the 1909-11 T206 and 1933 Goudey baseball issues) and the premiere postwar set, anchored by, perhaps, the most famous trading card of all – #311 Mickey Mantle.
---
Best Pre-War Vintage Baseball Set of the Year (Pre-1948)
Vim Idzerda (Vim's Egrets04) – 1906 AL Fan Craze
Often overlooked, this was one of the first baseball card issues of the century. There were two sets of 52 cards (American League) and 54 cards (National League) produced as part of a game. The cards, which resemble playing cards, feature great portraits on the front and the set includes several Hall of Famers like Napoleon Lajoie, Eddie Plank and Cy Young. This set has a remarkable GPA of 9.62 with over half of the cards graded PSA Gem Mint 10! It ranks a full point higher than the next best set on the registry and, needless to say, it is the finest collection ever registered in the category.
---
Best Post-War Vintage Baseball Set of the Year (1948-1959)
Stephen M. Neely, M.D. (SMN's 59's) – 1959 Topps Baseball (Basic)
This 572-card set has always been popular with collectors. From the great combo cards to the high-number All-Star series, this colorful set has a lot to offer. The set even includes Bob Gibson's only recognized rookie card. Speaking of Gibson, finding these cards in super high-grade can be as tough as hitting the pitcher's wicked slider, due to nasty print defects and poor centering commonly seen in this issue. This award-winning set carries a GPA of 9.09, the highest rating in registry history and one of only two sets to ever reach a PSA Mint 9 average.
---
Best Vintage Baseball Set of the Year (1960-1969)
Donald E. Spence – The Lone Star Collection – 1962 Topps Baseball (Master)
When a collector dominates an entire decade as much as Spence does, it is only fitting that one of those great sets gets recognized individually. The 1962 Topps set is one of those sets that collectors either love or hate but no one can ignore. This set contains over 600 cards, with Green Tint variations, and they all are subject to visible chipping and wear as a result of those pesky brown borders. From the #1 Roger Maris card to the Mantle/Mays combo card to the Lou Brock rookie card, this set offers star power with condition sensitivity. The set even contains a 10-card tribute to Babe Ruth. This award-winning set carries a GPA of 8.76, which makes it the finest set ever registered with PSA.
---
Best Modern Baseball Set of the Year (1970-present)
Scott Chapin (The Pinhead Collection) – 1993 Topps Finest Refractors
From 1980-1989, the hobby became a huge business as collecting cards became a nationwide phenomenon. During that decade, the hobby changed so quickly that it is hard to pick one event that defined the period. In the 1990s, if there was one set that defined the era, you would be hard pressed to select one other than the 1993 Finest Refractor set. This 199-card issue offered the first high-value chase card, or insert, that changed the hobby forever. Topps placed only one Refractor in every box of Topps Finest, making the cards rare and desirable. This year's winner is the finest on our All-Time list, with a near perfect GPA of 9.99.
---
Best Vintage Basketbal Set of the Year (pre-1970)
Michael Rakosi (Three for the Ages) – The Big Three Mega Set (1948 Bowman, 1957 Topps and 1961 Fleer)
In the world of basketball cards, there are no more important sets that the three that make up this mega-set. From the classic 1948 Bowman set to the defect-plagued 1957 Topps issue to the ultra-bright 1961 Fleer cards, three different manufacturers are part of this 218-card run. The three-set run includes classic rookies from some of the biggest names in the sport including but not limited to George Mikan, Bob Cousy, Bill Russell, Wilt Chamberlain, Oscar Robertson, Elgin Baylor and Jerry West. The three sets carry individual GPAs of 8.97 (1948 Bowman), 8.35 (1957 Topps) and 9.34 (1961 Fleer) – all three being the finest on the All-Time list. It is hard to imagine a collection ever eclipsing this group.
---
Best Modern Basketball Set of the Year (1970-present)
D'Orsay Bryant, III, M.D. (Bryant PSA 10 Collection) – 1987-88 Fleer Basketball
Since the 1986-87 Fleer set is so universally revered, next year's Fleer release goes largely unnoticed. Obviously, since it follows a set filled with HOF rookies, there are many second-year cards of legendary players and the set captures, perhaps, one of basketballs' best eras with the Boston Celtics and Los Angeles Lakers battling for supremacy throughout the decade. Of course, the big card here is the second year Michael Jordan and his time was about to come. This 132-card set is complete and every single card is graded PSA Gem Mint 10! In other words, it gets no better than this. As we sit here today, it is the first and only set to reach such lofty heights.
---
Best Vintage Football Set of the Year (Pre-1960)
The Allison Collection – 1948 Bowman Football
This classic black and white issue is filled with HOF rookie cards and the design offers a simplicity that many collectors love. It also represents the beginning of an 8-year span, with the exception of 1949, where Bowman dominated football card production. It wasn't until 1955 when Topps started to make a real run of their own. Headlined by inaugural issues of Sammy Baugh, Bulldog Turner, Pete Pihos and Sid Luckman, this 108-card set also contains a number of tough short prints, which add to the challenge. This award-winning set carries a GPA of 8.26, which makes it the finest set ever assembled on the registry.
---
Best Vintage Football Set of the Year (1960-1969)
Benjamin Martello (The Hammer Collection) – 1963 Topps Football
Just like the Topps baseball release during the same year, the colorful 1963 Topps football set is considered a collector-favorite. Those colorful borders, however, also make it very difficult to assemble a high-grade set since the edges will show the slightest bit of wear. Several HOF rookies reside here, including those of Deacon Jones, Bob Lilly, Willie Wood and Ray Nitschke to name a few. The set also includes a tough #1 card of Johnny Unitas, the middle of a 5-year run where Unitas was placed in the first slot, not to mention a key card of Jim Brown. This year's winner carries a GPA of 8.16, making it the best current set in the category.
---
Best Modern Football Set of the Year (1970-present)
1989 Score Football – 10 (4-way tie) Frank Massaro (Fabfranks 1989 Score Football Set), Joe Tocco (Uncle Joe's PSA 10's), Dave Jacobs (Dave Jacobs 1989 Score Set) and Jeff Ratzer (JR's 1989 Score Football)
In 2011, we have a first. This year, we have a four-way tie within a category. All four collectors have assembled a perfect PSA Gem Mint 10 set of 1989 Score football cards, one of the most important modern football issues of the last 30 years. This 330-card set offers several HOF rookies like those of Michael Irvin, Thurman Thomas, Deion Sanders, Troy Aikman and Barry Sanders, which was one of the most recognizable and popular cards of the modern era when Sanders was dominating the running game. In 1989, baseball collectors had Upper Deck's first release. That same year, this Score issue was the one to own for football collectors.
---
Best Pre-War Vintage Hockey Set of the Year (pre-1948)
Julius Narancsik (Northern Lights) – 1933-34 O-Pee-Chee V304 Hockey (Master)
If nothing else, most vintage hockey sets – especially pre-war issues – are incredibly tough. This early O-Pee-Chee is no exception. In fact, this was the first set ever produced by OPC. The Master set, which combines the first and second series from 1933, contains 72 total cards and they all share the same black and white design. The first series contains a bit more clout in terms of star power, with rookie cards of Eddie Shore, Nels Stewart, Charlie Conacher and key cards of Howie Morenz and King Clancy. The big card from second series is Aurel Joliat. This award-winning set carries a GPA of 6.35, making it the finest on the All-Time list.
---
Best Vintage Hockey Set of the Year (pre-1970)
Cesare – 1958-59 Topps Hockey
During the 1950s, Topps joined Parkhurst in producing mainstream hockey issues. The 1954 Topps set, their first hockey offering, usually receives a majority of the attention but the 1958 Topps set is a another extremely important issue. Anchored by one of the most significant rookie cards in the hobby - Bobby Hull – this visually-appealing 66-card set is filled with condition obstacles, including print defects and centering problems. In fact, the Hull rookie – which was placed at the corner of the Topps sheet being card #66 – is plagued by terrible centering. This year's winner carries a GPA of 8.10, making it the finest on the All-Time list. It is the only current set to posses an average of PSA NM-MT 8 or better.
---
Best Modern Hockey Set of the Year (1970-present)
David Susko (A Work in Progress) – 1981-82 O-Pee-Chee Hockey
O-Pee-Chee took a hiatus for nearly three full decades before coming back into the world of trading card manufacturing with a vengeance in 1968... and they have been here ever since. Some of the brightest stars the sport has ever had shined during the 1980s but none shined brighter than The Great One – Wayne Gretzky. Gretzky, along with key HOF rookies of Paul Coffey and Peter Stastny, are included in this 396-card set. As many collectors know, the OPC issues are often much tougher to find in high-grade than their Topps counterparts. This year's winner has a fantastic GPA of 9.23, which makes it the finest 1981 OPC hockey set listed on the registry.
---
Best Vintage Misc Sports Set of the Year (pre-1971)
Jay L. Miller (RingKing) – 1948 Leaf Boxing (Master)
Like hockey, the sport of boxing has a rich history and trading card issues covering the famous figures from the ring go back into the 19th century. This 54-card set contains several very important cards like those of boxing icon Joe Louis, a tough #1 card of former heavyweight champ Jack Dempsey and former middleweight champ Rocky Graziano, one of the top rarities in all of card collecting. In fact, there are far fewer Graziano cards (fewer than 10 known) than there are T206 Honus Wagners and other major rarities. In addition, the entire set is condition sensitive and even tougher than the baseball and football sets issued that same year. This award-winning set carries a GPA of 7.52, which makes it the best on the All-Time Finest list.
---
Best Modern Misc Sports Set of the Year (1971-present)
Logan R. Ward (The Stock Car Museum) – 1988 Maxx Charlotte Racing (Master)
This 104-card set is one of the most popular issues in all of racing. Many of the sport's big names are found within, including the likes of Richard Petty, Rusty Wallace and Cale Yarborough. The set includes images of not only the drivers themselves but, in some cases, the cars they drive and the venues where they race. The key card to the set is the Dale Earnhardt promo, card #99, the most valuable card in the issue by far. This year's winner is the first set, and currently the only one in the category, to reach a perfect GPA of PSA Gem Mint 10 across the board on the All-Time Finest list.
---
Best Vintage Player Set of the Year
Kevin McHolland (mcholke Tony Perez master set) – Tony Perez Player Set (Master)
Tony Perez, while a member of the Hall of Fame, was one of the most overlooked members of Cincinnati's Big Red Machine during the 1970s. When you look at their lineup and consider that it was one of the best teams ever assembled, it is easy to see why. That said, Perez was adored by his teammates and he consistently delivered clutch hits. Perez had such a long career that, technically, his cards start in the vintage era (1964) but extend all the way to 1987. His toughest card, the 1968 Topps 3-D issue, is also the most valuable from his career. Currently, you need 248 total cards to complete and this year's winner carries a GPA of 8.46.
---
Best Modern Player Set of the Year
Chris Inouye (Ice King 99) – Wayne Gretzky Player Set (Basic)
Every sport has an icon, an athlete that was able to rise above everyone else in the sport and establish a standard that may never be approached. In hockey, there have been several legends of the ice but there's only one player that fans call The Great One. Gretzky was able to put up numbers that seem utterly impossible and he set a standard of excellence that may never be matched despite not being the most physically-gifted man in the sport. This award-winning set is a tribute to Gretzky and, fittingly, the level of excellence is unsurpassed in the category. Even though many of Gretzky's cards are of the tough OPC variety, it carries an almost perfect GPA of 9.82.
---
Best Topps Specialty Set of the Year
Rick Edwards (Rick E's 1961 Topps Stamps) – 1961 Topps Baseball Stamps
During the 1960s, Topps produced many interesting non-mainstream trading card sets. Some were experimental in nature while others actually made it to the marketplace. This is one of those sets. The year 1961 was a memorable one in baseball, which included the chase of Babe Ruth's single season home run record by Roger Maris and Mickey Mantle. As expected, those two men are the anchors of this 208-piece set, which includes almost all of the stars on the era. This year's winner is the first complete set of its kind on the registry and it carries a terrific GPA of 7.91, more than 1.5 points higher than the next closest set.
---
Best Overall Specialty Set of the Year
Donald E. Spence – The Lone Star Collection – The Top 200 Sportscards in the Hobby
In the early part of my career at PSA, I wrote a little book entitled The Top 200 Sportscards in the Hobby. The book wasn't an expensive production but it covered virtually every sport, from the vintage era to modern cards. In order to complete it, you need everything from a T206 Wagner to a 1935 National Chicle Bronko Nagurski to a 1986 Fleer Michael Jordan rookie. The diversity is what makes it so interesting and challenging since most collectors are hyper-focused on one area or another. In 2011, Spence completed this set with the addition of the super rare 1948 Leaf Rocky Graziano – the finest one known copy (PSA EX-MT 6). The entire set carries a GPA of 8.44, which seems near impossible.
---
Best Regional/Food Issue Set of the Year
Tom Clark (TC Collection) – 1970-1983 Kellogg's Baseball Set Run
If you were collecting baseball cards during the 1970s or 1980s, how could you forget those funky Kellogg's cards? With a 3-D design and unusual size, these cards were the talk of the hobby for quite some time. The look of the cards epitomized the period, ushering in a change to the style collectors were used to seeing. Yes, Topps tried a similar look in 1968 with a test set of 3-Ds but Kellogg's took it a step further by issuing these cards every year except 1973. While not terribly tough in high-grade, beware of cracks in the top layer of plastic. All of the sets recognized this year are spectacular but this run of sets is a standout amongst standouts. With 850 required cards, this complete set carries a GPA of 9.68! This collection is the ultimate tribute to a time gone by.
---
Best Oddball Set of the Year
Michael Bothner (Mike's 1971 Topps Coins – Set 1) – 1971 Topps Baseball Coins
This 153-coin set has always had sort of a "cult following" in the hobby. Featuring many of the stars of the day, including Hank Aaron, Roberto Clemente, Willie Mays, Johnny Bench and Pete Rose to name a few, this issue has become an affordable alternative to many of the more traditional sets of the era. Tiny color portraits of the players are affixed to the front of these coins with player info affixed to the back, both areas can sustain damage that can impact the grade. This award-winning collection is the only current set registered with a GPA of PSA Mint 9 or better at 9.03, reaching the top of the All-Time Finest list.
---
Best Unopened Pack Set of the Year
Bill Sakas (Decobill's 1960-1969 Topps Cello Packs) – 1960-1969 Topps Baseball Cello Packs
As collectors know, the PSA Set Registry is not limited to traditional trading card sets; there are also other categories like this one. If you think finding some low population cards is tough, try finding some vintage unopened packs. Even if you can find them, now you have to resist the temptation of opening them, especially in this case since cello packs often produce higher grades than traditional wax packs! While it is not advisable to open vintage packs in most cases, over the years, more and more vintage packs continue to be opened. As a result, the supply of original packs continues to dry up. This wonderful pack run carries a GPA of 9.14, a stellar level of quality across the board.
---
Best Pre-War Vintage Non-Sports Set of the Year (pre-1948)
Scottsdalecards 1933 Indian Gum Set – 1933 Indian Gum
The registry is home to a lot of extremely difficult sets, in a variety of prewar categories. You could make a strong argument that no prewar segment is tougher on the whole than the one found in non-sports trading cards. Not only are many of these sets tough to complete in high-grade, in many cases, the period contains some of the most visually appealing cards ever made. The 1933 Indian Gum set is a prime example. Closely resembling the 1933 Goudey baseball set in design, this 216-card issue captures everything from action scenes to profiles of Indian Chiefs to even a card of Billy-The Kid. Key cards of Geronimo and General Custer are also part of this classic production. This award-winning set carries an excellent GPA of 7.62, making it the best on the All-Time Finest list.
---
Best Vintage Non-sports Set of the Year (1948-1959)
William P. Bengen (Jean Luc Picard Set #1) – 1955 Topps Rails and Sails
In 1955, Topps produced a 200-card set that was focused on nothing but trains and boats, with the first 130 cards depicting various trains and related components, and the last 70 cards covering different types of boats. The end result was an issue that contains great information on the backs but, even more importantly, fantastic artwork on the fronts. The set features everything from speedy locomotives to subway trains to war ships, all captured in colorful detail. It also happens to be the set that Bengen remembers most vividly from his childhood. This year's winner has held the top spot in the category for several years and it continues to rank number one on the All-Time Finest list with a stellar GPA of 8.24.
---
Best Vintage Non-Sports Set of the Year (1960-1969)
Crack of the bat collectibles/Dad and Cassie's 1964 Munsters – 1964 Leaf The Munsters
The Munsters was one of the most popular television shows of its time. The campy sitcom captured the life of Herman Munster, a Frankenstein-like character, along with his entire family. Herman often found himself in a variety of ridiculous situations, which helped provide plenty of opportunity for slapstick laughs. The 72-card set captures all the characters, from Lilly to Eddie to Grandpa and more. This black-and-white set, like the show itself, is considered one of the most popular entertainment productions from the decade. This award-winning set is the first to reach an overall GPA of PSA Mint 9 at 9.14 and it remains the finest collection in the category.
---
Best Modern Non-Sports Set of the Year (1970-present)
David Edwards (DM's Alpha Set) – 1993 Magic The Gathering (MTG) Alpha Set
Magic The Gathering, the game, has remained popular with kids and adults since its inaugural release in 1993. As the years went by, the cards used to play the game have become more and more popular. It was the first game of its kind, sparking the creation of various other games that followed in its footsteps. In fact, MTG cards have become collected just like most other trading cards and an increasingly-popular subject on the registry. Like most other non-sports issues, it is the artwork that hobbyists are drawn to. There were a few different card series released in 1993 by MTG but the Alpha set has always been the most desirable. This year's winner carries a GPA of 9.77 and currently ranks as the best on the All-Time Finest list in a highly-competitive category.
---
Best Ticket Set of the Year
Al Glaser (TicketCollector) – Daytona 500 Racing Ticket Run (1959-present)
The Daytona 500 is one of the most prestigious races on the NASCAR circuit. Every year, drivers race 500 miles on the Daytona International Speedway in Daytona Beach, Florida for the largest purse offered. Starting in 1959, this race was originally held under a different name but, by 1961, it became known as The Daytona 500. Several racing greats have won this event, including Richard Petty, Bobby Allison, Cale Yarborough, Dale Jarrett, and Jeff Gordon . There are 53 tickets required to complete this set and this year's winner has a weighted GPA of 12.66, which is nearly 4 points higher than the next best complete set in the category.
---
Best Single Signed Baseball Set of the Year
Tony Garcia III – 500 Home Run Club Single Signed Baseballs
Baseballs are, arguably, the most popular medium in all autograph collecting. This is especially true when talking about single-signed items pertaining to members of the 500 Home Run club. The biggest names in baseball history are home run hitters. They are, generally, the most popular players because home runs are what excite the crowd. Ted Williams, Mickey Mantle, Willie Mays, Hank Aaron, Ken Griffey, Jr. and more are all here. The set's two toughest autographs are Jimmie Foxx and Mel Ott, which you rarely see in top condition. Of course, the set is centered on The Sultan of Swat – Babe Ruth. This award-winning set has a phenomenal GPA of 9.36, including an 8.5 example of The Babe – one of the finest in the hobby.
---
Best Autograph Set of the Year
Adam Baron Cohen (The Twinight Collection) – 1927 New York Yankees (Any Medium)
Continuing with sets anchored by The Bambino, the 1927 Yankees are not only considered one of the greatest baseball teams of all-time, autographs from its members are amongst the most desirable in the hobby. Most people are familiar with the big names like Babe Ruth, Lou Gehrig and Tony Lazzeri but some of the toughest autographs to find are those from players who are not nearly as familiar to average baseball fans. Scarce autographs from Walter Beall, Pat Collins, Joe Giard, Johnny Grabowski, and Urban Shocker are examples. The extremely high-quality autograph set carries a GPA of 9.28 making it the best in its category and the winner for this year's award. The set includes one of, if not the, finest Babe Ruth signed album pages known (dated to 1927) in PSA Gem Mint 10 condition.
---
ATF sets to be inducted into the Hall of Fame
Donald E. Spence – The Lone Star Collection – 1909-11 T206 Baseball Set (Basic)
We are coming towards the end of the 100-year anniversary of the mighty T206 set, an issue that seems to become more desirable with each passing year. It would be bordering on ludicrous to not enshrine this amazing 524-card set in 2011. With a GPA of 7.26, this is the finest complete set ever registered with PSA. That's right, it includes all the top rarities like the Eddie Plank and Honus Wagner cards along with 74 additional cards featuring Hall of Famers, yet it retains an average grade well above PSA Near Mint 7. This is one of the most important sets ever enshrined in our 10-year history.
---
Michael Wachs – 1911 T205 Gold Border Baseball (Basic)
This 206-card amassment is not for the faint of heart as great amounts of time and money are required to reach completion here. While this set is not nearly as vast as the T206 set mentioned earlier, it more than makes up for it in difficulty. Filled with Hall of Famers from Ty Cobb to Christy Mathewson to Cy Young, those fragile gold borders make it nearly impossible to find high-grade copies. The set also features several variations. With that in mind, this is the only complete set in registry history to attain a GPA of PSA Near Mint 7 or better at 7.14, a feat that will not be easily duplicated.
---
John Branca #2 – 1952 Topps Baseball (Basic)
Our 2011 Rookie Set of the Year is of such high quality that we decided to place it alongside the other legendary collections in the category. In fact, this newly registered set already ranks higher than four other 1952 Topps sets already inducted into the HOF. The importance of the issue cannot be overstated as it is universally considered the most important postwar set ever manufactured and the one that turned an entire generation of kids into lifelong baseball card collectors. With an overall GPA of 8.42, this particular set is more than deserving of enshrinement.
---
Charles M. Merkel – 1952 Topps Baseball (Master)
More and more collectors are pursuing varieties within sets to ensure they reach true completion of all the different cards made in a particular series. The Master sets are certainly more difficult to complete but it is that challenge that drives many collectors in their pursuits. Here, instead of the traditional 407 cards needed for the Basic 1952 Topps set, you need 490 total cards, which includes all the Black backs and Red backs in the first series (cards 1-80). As if the Basic set wasn't hard enough? Not only is this set complete and not only is it number one on the All-Time Finest list with a GPA 8.81, there is no set remotely close to this one in quality.
---
Donald E. Spence – The Lone Star Collection – 1953 Bowman Color Baseball
Collectors often rank this Bowman issue as one of the best-looking designs ever used for a baseball card set. The simplicity of the fronts, using terrific color photographs and a facsimile signature of each player, resulted in a classic set. During the time, most baseball card issues were utilizing artwork instead of actual photos on the cards; which is part of what sets this production apart from the rest. The set also offered a couple of popular multi-player cards and the classic Pee Wee Reese rookie. This inductee is the second best set on the All-Time Finest list with a stupendous GPA of 8.92.
---
Art Sainsbury (GoodLieu's 1948 Bowman Basketball) – 1948 Bowman Basketball
There aren't many vintage basketball sets to collect so the ones that were issued receive that much more attention with so few sets to choose from. While there are some older basketball cards in circulation, the 1948 Bowman set is considered the first key set for collectors of hoops legends. Of course, the set features the most significant basketball card of all – the George Mikan rookie – along with several other Hall of Fame rookie cards. This year's inductee ranks second on the All-Time Finest list with a GPA of 8.25.
---
D'Orsay Bryant III, M.D. (Bryant 1969 Topps Basketball Collection) – 1969-70 Topps Basketball
The colorful 1969-70 Topps basketball issue was not the first Topps issue to utilize the Tall Boy design as both hockey (1964) and football (1965) came before it but that format seemed most appropriate here considering it is the sport of giants. A slew of Hall of Famers can be found in this 99-card set, with Lew Alcindor (Kareem Abdul-Jabbar) rookie leading the way. The set also features a great number one card of Wilt Chamberlain and a tough checklist card at the end. This particular set carries a GPA of 9.05, making the second best set ever registered in a hotly contested category.
---
GHR Collection – 1962 Topps Football
This 176-card set is as tough as the men who suited up on the field were. In 1962, Topps decided to frame each card in fragile black borders, which caused great headaches to those trying to find NM-MT cards. The set contains numerous short prints, team cards, stars like Jim Brown and great rookies like those of Mike Ditka and Fran Tarkenton. It even starts off with a highly-desirable number one card of Johnny Unitas. Not only is this year's inductee the finest set ever registered with PSA with an unthinkable GPA of 8.57, no set ranks even close on the Current Finest list.
---
Simon Bourque (Simgin) – 1911-12 C55 Hockey (Master)
Much like the T206 baseball set, this tiny tobacco issue has become a staple in the world of hockey cards. The C55, C56 and C57 sets are all highly collectible but the 1911-12 C55 issue is the one that contains the single most important card of the bunch – the #38 Georges Vezina rookie. There are other keys within the C55 issue like those of Cyclone Taylor, Art Ross and Newsy Lalonde but the Vezina is the most prized of this relatively small set of less than 50 cards. The GPA of this particular set is an unbelievable 7.30, making it – by far – the finest set ever registered with PSA.
---
Julius Narancsik (Northern Lights) – 1951-52 Parkhurst Hockey
The 105-card, inaugural Parkhurst issue is a memorable one and a set that remains a classic for hockey collectors. The condition sensitivity and interesting design create a lot of demand, however, the overriding factor might just be the fact that the set contains over 20 Hall of Fame rookies! This is an incredible number for any set in any sport. That select group includes key rookies of Maurice Richard, Terry Sawchuk and Gordie Howe. This year's inductee ranks number one on the All-Time Finest list with an unmatched GPA of 8.33, making it an easy selection for enshrinement.
---
(2) Marshall Fogel (8.10) and Steve Soloway (8.00) – 1932 US Caramel
Had it not been for a very small find of these cards a few decades ago, it would be impossible to assemble a high-grade set. Even with the discovery of some quality examples, there are only so many cards to go around, resulting in only a handful of sets that grade PSA NM-MT 8 or better. Part of the reason for the scarcity is that many of cards were redeemed, as part of their offer, for baseball equipment. In hindsight, these people made some of the worst trades in sports history but who knew? From Bobby Jones to Jack Dempsey to Babe Ruth, this multi-sport set is not quite as popular as the 1933 Goudey Sport Kings but it is much tougher. This year, we are inducting two sets from the same category and both are complete with awesome GPAs of PSA 8 or better.
---
Donald E. Spence – The Lone Star Collection – The Top 200 Sportscards in the Hobby
Based on a book released nearly 10 years ago, this set contains 200 of what many people consider to be amongst the hobby's most important sportscards. The set spans over 100 years of card production in several different sports. In 2007, after modifying the original list, I wrote another book that expanded the list to 250 just to torment Spence. All kidding aside, Spence is already 97.5% complete on that one and I am sure we will be acknowledging that set in the not-too-distant future but, for now, it is time to enshrine this set as the first complete one of its kind... not to mention a collection with a GPA of 8.44.
---
Dave Lemon (PSUinCT) – 1940 Gum Inc. Lone Ranger
When collectors discuss the sets that exhibit the finest artwork used in the design, the 1940 Lone Ranger set is always mentioned. This 48-card set is considered one of the most important non-sports issues of all-time and it provides a fitting tribute to the fictional hero. The legendary masked man is shown in various scenes, depicting adventures with his trusty sidekick Tonto and his horse Silver. Through radio, television and film, The Lone Ranger has remained popular for well over half a century. This year's inductee ranks number one on the All-Time Finest list with a GPA of 7.85.
---
Fred Walstrom (Mars Attacks 1962 Bubbles Inc.) – 1962 Topps Mars Attacks
This 55-card masterpiece captures our fascination with aliens. The fantastic, and sometimes horrific images, in the this set give us a glimpse of some people's biggest fear – a play-by-play of what would happen if we were invaded by a hostile invader with superior technology. If it were to resemble the images found in this set, we are in for a lot of pain and suffering. The premise has been used repeatedly in books, radio, television and film, from Invasion of the Body Snatchers to War of the Worlds. The collector who assembled this set has been collecting it since he remembers opening packs in 1962. This year's inductee ranks second on the All-Time Finest list with a GPA of 8.25 for a set, which might be, the most popular non-sports set in history.
---
2011 PSA Collector Hall of Fame Inductees
D'Orsay Bryant III, M.D.
In 2010, Bryant received the award for Collection of the Year and, this year, it is time to enshrine him along with other top collectors on the registry. His collection is filled with thousands of PSA graded basketball cards, both vintage and modern... and his collection keeps growing each and every year. From his 1969 and 1970 Topps Tall Boy sets, which both carry overall GPAs of PSA Mint 9 or better, to hundreds and hundreds of Gem Mint 10 examples from the post-1970-present era (including perfect PSA 10 sets of 1986 and 1987 Fleer cards), Bryant only collects the best in terms of quality. His affable nature has endeared him to the other hobbyists who have the pleasure of knowing him and, as someone who has such a strong presence in modern sportscards, Bryant becomes the first inductee to represent the post-1970 era in a significant way.
---
David Hall
Last but definitely not least; it is time to recognize someone who not only deserves accolades for the collection he once owned, but also for being the person who dreamt-up the concept of the registry itself.
Starting with the collection, consider this... Hall once owned the following sets: In baseball, a 1948-1955 Bowman run, including the tough 1953 Black and White issue. Starting with 1951 Blue and Red backs, he compiled a Topps run from 1951-1957. This run, of course, contained the finest 1952 Topps Mickey Mantle on the planet in PSA Gem Mint 10, which sold for a record of $121,000 in 1997. To round out the baseball run, he owned the 1948 Leaf, 1954 Dan-Dee, 1954 Red Heart, 1954 Wilson Franks sets. Continuing with basketball... he owned The Big Three (1948 Bowman, 1957 Topps and 1961 Fleer). From the world of football, he owned the 1935 National Chicle set along with a Bowman run from 1948-1955, including both the large and small sets from 1952, both the 1948 and 1949 Leaf sets and Topps sets from 1955-1957. Finally, he owned a 1948 Leaf set of boxing cards for good measure.
You are probably wondering why he focused so much on the 1948-1957 time period. When asked, Hall will tell you that this was the period where he remembers following his idols all the way from his years in little league to high school. This is a time when many of us are most impressionable. The vast majority of the sets were comprised of high-grade cards and several of his sets still rank in the top 10 within their respective categories today. Well before PSA became a successful business, David Hall had to make a tough decision. Challenged by some in the anti-grading establishment during the mid-1990s, Hall decided to put PSA first by selling off his entire collection in 1996 and 1997, putting to rest any notion of a conflict of interest. Keep in mind that PSA had not yet turned a profit at the time this decision was made and it was a difficult one because Hall is a true collector. That said, he believed in what PSA could do for the hobby and persevered despite years of struggling to gain acceptance. To put this in perspective, PSA didn't grade its 1,000,000th card until 1998. Since that time, PSA has graded 1,000,000 or more cards per year, every year.
A couple of years after selling off his prized collection, Hall developed the PCGS Set Registry for coins. Soon thereafter, PSA followed suit... and the rest is history. At this time, PSA has certified nearly 18 million items and the PSA Set Registry is nearly 65,000 collections strong. As tough as it must have been at the time, I think it is clear Hall made a wise decision and all of us are beneficiaries of his vision.