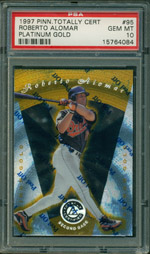 It took a year longer than it probably should have, but Roberto Alomar will be inducted into the National Baseball Hall of Fame this July.
Named on 90 percent of writers' ballots, Alomar's vote total jumped significantly from 2010, when he fell eight votes short of the requisite 75 percent. A member of two World Series-winning teams, Alomar's resume – .300 batting average, 2,724 hits, 474 stolen bases, 504 doubles, 12 all-star selections, 10 Gold Gloves – makes him arguably the greatest second baseman of all-time.
It seems clear now that Alomar was sentenced to a year in Hall of Fame purgatory by baseball scribes for spitting in the face of umpire John Hirschbeck on September 27, 1996. Though it happened more than 14 years ago, the spitting incident is still the first thing that many remember about Alomar. His sparkling defense, momentum-changing homerun off Dennis Eckersley in the 1992 American League Championship Series and his starring role in the Toronto Blue Jays' two championships all seem secondary to his memorable tantrum.
"I think he's a worthy Hall of Famer," said Roger Rumsey, co-owner of 4 Sharp Corners. "The numbers are there. The All-Star games are there. The Gold Gloves are there. My only reservation was that he had the spitting incident, but it was one blemish on an otherwise stellar career. When you compare him to other second baseman, he's definitely worthy."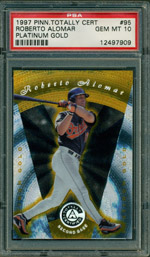 Glen Humenik, manager of Legends of the Game in Toronto, Ont., says there has been a buzz in the Canada's largest city about the former Blue Jay's upcoming induction.
"I think everybody here was hoping he would get in this year," said Humenik. "For whatever reason, he didn't get in in his first year of eligibility, but the baseball community here is pretty excited about him being elected this year."
Ever since the perennial Gold Glover became eligible for the Hall of Fame in 2010, Rumsey has noticed a steady increase in demand for Alomar's rookies.
"Some of his more mainstream issues that are more readily available – like Fleer Update or Topps Traded – went from being $15 (in PSA GEM-MT 10) to being $25 to $35," he said.
Humenik has witnessed a similar trend.
"For people coming into the store, they'll take whatever Alomar rookie happens to be in the showcase," he said. "The only cards we have left are the 1988 Donruss Rated Rookies and those continue to sell."
Alomar's most coveted mainstream rookie is his 1988 Score Traded single (#105T). Available only in factory sets, this card was recently added to the popular Hall of Fame Players - Post War Rookies set on the PSA Set Registry. The orange borders on this card are susceptible to chipping. Of the 3,053 submitted, 368 have been deemed PSA GEM-MT 10s. PSA 10s were generally selling in the $30 to $45 range after the voting results were announced in January.
With just 3,000 reportedly produced, Alomar's 1988 Score Glossy Traded card (#105T) is one of his Holy Grail singles. Also issued in factory sets, these cards boast a glossy finish that distinguishes them from the regular Score cards. Just four PSA 10 examples exist, with one commanding $349.99 on eBay in November 2010.
The 12-time all-star's 1988 Topps Tiffany Traded single (#4T) is also highly sought-after. Issued as part of a limited edition factory set (reportedly around 25,000 sets were produced), this card also boasts a distinct glossy finish. Of the 225 evaluated, there have been 34 PSA 10s, one of which fetched $103.16 on eBay on January 16, 2011.
The most unheralded Alomar rookie is his 1988 Leaf single (#34). Showcasing the same blue-bordered design as the regular 1988 Donruss singles, these cards flaunt a Leaf logo on the front and information in French and English on the back. Only 49 of these have been submitted to PSA for grading.
Alomar also has several elusive insert/parallel cards. His 1991 Topps Desert Shield (#315) is among his most evasive. Issued in wax packs sent to U.S. troops serving in the Persian Gulf, cards from this offering boast a gold Desert Shield logo on their fronts. It's believed that anywhere from 6,300 to 6,800 copies of each card were manufactured, but many of the cards were damaged or destroyed after they were shipped to the troops. Just one of these cards has been deemed a PSA 10 and there are 19 PSA MINT 9s.
Alomar's 1993 Finest Refractor single (#88) is also highly coveted. With a reported print run of just 241 of each card, this is arguably Alomar's highest profile insert. Because these cards are not labeled, collectors must look for their distinct rainbow tint to differentiate them from the regular 1993 Finest cards. Veteran hobbyist, George Calfas, who has amassed 10, 1993 Finest Refractor sets, says that the Alomar card is extremely difficult to find centered. This explains why the PSA Population Report indicates that there are 19 PSA 9 examples that have a qualifier.
Another 1993 parallel card that's difficult to track down is Alomar's 1993 Pinnacle Cooperstown Dufex single (#29). This is a limited edition foil version of Alomar's regular 1993 Pinnacle Cooperstown card. In a 2007 interview, B.A. Murry, owner of Bam! Cards in Carbondale, Ill., noted that the 1993 Pinnacle Cooperstown Dufex set was "a non-commercial set" offered as a prize to Sports Collectibles Association International (SCAI ) members that attended every meeting leading up to the November 1993 SCAI conference.
At that time, Murry owned a copy of the letter that accompanied these sets. The letter revealed that 1,000 sets were produced and that some were mailed out in February 1994. Nowhere near 1,000 SCAI members, however, attended all of the meetings, so there's some debate as to what happened to the leftover sets. Jim Kramer, owner of Southpaw Cards in Roseville, Minn., told me in a 2007 interview that he believed that only about 150 to 200 of these sets were still in existence. Only 10 Alomar cards from this issue have been submitted to PSA, and just two have been deemed PSA 10s. One PSA 10 sold for $59.99 on eBay in July 2010.
Alomar's 1996 Select Certified Mirror Gold single (#99) is even rarer than the Dufex card. Part of a limited issue that features gold foil versions of the 144 cards in the 1996 Select Certified set, just 30 Alomar cards were manufactured and only five have been evaluated by PSA.
Similarly, Alomar's 1997 Pinnacle Totally Certified Platinum Gold single (#95) was limited to just 30 copies (serial numbered to 30 on card backs). One pasteboard from this 150-card Gold series was included in every 79 packs of the 1997 Pinnacle Totally Certified Platinum product (that also included more plentiful "Red" and "Blue" versions). The fact that it took Calfas close to 13 years to complete his registry set is a testament to the scarcity of these cards.
Competition for these rare cards and Alomar's rookies is bound to increase now that he's a Hall of Famer.
"Once a guy is in the Hall of Fame, he's pretty much a made man," said Rumsey. "The interest never declines and every collector that comes into collecting graded cards seems to start with Hall of Fame rookies. The nice thing about Alomar rookies is that they are affordable. He's probably the most affordable Hall of Famer."
Please feel free to contact Kevin Glew at [email protected] if you have any additional information or comments. 4 Sharp Corners, George Calfas, Dale Davenport and Mark Christmore provided pictures for this article. Please note that the Population Report figures quoted and Set Registry rankings reported are those as of press time.
Toughest Roberto Alomar Rookies to Find in PSA GEM-MT 10 Condition
Card
No. of PSA
Submissions
No. of PSA 10s
% of Examples
Graded PSA 10
1988 Score Traded Glossy #105T
238
6
2.5%
1988 Score Traded #105T
3,084
379
12.3%
1988 Topps Tiffany Traded #4T
227
34
14.9%
1988 Fleer Update #U-122
2,185
344
15.7%
1988 Fleer Update Glossy #U-122
711
129
18.1%
1988 Donruss #34
701
160
22.8%
1988 Topps Traded #4T
1,069
252
23.5%
1988 Leaf #34
49
0
40.8%
*PSA Population Report statistics as of June, 2011