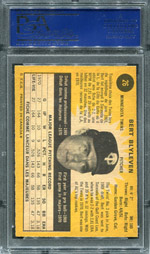 "Viola and Blyleven and pray to heaven."
That's the mantra that Minnesota Twins fans adopted for their pitching poor, 1987 World Series-winning squad, says hobbyist Bob Couser.
Armed with his trademark curveball, Bert Blyleven won three games – including Game 2 of the World Series – during that memorable post-season to lead the Twins to their first championship.
But that was more than 23 years ago, and for the past 13 years, Twins supporters have been praying that Blyleven would be elected to the National Baseball Hall of Fame. And, this January, their prayers were finally answered.
"My first reaction was a sigh of relief," said Adam Goldenberg, who owns the top Blyleven Basic and Master sets on the PSA Set Registry. "It was about time that he got the recognition that he deserved."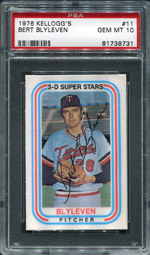 Despite 287 career wins, two World Series titles, 3,701 strikeouts (fifth all-time) and 60 shutouts (ninth all-time), Blyleven was forced to wait more than a decade to be recognized. The longtime hurler's critics point out that the right-hander was selected to just two all-star teams (1973 and 1985), never won a Cy Young Award, and attribute his success to durability rather than greatness.
For his first six years of Hall of Fame eligibility, Blyleven was named on less than 30% of writers' ballots. That was when blogger, Rich Lederer, took up the curveballer's cause and crafted a statistical case that writers couldn't ignore. After perusing Lederer's Sabermetric evidence, more writers began voting for Blyleven and, this year, he was tabbed on 79.7% of ballots (75% is required for induction).
"When you look at his numbers, they're really Hall of Fame worthy," noted Couser, who owns the registry's No. 3 Blyleven Master set.
Dawn Luoma, who owns the No. 3 Blyleven Basic set and has plans to attend Blyleven's induction ceremony, agrees.
"Bert should have been in as soon as he was eligible," she said. "His numbers speak for themselves."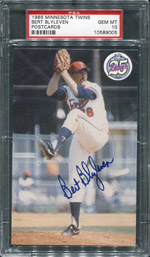 Not only did Blyleven excel for the Twins on the mound, he has also become a popular color commentator for the club, so it's fitting that he will be pictured in a Twins cap on his Cooperstown plaque.
"I think he has become adored (in the Minnesota area)," said Couser. "He just seems like a regular guy that everyone can relate to."
This adulation helps explain the growing number of collectors pursuing Blyleven's five PSA Set Registry sets: Basic (62 cards), Basic & Collector Issues (106 cards), Master (216 cards), Basic Topps (23 cards) and Master Topps (68 cards).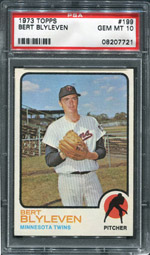 The most renowned Blyleven card is his 1971 Topps rookie (#26). Largely due to i
ts fragile black borders, this card is extremely difficult to uncover in flawless form. Goldenberg adds that there also tends to be centering issues with this card.
"The 1971 cards are brutal cards. The borders show everything," said Couser.
Some hobbyists have resorted to using a black marker to color in the chipped areas on the borders. This can be difficult to discern on raw copies, but it's easily detectable during the grading process.
Of the 1,029 1971 Topps rookies evaluated, there has been just one PSA GEM-MT 10 and 12 PSA MINT 9s. Goldenberg says the PSA 10 is in the Dimitri Young collection. A PSA 9 sold for $5,250 on eBay in April 2009.
The price of high-grade copies of this card jumped dramatically after the Hall of Fame results were revealed on January 5, 2011. Following the announcement, the first 11 PSA NM 7 rookies fetched an average of $79.30 each on eBay, up from the $47.03 averaged by the last 11 PSA 7 rookies sold before the announcement. PSA 8 Blyleven rookies experienced a similar spike. The first three PSA 8s sold after January 5 garnered an average of $352.92 each, while the last three PSA 8s offered prior to the announcement averaged $275.29.
Even more elusive than his Topps rookie, however, is his 1971 O-Pee-Chee single (#26). Manufactured in Canada and produced in significantly smaller quantities than their Topps counterparts, the O-Pee-Chee rookies share the same design as the Topps cards and showcase many of the same condition woes.
"A nice Bert O-Pee-Chee rookie is almost impossible to find," said Luoma.
Goldenberg concurs.
"The O-Pee-Chee rookie is incredibly hard to find in high grade," he said.
Just 36 O-Pee-Chee rookies have been submitted to PSA, and there's only one PSA 8 copy and one PSA 9 copy (with no cards grading higher). The PSA 8 sold for $1,302.77 on eBay in April 2008.
Blyleven's 1972 Topps single (#515) is not as elusive in high grade as his Topps and O-Pee-Chee rookies, but it's still relatively hard to find in pristine condition. Of the 205 evaluated, there has been one PSA 10 and 32 PSA 9s. The sole PSA 10 fetched $766.10 in a Mile High Card Company auction in October 2008.
Blyleven's 1973 Topps card (#199) can also be difficult to track down in top grade.
"I think the paper stock they used that year is a little weak compared to other years," noted Couser.
Of the 228 submitted, there have been just three PSA 10 copies, one of which sold for $362 on eBay in December 2007.
The colored borders on Blyleven's 1975 Topps single (#30) also make it challenging to find in pristine condition.
"The 1975 Topps card has chipping and centering issues, and often if the front of the card is almost perfect, the back will be horribly off-center," said Luoma.
Of the 251 graded, there has yet to be a PSA 10 and there are 31 PSA 9s. A PSA 9 garnered $72.71 on eBay in February 2010.
Even more evasive is Blyleven's 1975 Topps mini single (#30). Just four PSA 9s exist of this card, and a PSA 8 sold for $81 on eBay in January 2009.
Luoma says finding high-grade examples of the 1977 Topps Blyleven (#630) can also be challenging.
"If there's a vibrant 1977 Topps (card) out there, I haven't seen it," she said.
Just 16 of these have graded PSA 9 or better.
Prior to the Cooperstown announcement, Goldenberg estimates that there were around a dozen serious Blyleven collectors, but after the voting results were unveiled, demand for the curveballer's cards increased and more items were being listed online.
"There was a tremendous spike in the available items online (after the announcement), including many of the higher grade cards," said Goldenberg. "Personally, I picked up an autographed game-used jersey and am looking at another. My guess is (that the number of) Blyleven items for sale online spiked about 35%."
Please feel free to contact Kevin Glew at kevin.glew@sympatico.ca if you have any additional information or comments. Adam Goldenberg provided pictures for this article. Please note that the Population Report figures quoted and Set Registry rankings reported are those as of press time.
Toughest Regular Issue '70s Topps Blyleven Cards to find in PSA MINT 9 or Better
Card
Total No.
of Submissions
No. of Examples
in PSA 9 or Better
1971 Topps #26
1,029
13
1975 Topps #30
251
31
1972 Topps #515
205
33
1973 Topps #199
228
56
1977 Topps #630
58
16
*PSA Population Report statistics as of June 2011