PSA is celebrating its 20th Anniversary as the leading third-party authentication and grading service for trading cards and memorabilia at the 32nd National Sports Collectors Convention in Rosemont, IL.
To commemorate this milestone, a beautiful 24 x 32 poster, featuring fantastic images and collectibles of the Sultan of Swat will be handed out at the door to show attendees. Only a limited number of these posters were created especially for this year's National.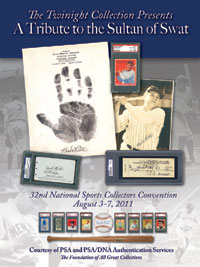 Come to the show early and make sure you don't miss out on this gift!
(Limited quantity. Offer good while supplies last)