When questions are posed about Mike Schmidt cards on the PSA Message Boards, Marc Schoenen is likely to provide the answer.
The highly respected owner of the top Basic and Master Schmidt sets on the PSA Set Registry has developed a reputation as the board expert on the legendary third baseman's cards.
"I enjoy collecting. Sharing with fellow collectors, learning about what they collect and what makes the hobby fun for them is fascinating," he explained. "I think the PSA Set Registry and the message boards simply represent a great forum to learn."
A card collector since he was five, the now 34-year-old hobbyist's knowledge of Schmidt collectibles is extensive.
Schoenen's family operated a supermarket in Bethlehem, Pa., a small town 50 miles from Philadelphia, when he was growing up. It was there that he discovered the joy of opening wax packs. "As a kid, I spent a lot of my free time in the supermarkets; a couple of times a year the Tastykake man would come and give Phillies tickets to my dad. We would go down into the Tastykake's Super Box and see games," recalled Schoenen, who now works in finance for Google. "That was in the early 1980s, which were the golden years for the Phillies with Schmidt, Carlton, Rose and all those characters. It was really a great time to be a Phillies fan."
At many of these games, Schmidt would homer, sending a young Schoenen home happy.
"To me, Mike Schmidt was just the complete ballplayer," he said. "I loved the fact that he was very loyal to Philadelphia. There are very few ballplayers that have long Hall of Fame-type careers with a single team, so that was very appealing to me. He also brought the Phillies their first World Series win. He was the complete package through and through: an offensive powerhouse, he showed great range and reaction time at third base. He displayed integrity and a love of the game on and off the field."
Schmidt's resume is, indeed, scandal-free and chock full of impressive statistics. In 18 big league seasons, he belted 548 homers, drove in 1,595 runs and was selected to play in 12 all-star games. He also secured six Silver Slugger Awards and 10 Gold Gloves. For his efforts, he was elected to the National Baseball Hall of Fame in his first year of eligibility in 1995.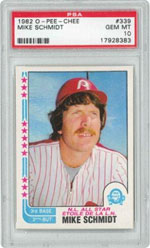 "People forget that he won 10 Gold Gloves," said Schoenen. "I think a lot of people look at Brooks Robinson as the best fielding third baseman ever, but you can make a strong argument for Schmidt."
Schoenen has met the object of his collection.
"I have met Mike Schmidt a handful of times," said Schoenen. "I haven't met him in the last 10 to 15 years, so many of my memories are from my awkward teenage years. I didn't have any particularly memorable conversations with him. Just your typical fan banter. Schmidt also responded to fan letters I would send to him at Veterans Stadium."
The first graded Schmidt card Schoenen purchased was a PSA MINT 9 Topps rookie in 1998. Since that time, he has established one of the top player sets on the registry. His devotion earned his Schmidt Master Set "Top Player Set" honors in the 2007 PSA Set Registry Awards. He also owns the No. 1 Schmidt Basic Set.
The Topps rookie (#615) (which also features Ron Cey and John Hilton) is, of course, one of the Holy Grail Schmidt cards. Of the 3,711 submitted, there have been just five PSA GEM-MT 10s. Schoenen says the dark backs on the 1973 Topps cards make them difficult to uncover in pristine condition.
"The 1973 cards are white on the front, but the backs are dark and they chip very, very easily," he explained. "If you have a back corner chip, you're not going to get a PSA 10. There are also often print dots found in the black borders of the three players on the front of the card."
Schoenen adds that poor centering also plagues the Topps rookie. Finally, 1973 was the last year Topps issued its cards in series. Schmidt's rookie appears in the high-number series, which had a lower production run. A PSA 10 example sold for $11,300 on eBay in March 2008.
Though produced in much smaller quantities than its Topps counterpart, there are also five PSA 10 examples of Schmidt's O-Pee-Chee rookie (#615). One PSA 10 copy fetched $4,250 on eBay in June 2010.
One of Schmidt's rarest cards, however, was released the previous year. Schmidt's 1972 Puerto Rican Winter League sticker (#64) is part of a series of 231 stickers that could be glued into an album. Measuring 2-1/4" by 3", these collectibles showcase color player photos on the front and backs printed in Spanish. Many of these are found with glue stains or paper ripped off their backs.
"It's a difficult card to find in any grade," noted Schoenen. And when you find them, they tend to be very off-center, not only that, being issued in Puerto Rico on thin sticker stock, they tend to have a lot of corner wear and bends."
Just 38 have been submitted and only two have graded as high as PSA 9. A PSA 8 sold for $1,100 on eBay in May 2008.
Schoenen adds that Schmidt's 1974 Topps card (#283) is also elusive in flawless form.
"It's another card that's very difficult to find centered," said Schoenen. "But even if you find it centered, it tends to have yellow print dots in the Philadelphia banner on the card front that keep it from getting a PSA 10."
Of the 1,764 evaluated, there have been just four PSA 10s, with one selling for $9,775 in a Huggins & Scott Auctions sale in April 2008.
Another elusive Schmidt is his 1974 Johnny Pro Phillies single (#20). This set features 12 Phillies on cards that measure 3-3/4" by 7-1/8" each. The full color, die-cut player images are displayed against a white background. These cards are often found with the die-cut player images removed.
"It's a pretty large card. It's about the size of a bank check and it's a perforated card," said Schoenen. "The intent was to pop it out and put it in the stand-up holder. It's hard to find in top grade, but it's also just hard to find in general."
Just 14 have been submitted to PSA and Schoenen owns one of the two PSA 10s.
Boasting miscuts and rugged edges, 1970s O-Pee-Chee (OPC) cards are also difficult to find in top condition. Schoenen says the most evasive in pristine condition are the 1974 (#283) and 1976 OPC (#480) issues. Both of these cards are frequently found with poor centering, rough edges and soft corners and neither have had an example that has graded above a PSA 8. A PSA 8, 1974 OPC Schmidt sold for $482 on eBay in September 2009.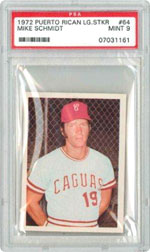 Schoenen adds that Schmidt's 1977 Venezuelan sticker (#169) is also tough to track down. Measuring 2-3/8" by 3-1/8", these singles feature a design similar to the regular 1977 Topps cards but are printed on flimsy stock, showcase the card number on the front and feature blank backs. An album was issued for these cards, so these stickers are often found with paper missing from their backs. Just four Schmidts have been submitted to PSA, with PSA 5 being the highest grade recorded. Schoenen owns a PSA GOOD 2.
But the veteran hobbyist says the most difficult Schmidt Master Set requirement is a 1982 FBI Foods Disc. Issued in pairs, these discs measure 2-7/8" in diameter and were showcased on the bottom of six-pack cartons of Canadian soft drinks. Due to trademark issues, the black and white player photos did not include any team logos. Because they came on the bottom of cartons, these discs are often found in rough condition.
"I've only seen three or four examples in the past 15 years," said Schoenen.
The longtime Schmidt collector owns the sole graded copy, which was deemed a PSA 2.
Sometimes, a message board post will lead to discoveries that were previously unknown. A fellow collector led Schoenen to two 1988 Tea Discs of Schmidt, one was produced for Weis Winners and the other for Key Food. They were both graded PSA 8 in January 2011. To this date, they are the only cards from either set to have been graded.
"You can't have a card on your wantlist if you never even knew it existed!" said Schoenen with a laugh.
Schoenen's Schmidt collection doesn't stop at cards. It also includes two game-used bats, a full St. Patrick's Day game-worn uniform, a first generation Little League photo after Schmidt hit a game-winning home run and a high school yearbook. Other notable items that are part of his collection are a program and ticket stub from the 1970 College World Series in which Schmidt represented Ohio University, a ticket stub from Schmidt's four-homer game on April 17, 1976 and even some contracts.
"I have his 1972 contract from when he played in the Puerto Rican Winter League. The contract is entirely in Spanish," noted Schoenen. "Even more fascinating is a 1971 contract signed in April 1971 with the Topps company – very likely the first professional memorabilia contract Schmidt ever signed."
The veteran hobbyist says that there are many benefits to having his cards graded by PSA.
"From my perspective, I'm really clumsy," he said. "A nice rigid holder is a good way to prevent myself from accidently messing up the cards. It's not enough for me to simply have one of every one of his cards; I'd like to have the best one that I can possibly find. Professional grading is a great way to have an independent third party attest, 'This is the card's condition; additionally, it is authentic and unaltered.'"
He also enjoys participating in the PSA Set Registry.
"The major benefit of PSA's registry is as an organizational tool," he said. "I can look at my registry sets and say this is what I have and this is where I need an upgrade and there is where I'm missing a card. It also helps with trading and meeting fellow collectors, so when I have an extra card I can send an e-mail to someone and say, 'Do you buy want this? Do you have something else you can trade me?'"
Schoenen has completed successful trades with at least half a dozen fellow Schmidt collectors from the registry.
Despite already owning a near perfect Schmidt Master set, Schoenen plans to continue to upgrade his collection, but, these days, his priority is his family.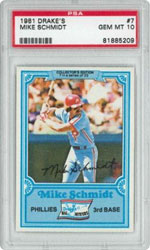 "I'm happily married with two amazing kids," he said. "Collecting is something I enjoy in my down time. Family time comes first. The majority of my Schmidt collecting was done before being married with kids."
Fortunately for the collecting community, when he has time, Schoenen plans to continue to help others on the PSA Message Boards.
"Back when I was growing up in the 1980s, you could only buy a price guide or go to the local card show. It was really difficult to get comprehensive or accurate information about the hobby," he said. "The Internet has helped level the playing field and bring about a comprehensive knowledge archive from those of us who say 'Let's talk sports cards.' If collectors want to learn about a player, a hobby issue, or even how older issues were distributed, there is so much information you can find. To that end, I continue to evangelize by contributing and helping other hobbyists learn about the hobby. I feel really good when I can instill excitement or knowledge in another collector."
Please feel free to contact Kevin Glew at [email protected] if you have any additional information or comments. Marc Schoenen provided pictures for this article. Please note that the Population Report figures quoted and Set Registry rankings listed are those as of press time.