Packers running back Jim Taylor and Giants linebacker Sam Huff engaged in some legendary battles on the gridiron, so it seems fitting that both of their rookie cards are featured in the 1959 Topps Football set.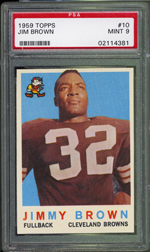 But, while the menacing, broad-shouldered Huff is photographed in a semi-squatting position (#51), Taylor isn't even pictured on his "rookie" (#155). His Topps debut mistakenly flaunts a photo of the Chicago Cardinals Jim Taylor.
"I guess you could say it's considered his rookie card in name only," noted Matthew Putzer, who owns the No. 6 Current Finest, 1959 Topps Football set on the PSA Set Registry.
To rub salt into the wound, Topps repeated the error on Taylor's 1960 issue.
Taylor and Huff are the marquee names in a 1959 Topps rookie crop that also includes Max McGee (#4), Alex Karras (#103), Jerry Kramer (#116), Jim Parker (#132) and Bobby Mitchell (#140).
These rookies are one of the reasons that this offering has sparked the interest of PSA Set Registry enthusiasts. Comprised of 176 cards, this set was the largest Topps pigskin offering to that point.
These singles were issued in two series. Putzer says cards from the first series (#1 to #88) are a little tougher to track down than those in the second series (#89 to #176).
Card fronts showcase player photos against a color background, with the player's name in alternating red and blue letters. The player's position and team name are also included on the card front. Showcasing dark gray text on white stock, the card backs boast the card number, biographical data, the previous season's stats and career stats. There is also a large area that collectors were encouraged to scratch off to obtain an answer to a quiz question.
Cards were distributed in one-cent and five-cent wax packs, as well as cello packs. Vending boxes were reportedly released of both series, however, an Internet search for this article only produced an example of a Series 2 vending box.
In February 2008, the No. 6, 1959 Topps Football set on the PSA Set Registry sold for $30,860 in a Mile High Card Company auction. Mile High also auctioned a rare, one-cent display box for $624.75 in November 2010.
A second series sheet can be viewed on Mike Thomas's website: www.footballcardgallery. This sheet boasts 12 rows of 11 cards (132 cards in total). Because there were only 88 cards in the second series, the top four rows and the bottom four rows on the sheet are identical.
There are also 12 cards in this set that feature NFL team photos.
"The team cards command a premium over the regular cards," said Putzer. "The Baltimore Colts team and New York Giants team cards will command a little bit of a premium just because they played in the championship game that year."
An additional 12 cards showcase team pennants. These generally sell for less than the team photo cards.
Aside from a solid cast of rookies, this set also features Hall of Famers Johnny Unitas, (#1), Jim Brown (#10), Frank Gifford (#20), Bart Starr (#23) and Paul Hornung (#82).
The Unitas card marked the first time that the Colts legend was featured as the No. 1 card in a Topps set. He would be card No. 1 in five subsequent Topps issues.
"The Unitas is a tough card," said Mike Taylor, who owns the registry's No. 7 Current Finest set. "There are only three PSA MINT 9s, and the PSA EX-MT 8s are obviously very cherished by people because they just don't come up for sale very often."
Of course, being the number one card makes it vulnerable to condition woes.
"Back then, they didn't have plastic sheets and top loaders," said Putzer. "You put your cards in a shoebox or rubber-banded them together and the top and bottom cards really took a beating."
A PSA 8 Unitas sold for $465.78 on eBay in October 2010.
The second-year Jim Brown (#10) is another key card in this issue. But with 30 PSA 9 examples, high-grade Brown singles are much abundant than Unitas singles. One PSA 9 fetched $1,115.07 in a Mile High Card Company auction in June 2010.
Taylor says that the Hornung card (#82) is also difficult to find in pristine condition.
"I've seen several that seem to have centering issues," he said.
Of the 528 Hornung cards evaluated, there has been one PSA GEM-MT 10 and 20 PSA 9s. The PSA 10 copy sold for $2,432.98 on eBay in November 2010.
The Bob Gain (#77) from this issue boasts the fewest number of examples in PSA 9 or better condition (See Accompanying Chart). There is one PSA 10 and one PSA 9 example of this card. The PSA 10 sold for $1,923.99 on eBay in August 2009.
The PSA Population Report indicates that the Harold Bradley (#63), with just 78 submissions, is the lowest population card in this set. Just four examples have been deemed PSA 9 (with no cards grading higher).
The second series sheet pictured on Thomas's website reveals that the Bratkowski (fifth row, first card on the left) and Crow (seventh row, last card on the right) are located in outside edge positions on the sheet. These locations traditionally make cards more vulnerable to condition flaws.
Hobbyists say that 1959 Topps Football cards are generally easier to find in high-grade than cards from its contemporary Topps releases (See Accompanying Chart).
"There have been a lot of unopened 1959 Topps Football vending boxes and cello boxes that have popped up in the last five years, so you're getting a lot of untouched cards populating the market," said Putzer. "I think that's why the 1959 set, for a vintage set, is easier to put together."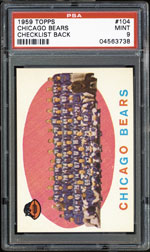 Joe Mancino, who owns the registry's No. 10 Current Finest set, agrees.
"I don't think it was a particularly hard set to put together," he said. "I think the 1958 set was tougher because of the card stock. I think the 1959 card stock might be a little nicer."
Mancino adds, however, that the scratch-off backs on these cards can sometimes be problematic. Putzer agrees.
"You've got to figure that a kid in the '50s or '60s is probably running pennies across there," he said. "They could put little creases in the card that you wouldn't know about."
Collectors also note that superior card stock seems to have been employed for the Series 2 cards (#89 to #176).
"Looking at the back of the cards in the second series, you've got a crisp, clear white back," said Putzer. "In the first series, you'd think that that same crisp, clear white back would be there, but I've noticed that on a lot of my first series cards, it's got a slight toning to it."
But toning is a relatively minor condition flaw for an issue that's more than a half-century old. The 1959 Topps Football set represents a good option for hobbyists looking to collect a vintage set without breaking the bank.
"It seemed like you could buy the cards for a really decent price," said Taylor. "The set was very accessible and easy to collect."
Population Perspective
| Football Set Name | No. of Submissions | No. Submissions PSA 9 or Better | Percentage of Submissions PSA 9 or Better |
| --- | --- | --- | --- |
| 1957 Topps | 32,895 | 571 | 1.7% |
| 1958 Topps | 19,047 | 304 | 1.6% |
| 1959 Topps | 30,795 | 2,612 | 8.5% |
| 1960 Topps | 18,114 | 879 | 4.8% |
*PSA Population Report Statistics as of February 2011
Toughest 1959 Topps Football Cards in PSA 9 or better condition
| Card | No. of Examples PSA 9 or Better* |
| --- | --- |
| #77 Bob Gain | 2 |
| #1 Johnny Unitas | 3 |
| #74 Mike McCormack | 3 |
| #90 Zeke Bratkowski | 3 |
| #156 Lindon Crow | 3 |
*PSA Population Report statistics as of February 2011
Please contact Kevin Glew at [email protected] if you have any additional information or comments. Mile High Card Company and Joe Mancino provided pictures for this article. Please note that the Population Report figures quoted and Set Registry rankings reported are those as of press time.