It's difficult to be "brief" when discussing Jim Palmer's career.
Though his mound dominance is often overshadowed by his turn as a Jockey underwear model, the former Orioles ace was arguably the best pitcher of his generation.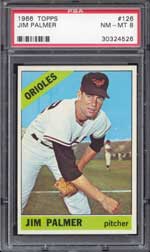 "One amazing thing about Jim Palmer is that he never gave up a grand slam during his career," noted Mark Winter, who owns the top Palmer Basic and Master sets on the PSA Set Registry. "Palmer was not really a strikeout pitcher. He won three Cy Young awards and was just consistently good, but he wasn't always overpowering. I mean, he could be overpowering at times, but he was not a Tom Seaver or a Nolan Ryan or a Steve Carlton in that regard."
The talented right-hander shot to stardom at the tender age of 20 after tossing a shutout against Sandy Koufax and the Los Angeles Dodgers in Game 2 of the 1966 World Series. But, after being sidelined for most of the 1967 and 1968 seasons, his uber prospect status diminished and he was left unprotected by the Orioles in the 1969 expansion draft. Fortunately for Baltimore, the new teams didn't select him, and Palmer regained his form, notching 16 wins – including a no-hitter on August 13 – in 1969.
Building on that success, Palmer would earn 186 wins during the '70s, more than any other pitcher in that decade. He would record eight, 20-win seasons, despite constant clashes with his manager, Earl Weaver.
"As a kid, after learning I was going to a ballgame at Memorial Stadium, the first thing I would do is check the pitching rotation to see if Palmer was pitching," explained Mike Wynne, who owns the registry's No. 2 Current Finest Palmer Basic Set. "There were two kinds of Oriole games – ones where Palmer was pitching and ones where he wasn't. My friends and I would always boast when one of us got to go to a Palmer game."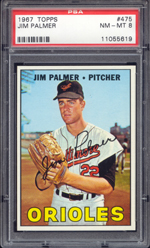 Winter, a longtime Orioles season ticket-holder, remembers seeing Palmer pitch live "countless times."
"I saw him in the '60, '70s and '80s, the whole span of his career," he recalled. "He was just so smooth. I saw him in the playoffs and the World Series. He was just really, really smooth. His mechanics were solid and he was always in control. He was a pleasure to watch."
Palmer was at his best in the post-season, registering eight playoff wins and a 2.61 ERA, helping the Orioles to six American League pennants. The workhorse righty is the only Oriole to toil on each of the franchise's championship squads (1966, 1970, 1983) and remains the only hurler to record a World Series win in three different decades.
In all, Palmer pitched 19 seasons for Baltimore, recording 268 wins and a tidy 2.86 ERA. For his efforts, his No. 22 has been retired by the Orioles and he was elected to the Hall of Fame in 1990, his first year of eligibility. He's now a TV analyst for Orioles games and his resume' has inspired a passionate following for his cards.
"The market for Palmer material is always strong," said Wynne.
Four Palmer sets have been created on the PSA Set Registry: Basic (27 cards), Master (157 cards), Basic Topps (19 cards) and Master Topps (60 cards).
Palmer's 1966 Topps rookie (#126) is his most coveted card. While the card front displays a nice shot of a young Palmer completing his throwing motion, the back mistakenly lists him as a left-handed pitcher. This error was never corrected.
"The card has vibrant color and is usually well focused (as most 1966 cards are), but the centering is tough and will sometimes show some tilt," said Wynne.
Of the 1,722 graded, there has yet to be a PSA GEM-MT 10 example and there are just 41 PSA MINT 9s. A PSA 9 copy sold for $3,191.30 in a Mile High Card Company auction in October 2009.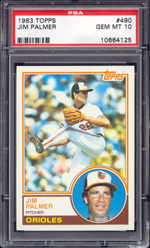 Even more elusive than his Topps rookie in high-grade is his O-Pee-Chee rookie (#126). Printed in Canada, the O-Pee-Chee rookie shares the Topps design but was produced in much smaller quantities. You can distinguish the O-Pee-Chee cards from their Topps counterparts by the "Printed (Ptd.) in Canada" copyright on the back. O-Pee-Chee singles from this era are notorious for miscuts and poor centering.
Just 35 Palmer O-Pee-Chee rookies have been submitted to PSA, with two PSA 9 examples representing the highest graded copies. One of these sold for $1,637 on eBay in January 2008.
The most evasive Palmer rookie in pristine condition is his 1966 Venezuelan Topps single (#126). Printed in limited quantities on flimsy stock, these cards were often pasted into albums that were available for this set. As a result, these cards are sometimes found with paper missing from their backs.
"The Venezuelan cards are really tough to get," said Winter, who owns a PSA 7 MK Palmer. "Nobody has a clue how many were made, but most of them are in really terrible shape."
Just 12 Venezuelan Palmer rookies have been submitted and the three PSA EX-MT 6 copies are the highest, unqualified graded examples. One of those PSA 6s commanded $239.50 on eBay in July 2007.
What is the most difficult Jim Palmer rookie to find in PSA MINT 9 grade or higher?
| Card | No. PSA Submissions | No. Submissions PSA 9 or Higher | Percentage of Submissions PSA 9 or Higher |
| --- | --- | --- | --- |
| 1966 Topps #126 | 1,722 | 41 | 2% |
| 1966 O-Pee-Chee #126 | 35 | 2 | 6% |
| 1966 Venezuelan Topps #126 | 12 | 0 | 0% |
*PSA Population Report statistics as of April 2, 2010.
Palmer's 1967 Topps card is also difficult to track down in top condition. Poor centering and chipping on the reverse often plague this high number card (#475). Just one example has been deemed a PSA GEM-MT 10 and there are 23 PSA MINT 9s. One PSA 9 sold for $405 on eBay in December 2009.
According to the PSA Population Report, only approximately seven per cent of Palmer's 1970 Topps submissions (#449) have graded PSA MINT 9 or better. The gray borders on this card are susceptible to chipping. Of the 551 submitted, there has been one PSA GEM-MT 10 and 35 PSA MINT 9s. The sole PSA 10 copy fetched $2,000 on eBay in August 2008.
Even more vulnerable to chipping are the black borders on Palmer's 1971 Topps card (#570). Winter owns the only PSA GEM-MT 10 of this card. There are also 29 PSA MINT 9s, one of which garnered $765.55 on eBay in September 2008.
Similarly, the colored borders on his 1975 Topps single (#335) also make it almost impossible to uncover in flawless form. There is one PSA GEM-MT 10 and 32 PSA MINT 9s of this card. A PSA 9 sold for $177.67 on eBay in March 2010.
The prices realized for these singles reveal that the demand for Palmer's cards remains strong.
"Jim Palmer's appeal with collectors seems to be quite large," explained Wynne. "Therefore when his high-end cards come to the auction block, competition is intense."
Winter, a Baltimore resident, says that Palmer's popularity ranks a notch below that of Brooks Robinson and Cal Ripken, Jr. in the city, but the legendary right-hander is still very popular.
"He's certainly one of the stalwarts when you think of Baltimore sports stars," he said.
Please feel free to contact Kevin Glew at [email protected] if you have any additional information or comments. Mike Wynne provided pictures for this article. Please note that the Population Report figures quoted and Set Registry rankings reported are those as of press time.
Toughest Basic Set Jim Palmer Cards to Obtain in PSA MINT 9 or higher grade
| Card | Total PSA Submissions | Total PSA 9 or Higher Examples | Percentage of Submissions Graded PSA 9 or Higher |
| --- | --- | --- | --- |
| 1966 Topps #126 | 1,722 | 41 | 2% |
| 1967 Topps #475 | 760 | 24 | 3% |
| 1971 Topps #570 | 687 | 29 | 4% |
| 1975 Topps #335 | 651 | 33 | 5% |
| 1970 Topps #449 | 551 | 36 | 7% |
*PSA Population Report statistics as of April 2, 2010.
Please contact Kevin Glew at [email protected] if you have any additional information or comments. Mile High Card Company and Joe Mancino provided pictures for this article. Please note that the Population Report figures quoted and Set Registry rankings reported are those as of press time.