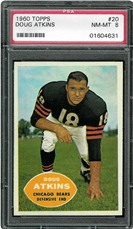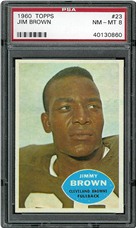 It introduced collectors to the Dallas Cowboys, but more than 50 years after its release, the 1960 Topps Football set remains affordable for hobbyists to "lasso."
"It might be because there is only one rookie card (Forrest Gregg) in the set," offered Mike Thomas, who owns the sixth-ranked, 1960 Topps Football set on the PSA Set Registry, when asked why this half-century old issue isn't more popular.
David Lithgow, who has assembled the registry's top set, agrees, but also adds that the set's design may be another contributing factor.
"If anything the 1960 set can be criticized for being a little bit bland," he said.
From a historical perspective, the 1960 NFL season wasn't particularly memorable either. The Cowboys debuted with an abysmal 0-11-1 record, while the Chicago Cardinals shifted to St. Louis prior to the season. One highlight was Chuck Bednarik's jarring hit on Frank Gifford that knocked the Giants half back out of action until the 1962 campaign.
"Chuck Bednarik is about as popular as (former Brooklyn Dodgers' owner) Walter O'Malley is here because of that hit," noted Rich Rewkowski, a New York-based collector who met many of the NFL's Giants as a youngster in the early '60s.
Rewkowski's meetings with those players eventually inspired him to pursue the 1960 Topps Football set on the PSA Set Registry. The fronts of the player singles in this 132-card offering showcase a large player picture and the player's name, position and team inside a football-shaped graphic.
"I liked the card design itself because it was clean and simple, and had a natural photo," explained Lithgow.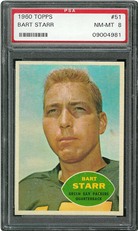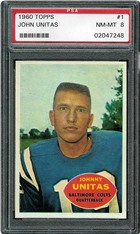 Card backs are printed in green on white stock and showcase the player's past-season and lifetime statistics, as well as a scratch-off "Football Funnies" section. Collectors were encouraged to rub a coin over this surface.
The 1960 Topps singles were distributed in one- and five-cent wax packs. Inside each pack was one of 33 NFL or college metallic team emblem stickers. The 1960 Topps singles were also available in 12-card cello packs.
An image of a sheet from this issue can be found on Thomas's informative website, Vintage Football Card Gallery (http://www.footballcardgallery.com/). All 132 cards in this issue were printed on one sheet, consisting of 12 rows of 11 cards. Cards in this set are sequenced by team alphabetically, starting with the Baltimore Colts (#1 to #11) and ending with the Washington Redskins (#123 to #132).
Several Hall of Famers are featured in the 1960 Topps set, including Johnny Unitas (#1), Jim Brown (#23), Bart Starr (#51), Paul Hornung (#54), Frank Gifford (#74), Bobby Layne (#93) and Y.A. Tittle (#113).
The Unitas card is the most elusive in top condition. Subjected to the additional wear and tear associated with being the first card in a set, the Unitas was also the last card on the right in the final row of the 1960 Topps Football sheet.
"Cards on the corners and the edges of the sheets tend to get beat up," explained Thomas.
This card is also frequently found with centering problems. Of the 458 evaluated, no example has graded above PSA NM-MT 8. One PSA 8 Unitas sold for $565 on eBay in July 2010.
Forrest Gregg (#56) is the only Hall of Famer with a rookie card in this set. There have been 12 PSA MINT 9s and 121 PSA NM-MT 8s of this card. A PSA 9 sold for $475 on eBay in December 2009.
Hobbyists contend, however, that the Alan Ameche single (#2) is one of the toughest cards to uncover in pristine condition. The PSA Population Report reveals that Ameche has the fewest number of examples that have graded PSA NM-MT 8 or higher (see accompanying chart). Like the Unitas card, the Ameche is located on the edge of the 1960 Topps Football sheet (top row, first card on the left). A PSA MINT 9 fetched $620 on eBay in July 2010.
Aside from Unitas, no PSA MINT 9 examples have been uncovered of Lou Michaels (#69) and Leo Sugar (#110). The position of these two cards on the 1960 Topps Football sheet again appears to have contributed to their condition sensitivity. The Michaels card is the last card on the right in the third row, while the Sugar card is the first card on the left. Their positions on the outside edges of the sheet left these cards vulnerable to condition woes.
The last card that Rewkowski needed to complete his registry set was John Henry Johnson (#94). Johnson can also found in an "edge" position on the sheet (second row, first card on the left). Of the 94 Johnsons submitted, there has been one PSA GEM-MT 10 and just one PSA MINT 9.
1960 Topps Football Cards with the Fewest Examples in PSA NM-MT 8 or Higher
| | |
| --- | --- |
| Card | No. of PSA 8 or better examples* |
| #2 Alan Ameche | 18 |
| #24 Sam Baker | 22 |
| #69 Lou Michaels | 23 |
| #130 Gary Glick | 26 |
| #14 Willie Galimore | 27 |
*PSA Population Report statistics as of October 27, 2010.
The team cards in this issue also tend to command a premium. Lithgow says that the Cleveland Browns (#31), Detroit Lions (#50) and Los Angeles Rams (#71) team cards are particularly elusive in top condition.
"The team cards do command a premium over the regular cards, but not to the point where they're ridiculously expensive," said Rewkowski.
Thomas also documents nine uncorrected error cards in this set on his website (http://www.footballcardgallery.com/). The veteran hobbyist notes that three cards flaunt reverse images (Doug Atkins (#20), Bill Wade (#61) and Frank Varrichione (#97)), while four others – Charlie Ane (#37), Chuck Bednarik (#87), Bob Pellegrini (#88) and Ralph Guglielmi (#123) – showcase misspelled names. Bill Anderson's card (#152) refers to him as Walt Anderson on the back, and for the second year in a row, Topps used a photo of Cardinals linebacker Jim Taylor on the card for Packers running back Jim Taylor (#52).
Centering issues, print flaws and the fragile green borders on the backs make these cards challenging to find in top condition. Another common condition problem is that collectors would often scratch off the "Football Funnies" section on the backs.
"I think everybody would take their nickel and penny and rub those off," said Rewkowski. "It's a common thing to find these now with the back scratched off."
But with or without these condition issues, the 1960 Topps Football cards remain relatively affordable for gridiron collectors.
"I like the cards because of their clear photos and because of the age of them," said Lithgow. "This set is 50 years old now."
Please contact Kevin Glew at [email protected] if you have any additional information or comments. Mike Thomas provided pictures for this article. Please note that the Population Report figures quoted and Set Registry rankings reported are those as of press time.