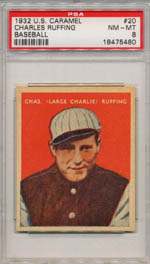 Clean Sweep's current auction closes on June 1 and is loaded with great material. The auction opens with three very significant lots, a higher grade 1915 Cracker Jack set, a mid-grade 1952 Topps baseball set and an outstanding scrapbook from the early 20th century with 500 cards, housing hundreds of tobacco and E cards, including four Ty Cobbs
The auction continues with baseball card sets and lots. Highlights here include rare complete set offerings of the E253 Oxford Confectionary set, and the E126 American Caramel issue. We also have higher grade sets of 1954 Red Heart, 1955 Bowman, 1957 Topps, 1961 Topps, 1962 Topps, 1965 Topps and 1971 Topps Greatest Moments.
Graded cards come next, with a note to many better 19th century HOF cards and a 1932 U.S. Caramel set offered as singles, with a Bobby Jones PSA 5, Red Ruffing PSA 8, Rogers Hornsby PSA 5 and a Lou Gehrig PSA 4.
There is a great consignment of New York Yankee autographs and memorabilia spread out through the rest of the auction; we have some of the most significant items in one section. These great items include a stunning 1923 Yankees World Series full autograph framed collage, a Henry Louis Gehrig check cut in a framed display, a Miller Huggins 1924 Yankees payroll check, a rare vintage signed Mickey Mantle 1953 Time Magazine, several Babe Ruth autographs, including an oversize photo, and a rare Urban Shocker cut.
Autographed cards are another very strong category, with partial signed sets of 1950 Bowman, 1951 Bowman and 1957 Topps; there are also many terrific group lots of better signed cards. Collectors of Perez Steeles will see our best selection in some time, with a high grade Alston, Averill and Cronin, and also a fine signed set.
Signed photos include a superb Grover Cleveland Alexander 8x10, a stunning Roberto Clemente 8x10, Walter Johnson, Al Simmons and Cy Young. Collectors of smaller flats will see another Grover Cleveland Alexander, two high grade Jimmie Foxx's, Mel Ott and a truly superb Wilbert Robinson cut. Collectors of letters will see a fine 1928 Charles Comiskey TLS and a terrific vintage signed 1953 Mickey Mantle TLS.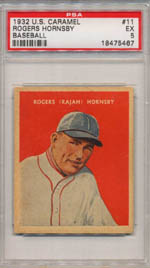 Baseball memorabilia comes next, with a superb 1911 Detroit Tigers imperial photo that is fresh to the hobby, 1923 and 1927 World Series tickets and a great full-size Pride of the Yankees original movie poster. For collectors of Presidential autographs, we have many fine Executive Mansion signed cards, including McKinley and T.R.
Non-sport collectors will see perhaps our best offering ever, including a 1933 Dare Devils near set, a full 1933 Goudey Indians set, a 1934 Skybirds set and a 1938 G-Men set. Basketball collecators will see complete 1948 Bowman and 1957-8 Topps sets. We have many quality boxing autographs, including a fine John L. Sullivan signed cabinet card.
Football collectors will see some high quality unopened wax boxes from 1969, 1970, 1972 and 1977, an Alex Wojciechowicz signed Goal Line postcard and a superb near-set of signed Goal Line postcards.
Autographed baseballs conclude the auction with a bang. We have quality single signed balls of Earle Combs, Dizzy Dean, Lou Gehrig, Goose Goslin, a stunning vintage Sandy Koufax, Roger Maris, a double-signed Tris Speaker and a superb President Truman. Multi-signed baseballs include many great Old Timers balls from the 1940s and 1950s with long deceased HOFers, and some terrific HOF balls. Two really neat balls here are 1960s vintage signed balls of Ken and Clete Boyer and Brooks and Frank Robinson, something we have not seen before. Team signed baseballs include a 1931 Tour of Japan, a 1936 Yankees with a stunning Lou Gehrig, a strong run of 1950s and 1960s high grade team balls, including a 1969 Mets with a real Hodges.
Bid Today! This auction closes on Wednesday, June 1, 2011. Bids are welcome by phone (516) 338-8557 Monday through Friday 9 a.m. - 5 p.m. EST. You may also bid via Clean Sweep's website at: www.cleansweepauctions.com. Initial bids must be placed by 6 PM EST on closing day. The ten minute rule begins at 11 PM EST. Please review the auction rules before bidding.
Clean Sweep Auctions is also currently accepting consignments and buying items outright for our next major auction. Contact us today about what you have to offer!