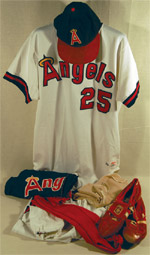 Hundreds of collectibles from Tommy John's illustrious career, Thurman Munson's 1979 mask and helmet, autobiographies signed by Nelson Mandela and Ronald Reagan and more than 100 card lots, many PSA-graded, headline Collectible Classics' CCA29 auction, which is open now and closes Thursday, May 26.
Licensed in Pennsylvania as an auction company, Collectible Classics specializes in "collector-sized" affordable lots. Online at www.auctionscc.com, CCA29 presents 463 lots of sports and non-sports collectibles. "We are honored and pleased to offer Tommy John's collection," said Judy Burk, co-owner of Collectible Classics. "He is not only the greatest pitcher still waiting to be recognized by the Hall of Fame, but a very special person as well. This is a significant collection from one of the best left-handed pitchers in the history of baseball."
More than 100 lots from John's collection are open for bidding. Among the highlights are his California Angels uniform, his 1979 All-Star ring, an autographed game-used baseball from his 200th victory, eight signed game-used balls from his 11 wins in 1972, a letter signed by Frank Jobe, creator of "Tommy John" surgery, autographed items dating to his childhood and trophies, awards and truly unique memorabilia.
The John collection is the source of the Munson mask and helmet, and a game baseball autographed by the Yankee catcher as well. Many of his items come with a hand-signed letter of authenticity.
The John Collection covers a broad spectrum of collectibles, including various sports and entertainment. Other key lots are a signed game-used baseball from Gaylord Perry's 300th win; a baseball signed to John by Josh Hamilton as a teenager; a Wayne Gretzky autographed hockey stick; a Martina Navratilova competition-used tennis racquet and autograph; letters signed by George Steinbrenner, Tommy Lasorda and Gene Autry endorsing John for an award; a "Miracle on Ice" photo signed by all 20 players; 1867 baseball sheet music, and baseball bobbing heads. Substantial numbers of Yankees and Dodgers lots are included.
Collectible Classics will present additional material from John's collection in future auctions.
Two important autobiographies from other consigners are part of the auction: The Long Walk to Freedom by Nelson Mandela and Ronald Reagan: An American Life. The book by South African leader and Nobel Peace Prize recipient is the Easton Press limited-edition leather-bound version. Reagan signed the book, rather than the more common bookplate insert, and dated his signature Oct. 29, 1992.
Cards are always a significant part of Collectible Classics' auctions. CCA29 includes partial or complete Topps sets for 1955-62, 1964, 1965, 1968, 1970-72 and 1975 (mini). Featured single cards include an N172 Old Judge Chief Zimmer, a 1907 Morgan Stationery Red Belt example, a 1910 E103 Williams Caramel Co. Lajoie, a rare 1930 La Presse newspaper supplement of Hack Wilson and a 1973 Laughlin Super Stand-Up Joe DiMaggio signed by Bob Laughlin.
PSA graded a number of the cards, including a 1926-29 Lou Gehrig postcard-back exhibit, a 1969 Topps Mickey Mantle white letter variation, a 1911 T205 Gold Border card of Joe Tinker and a 1941 Double Play card of Ted Williams and Jim Tabor. Each received a grade of PSA EX-MT 6.
Other PSA cards are a 1986-87 Fleer basketball Michael Jordan rookie PSA MINT 9 OC, a 1923 V128 Paulin's Candy Red Dutton PSA VG-EX 4, a 1924 C144 Champs Cigarettes Redvers Green PSA EX-MT 6, 21st century insert cards of Ruth, Mantle, Gehrig, Mays and Ryan, and Ramly, T206 and other T205 cards.
PSA has also authenticated and graded several autographs, including Nolan Ryan (PSA Gem-MT 10 signature and ball) and Cal Ripken Jr. (PSA Gem-MT 10 autograph and PSA Mint 9 ball).
Bidders will find more than 75 other autograph lots, almost all authenticated for Collectible Classics by Kevin Keating: 1929 New York Yankees and 1947 Philadelphia Athletics team-signed baseballs; a rare 1981 Rochester Redwings team-signed ball including Cal Ripken Jr. during his only minor league season; jerseys signed by Robin Roberts and Mickey Mantle; a baseball signed by Hank Aaron and Sadaharu Oh; and autographs of Hack Wilson, Roger Maris, Joe DiMaggio, Ted Williams, Satchel Paige, Bill McKechnie and Paul Waner.
Among the uncommon collectibles are two 1915 PM1 ornate-frame baseball pins, one with Christy Mathewson, and the other, Ed Konetchy. Other memorabilia lots include a 1934 photo of Chicago Cubs players promoting Herbert Panama hats; a first edition of Cap Anson's autobiography; Eight Men Out with an Eliot Asinof autograph; an original 1907 Coca-Cola ad featuring Nap Lajoie, the first color ad with a baseball player promoting a product; a rare Chicago Cubs' 1909 poster; Mickey Mouse bisque baseball figures; a 1939 world Series program scored for Game 1; a Willie Mays bobbing head; an original Mickey Mantle Hartland figure with the bat, tag, box and Hartland booklet, and an original 1935 photo of Babe Ruth at Forbes Field.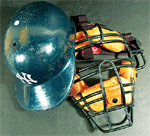 Football collectors will find a scarce autograph of 1941 Heisman Trophy winner Bruce Smith and a separate photo signed by 10 of his teammates; an uncataloged 1973 Pittsburgh Steelers newspaper-issued card near set; a Vince Lombardi signed check; the only known Clarke Hinkle handwritten letter containing his full signature; a Time issue signed on the cover by Glenn Davis and Doc Blanchard, and 11 photos signed individually by members of the 1974-77 Pittsburgh Steelers' "Steel Curtain."
Boxing fans can choose from a 1948 Leaf partial set, autographs of Jack Dempsey and Gene Tunney, and five autographs of Muhammad Ali, one as Cassius Clay on a 1963 I Am the Greatest! picture sleeve.
Autographs of more than 75 members of the Basketball Hall of Fame are part of the auction. Many are at the conclusion of letters describing the significance of being selected for the Hall of Fame. There also are Sports Illustrated issues signed by Larry Bird, Magic Johnson and Kareem Abdul Jabbar, and Topps sets from 1970-71, 1971-72, 1972-73 and 1975-76.
In addition to the Gretzky autograph in the John collection, hockey fans will find hockey sticks autographed by Mario Lemieux, Ron Francis and Jaromir Jagr.
For non-sport collectors, the auction has a 1910 S55 "Bathing Girls" set, a 1910 S66 "Indian Portraits" set, a 1930s Mutoscope "Bandleaders" set, a 1953 Topps" World on Wheels" set and a 1956 Davy Crockett orange back near set with several cards PSA-graded.
Finally, for followers of the U.S. space program, the auction offers an Earth Rise jar handcrafted by the wife of astronaut Owen Garriott, and a Buzz Aldrin-signed replica of the plaque left on the Moon in 1969.
For a free color catalog, call Collectible Classics at 724-446-3079, or go to www.auctionscc.com. Auction is now open and closes Thursday, May 26.