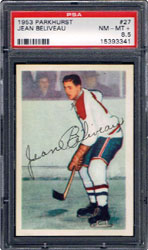 Veteran collector Julius Narancsik says there isn't another Parkhurst set that "puts it all together" like the 1953-54 issue.
"Aesthetically, I think it's the No. 1 Parkhurst set. The pictures, the photos, the shots, the colors that have been used are superb," said Narancsik, who owns the No. 3 Current Finest set on the PSA Set Registry. "It's not loaded with rookie cards, but it has some key rookies."
Hall of Famers Jean Beliveau (#27), Gump Worsley (#53), Andy Bathgate (#56) and Harry Howell (#57) all make their cardboard debuts in this set.
Distributed in four-card, five-cent packs with gum, the pasteboards in this 100-card issue measure 2-1/2" by 3-5/8" and were larger than the singles in the previous Parkhurst issues. In fact, the boxes advertised these as "giant" cards.
"Parkhurst was trying to get to the standard-sized baseball cards that Topps was issuing," said Bobby Burrell, author of Vintage Hockey Collector. "They realized what the market was doing and they changed accordingly."
Burrell says only two unopened boxes of this issue are still known to exist.
The pictures on the card fronts are brighter, crisper and more colorful than the previous Parkhurst issues.
"The design is far and above the 1951-52 Parkhurst set and there are a lot of great action shots," said Paul Sacco, who owns the registry's No. 8 Current Finest set.
The fronts also boast facsimile autographs and white borders. Both horizontal and vertical layouts are employed. The backs include a card number, the player's name, 1952-53 statistics and biographical information. For the first time, the biographical information was presented in both English and French.
The backs also display details on how collectors could send 25 cents to receive a card album or a full-color photo of the 1952-53 Stanley Cup champion Montreal Canadiens. The album was similar to the 1952-53 album, except it specified the date on the cover (1953-54 N.H.L. Hockey Album). Burrell says the Canadiens photo was printed on "semi-glossy" stock, similar to a magazine page.
The cards in this set are sequenced by team: Maple Leafs (#1 to #17), Canadiens (#18 to #35), Red Wings (#36 to #52), Rangers (#53 to #68), Blackhawks (#69 to #84) and Bruins (#85 to #100).
Narancsik says the early Leaf cards are some of the most elusive in top condition. The set's first card, an attractive horizontal shot of Leafs goalie, Harry Lumley, appears to be the most difficult to track down in pristine condition.
"The Lumley is a tough one to find because of the centering and the corners," said Narancsik.
Sacco agrees.
"The No. 1 card always gets wrecked because it's at the first of the set," he said. "People would put elastic bands around their piles and the No. 1 card would usually get destroyed."
On top of its condition woes, the design of the Lumley card also makes it a desirable single.
"Even for collectors that don't necessarily collect the set itself, the Lumley is the quintessential goalie card," said Narancsik. "It's a very attractive card with a great design and great action shot of him."
Of the 61 Lumley cards submitted, there have been just six PSA NM-MT 8 examples (with nothing graded higher). One PSA 8 sold for $3,076.15 in a Mile High Card Co. auction in March 2009.
The three Leafs cards following Lumley (#2 to 4) are also difficult to uncover in PSA 8 or better condition (See Accompanying Chart). Narancsik says the Sid Smith (#2) is particularly elusive. The seven PSA 8 copies of this card represent the highest graded examples. One PSA 8 sold for $325 on eBay in February 2009.
There are also only eight copies of Gord Hannigan (#3) and just six examples of Bob Hassard (#4) that have been graded PSA 8 or better. A PSA 8 Hassard sold for $430 on eBay in August 2009.
The key card in this set is the Beliveau rookie (#27).
"I would say that the Beliveau is probably the most underrated rookie card in all of hockey. I think it should be a lot more valuable than it is," noted Sacco.
Of the 172 evaluated, there have two PSA NM-MT+ 8.5s and 21 PSA. A PSA 8 fetched $3,159 on eBay in August 2009.
The Worsley rookie (#53) is also highly coveted.
"The Gump Worsley card is great," said Narancsik. "It's a great hockey action shot."
Of the 128 graded, there has been one PSA MINT 9 and 23 PSA 8s. A PSA 8 sold for $829 on eBay in July 2009.
On top of Worsley and Beliveau, this set also boasts pasteboards of high profile Hall of Famers like Rocket Richard (#24), Terry Sawchuk (#46) and Gordie Howe (#50). One of Narancsik's favorite cards showcases Canadiens forward Elmer Lach with his arm around Richard (#30) after The Rocket broke Nels Stewart's record for most career goals. A PSA 9 copy of this card sold for $1,350.07 in a Mile High Card Co. auction in June 2010.
Several error cards can also be found in this set. The Fleming Mackell (#91) single, for example, is most often found without biographical information on the reverse. The corrected version with the bio commands a significant premium. To illustrate, a PSA 8 copy of the version with the bio sold for $611.50 on eBay in September 2007, while a PSA 8 example without the bio garnered just $95 on eBay in May 2009.
Other uncorrected errors include Jean Beliveau being pictured on the Dickie Moore card (#28) and Al Arbour being pictured on the Bill Dineen card (#37) that boasts Dineen's facsimile autograph and biographical data. Conversely, card #38 features a picture of Dineen with Arbour's autograph and bio. Also on the Johnny Peirson card (#88), his last name is misspelled "Pierson" on the card back.
Although more readily available in high grade than the 1952-53 Parkhurst cards, there are a number of condition issues that hamper these singles.
"If these cards were placed in an album and they were put away for 10, 15, 20 or 30 years, when you get them out of the album, there would be a little indentation in each of the corners," explained Narancsik.
The longtime hobbyist adds that these cards also tend to showcase toning on the borders. Bernard Larouche, owner of the registry's top 1953-54 Parkhurst Master Set, adds that the paper stock is poor and that he has noticed centering issues on many of the cards.
But, while assembling a high-grade set of these cards can be challenging, completing this issue could ultimately be rewarding. With larger, groundbreaking cards, a more refined design and the rookies of four Hall of Famers, this set appears to be a "sleeper" in the hockey card hobby.
"It hasn't received the praise that it should. It still tends to fly under the radar," said Narancsik.
---
Please contact Kevin Glew at [email protected] if you have any additional information or comments. Legendary Auctions and Paul Sacco provided pictures for this article. Please note that the Population Report figures quoted and Set Registry rankings reported are those as of press time.