You won't have to "leap tall buildings in a single bound" to complete the 1966 Topps Superman set.
An affordable alternative to the 1940 Gum, Inc. Man of Steel issue, this 66-card offering showcases black and white photos from the '50s TV show. The fronts – exhibiting vertical or horizontal designs – also boast captions, while the backs of cards #1 through 44 can be uncovered in three different formats.
"The white backs are the rarest. They're the ones that are commonly called 'proofs' because of the absence of color on the back. They never made the final stage of printing," explained Steve Lucas, whose 1966 Topps Superman set is tied for fourth on the PSA Set Registry.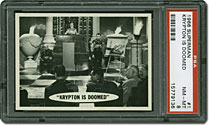 PSA Set Registry Hall of Famer, Bill Bengen, who owns three sets, agrees.
"I've been collecting the white back variety for 10 years and I've got all of one card to show for it," he said. "The white backs are incredibly rare."
An orange border is present on the second back incarnation that also includes copyright information along the card bottom. The final variation boasts an orange border, but showcases "WATCH SUPERMAN ON T.V." in black print across the bottom. These two versions are more common than the white backs.
The back variations don't apply to cards #45 to 66 which showcase puzzle pieces. Bengen notes that these pieces can be merged into two puzzles. Cards #45 to 56 form a cartoon picture of Superman, while singles #57 to 66 depict George Reeves.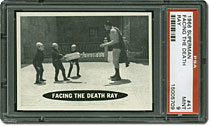 The vast majority of these cards were distributed in five-cent wax packs without gum. However, in issue #176 of The Wrapper, non-sports card pioneers, Bob and Jeff Marks, unveiled a Superman wrapper indicating on it that gum was included. Wax packs with gum are extremely rare.
"I've had several boxes and opened a lot of wax packs, and there has never been gum in any of the packs I've opened," said Steve Lam, who owns the registry's top set.
Bengen has had a similar experience.
"I really don't know what went on at Topps at that time. Gum really was Topps' primary business, so I don't know what they were trying to do. This set is a real puzzle," he said.
But mysteries like this are part of this set's appeal, as are the memories it evokes.
"I'm a big Superman fan. I used to watch the show when I was a kid. The cards bring back memories for me," said Brian Karl, who owns the No. 2 registry set. "I'm such a fan that I own the episodes on DVD now."
Lam shares similar recollections.
"As a kid, I used to watch that show (in reruns) all the time," he said.
Lucas's devotion is rooted in the more recent cinematic releases.
"As a young boy, I remember being enthralled with watching Superman in the theaters. A few years ago, I came to the realization that I wanted to build an ultra high-grade vintage Superman set," he said.
As with many older sets, this issue's first and last cards are two of the toughest to find in pristine condition. Of the 60 copies of #1 Krypton Is Doomed that have been graded, there have been just three PSA MINT 9s and 23 PSA NM-MT 8s. A PSA 8 sold for $108.38 on eBay in May 2008.
Harmless Blow, the set's final card, is even more elusive. Just one PSA 9 and 11 PSA 8s have been uncovered. The sole PSA 9 fetched $333.70 in a Memory Lane, Inc. auction in August 2009.
Lam and Lucas both noted that #27 Superman's Peril is also evasive. The layout of an uncut factory sheet of 1966 Topps Superman cards was featured in issue #217 of The Wrapper. The diagram reveals that these cards were printed on 132-card sheets (12 rows of 11 cards), consisting of two full sets. Card #27 is the first card on the left in rows two and eight, a position that left it vulnerable to miscuts and excess wear. Forty-three have been evaluated, and there has been just one PSA 9 and 16 PSA 8s. One PSA 8 commanded $111.35 in an eBay auction in November 2008.
Similarly card #44, Reporter Clark Kent, is also the first card on the left in rows four and 10 on the sheet.
"That has to be the rarest card. I haven't been able to find anything above PSA NM 7," said Karl.
Of the 39 examples of #44 graded, there have been three PSA 9s and 11 PSA 8s.
Karl, Lam and Lucas also cite #51 Superman Gets His Man as elusive in flawless form. Not surprisingly, this card was also the first card on the left, in rows five and 11 on the factory sheet.
"No. 51 is the toughest card to achieve in high-grade. According to PSA's census reporting, there is only one PSA 9, two PSA NM-MT+ 8.5s and only 10 PSA 8s," noted Lucas.
A PSA 8 copy garnered $371.78 on eBay in February 2009.
Poor centering is a common problem with cards from this set.
"Centering is a huge problem," said Lucas. "It plagues so many of these cards, that finding a straight, PSA 8 set is quite an accomplishment."
Karl adds that the orange borders on the card backs also tend to flake.
"The orange backs can sometimes present a condition issue," he said.
But, while these flaws make this set challenging, it's still an affordable alternative to the 1940 Gum, Inc. Superman set. Demand for the 1966 singles, however, appears to be on the rise.
"I see very active bidding on eBay on these Superman cards, so there must be a lot of interest in it," said Bengen.
---
Please feel free to contact Kevin Glew at [email protected] if you have any additional information or comments. Brian Karl and Steve Lucas provided pictures for this article. Please note that the Population Report figures quoted and Set Registry rankings reported are those as of press time.