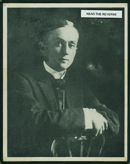 SportsCardLink's Spring Featured Auction of cards and memorabilia is about to end, as it closes this Wednesday, May 4th. That means it's time to place your bids! The auction contains over 300 Vintage, Graded card and memorabilia lots with no seller reserves. Lots will begin closing on Wednesday at 8:30 p.m. EST. There is no extended bidding - lots close "ebay style" at the exact time/date specified in the auction listing.
This auction features important and exciting sports cards and memorabilia from the late 1880's through the Modern era. Stand-out graded sports card highlights include a collection of 3 ultra rare, new to the hobby W600 Sporting Life Cabinet cards, a 1952 Topps Mickey Mantle in PSA 7 NM, an amazing high grade collection of Topps and Bowman Mickey Mantle cards (including 1952 and 1954 Bowman Mantles in PSA 8, a 1953 Bowman in PSA 9 and 1956, 1958, 1959 and 1963 Topps Mantle cards in PSA 9). The auction also features a graded 1933 Goudey partial set with 156 of the set's 240 cards included as well as a complete, fully graded 1933 Goudey Sport King set. Top memorabilia highlights include a very unusual signed and inscribed Ty Cobb photograph, a remarkable 21 piece 1930's NFL program collection, and a significant late 1920s Babe Ruth glass photographic negative.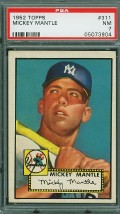 Other Graded card highlights include: a T206 Ty Cobb Red Portrait in VG/EX, a T206 Napoleon Lajoie (with Bat) in PSA 6 EX-MT, a 1915 Cracker Jack Honus Wagner in VG, a 1940 Play Ball Ted Williams in PSA 8 NM-MT, a 1954 Topps Jackie Robinson in PSA 8 NM-MT, a 1954 Henry Aaron #128 PSA 6 EX-MT, a 1955 Topps Sandy Koufax #123 PSA 8 NM-MT, a 1955 Roberto Clemente #164 in NRMT, a 1960 Nu-Card Highlights Ruth #16 PSA 10 GEM-MT, and several spectacular, freshly graded PSA 10s from the 1950's – 1970's, as well as a strong offering of cards of Willie Mays, Hank Aaron, Ted Williams and Sandy Koufax from the 1940's – 1960's.
Complete or near complete set highlights include a near complete (322/324) 1951 Bowman baseball set, a complete 1953 Bowman Color baseball set, a 1953 Topps baseball partial (209/274) set, a 1954 Johnson Cookies near complete set, a 1955 Johnston Cookies Series 1 Panel with high grade Aaron, a 1960 Topps Football partial set (34) all in PSA 8 with HOFers, a 1962 Topps Football partial set (72) all in PSA 7 with HOFers, a complete 1954 Bowman Power for Peace set, and many more.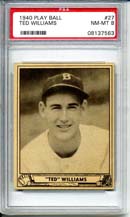 Other Memorabilia highlights include an Old-Timers signed baseball with 8 HOF'ers including Roger Hornsby, a Ted Williams Underjersey w/ LOA, a 22 piece collection of 1950's and 60's baseball photos from the collection of Yankee great Ralph Terry, Thurman Munson's locker nameplate from his final game in 1979, a very unusual 1926 Red Grange Chicago Bears barnstorming program as well as multiple lots of vintage, high-grade, professional and collegiate football programs from the 1930s through the 60s -- and much more!
We have some exceptional highlights already lined up for the SportsCardLink July Featured Auction. If you would like to sell in this auction, and "max out" your auction preview exposure, please email your list of prospective auction items to [email protected] or contact Chris Porter, Josh Nathanson, or Douglas Gillock at 617-517-0072; press option 1.
www.SportsCardLink.com also offers a full-service Sports Card Exchange and brokerage service for vintage, investment quality sports cards. New cards are added daily by registered sellers and sellers may apply to be a registered seller at any time via the web site.